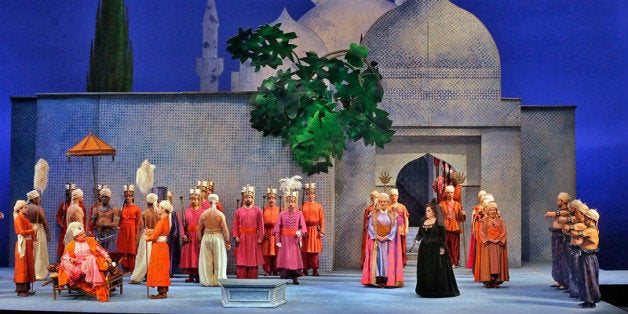 The course of true love, as everyone knows, never runs smoothly. But rarely does it face quite as many roadblocks as Mozart threw up in Die Entfuhrung aus dem Serail, the Metropolitan Opera's final offering of the season and James Levine's last appearances at the podium as music director.

With an able cast led by the Russian soprano Albina Shagimuratova singing the role of Konstanze for the first time, the emphasis in this revival of John Dexter's vintage production is on the comic aspects of the rescue of a Spanish beauty who has been abducted by pirates along with her English maid and her fiancé's manservant and sold into slavery to a Turkish Pasha.
The choice of Die Entfuhrung, or as it is often titled in English The Abduction from the Seraglio, is a fitting one for Levine's last performances as music director of a house and orchestra he resuscitated and built into one of the most prestigious in the opera world. It was Levine who brought Mozart's brilliant gem back to the Met stage after over three decades of neglect, conducting the first performance of Dexter's staging in 1979.
The chorus of bravos that greeted Levine at each act, however, was not simply a sentimental expression of gratitude. The Met orchestra delivered an excellent reading of the score, from the familiar Overture to the final quartet and Janissary Chorus, deftly juggling the passages of comic opera with those of opera seria.
Mozart wrote Die Entfuhrung on commission to be part of the Austrian Emperor Joseph II's Singspiel campaign to encourage opera composition in the German language employing both singing and spoken dialogue. Mozart had tried his hand at opera before, but only Idomeneo had achieved a small and short-lived measure of success.
With Die Entfuhrung, which premiered in the summer of 1782, Mozart had a smash hit. Though Salieri, Mozart's rival, tried to stop it, the opera was an immediate audience favorite. Gluck and Haydn, the two most popular composers of the day, praised it, as did the Emperor, though this is the opera about which he reputedly observed, "very many notes, my dear Mozart."
The story is taken from a contemporary (18th century) farce. Konstanze, a Spanish lady, her maid Blondchen, and her fiancé's servant Pedrillo have all been sold into slavery to Pasha Selim. At the outset Konstanze is in the Pasha's harem, Blondchen has been given to Osmin, the overseer of the Pasha's palace, and Pedrillo has been made the Pasha's gardener.
Belmonte, Konstanze's fiancé, has discovered their whereabouts and has come to rescue his beloved. The Pasha has so far refrained from forcing Konstanze to become one of his wives, but he warns her that she faces torture or death if she does not consent. The aptly named Konstanze, however, remains defiant saying she would prefer death to the proverbial worse fate.
Belmonte and Pedrillo, who is in love with Blondchen, devise a strategy to liberate the distressed damsels, but Osmin foils their plan and locks them up. And when the Pasha discovers that Belmonte is the son of his old archenemy, things look pretty bad for the prisoners.
But the Pasha surprises them all, including Osmin, by releasing them and granting them safe passage home, a lesson that not only does true love conquer all but that mercy and kindness are greater than revenge.
As Konstanze, Shagimuratova gives a powerful performance, tossing off the runs and trills with an ease that is nothing short of awesome. She delivered a stunning Queen of the Night in Die Zauberflote at the Met few seasons back and her "Martern aller Arten" aria in Die Entfuhrung is no less spectacular.
The South Korean soprano Kathleen Kim is thrilling as Blondchen, a natural comedic actress with a silvery voice that soars into the upper register. The German basso Hans-Peter Konig is superb as Osmin, a gleeful misogynist who can sustain some of the lowest notes written for human voice.

The tenor Paul Appleby is arduous as Belmonte, with a strong if occasionally shaky voice, but solid in his duets with Konstanze. Brenton Ryan, making his first Met appearance, is impressive as Pedrillo, especially in his third act aria "Im Mohrenland. And Matthias von Stegmann is regal in the talking role of Pasha Selim.

Met audiences can look forward to Levine conducting his magnificent orchestra next season, but his finale as artistic director is a memorable night at the opera.
Calling all HuffPost superfans!
Sign up for membership to become a founding member and help shape HuffPost's next chapter