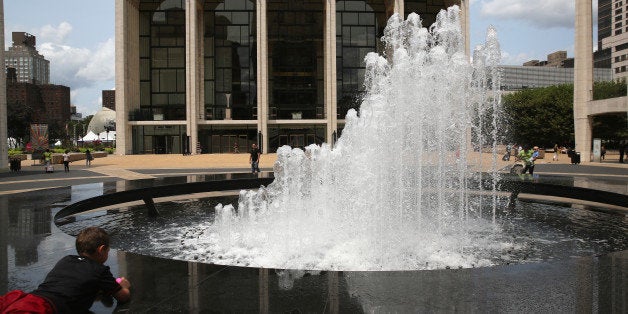 Amid bitter negotiations, employees of one of the world's most famous opera houses are contemplating taking their talents elsewhere at the end of the month.
At the center of the standoff is the Metropolitan Opera's controversial general manager Peter Gelb. Considered both a visionary and an autocrat, Gelb has instituted sweeping changes in Met operations to modernize what he often refers to as a "dinosaur" art.
Some experiments, such as Gelb's Live in HD initiative, which broadcasts Met operas into movie theaters worldwide, have been heralded as farsighted. Other undertakings are seen by many as simply indulgent. Last year, a prop-heavy staging of "The Ring Cycle," which Gelb touted as "revolutionary," fell flat with critics and audiences, with The New Yorker's Alex Ross eviscerating it as "pound for pound, ton for ton [...] the most witless and wasteful production in modern operatic history."
Gelb's critics point out that the Met is suffering in a way that most of the world's top opera houses are not. As a company representative put it to HuffPost, "the Met is in a precarious financial situation." Last year, the company faced a deficit of $20 to $30 million. With the help of emergency donations from a small group of donors -- fewer than 10 in all -- the shortfall was dramatically reduced, though a $2.8 million deficit still remains. If employees and management cannot agree this week on how to close that budget deficit and handle future costs -- and the feeling is that they may not -- the company will enter into a historic lockout come August.
At stake is employee compensation. Gelb has proposed the first reduction in decades, a 16 percent cut in total pay and benefits across the board. Employees were also informed that if a lockout takes place on August 1, they will be dropped from the Met's health care policy.
Union leaders argue that Gelb's proposal would actually reduce compensation by something like 30 or 40 percent, rather than 16 percent, due to losses sustained in pension plans and health care.
Met employees typically work six days a week and get approximately two months off in the summer. During busy seasons, they might work seven days a week.
Rebecca Carvin, a 15-year member of the Met chorus, says she earns her pay by keeping this "unbelievable" schedule.
On a performance day, Carvin told HuffPost, "it is not unusual at all to stay in costume all morning and most of the afternoon" before extra rehearsals and the evening show.
"[We're] in at 10 and out at midnight. We give up so much," said Carvin. "You miss weddings, you miss family occasions. We work on holidays. I have not had Christmas with my family for 15 years."
In a statement to HuffPost, Met representative Peter Clark placed a chorister's current annual base salary at $100,000. "But chorus members make considerably more [than that] since they are paid overtime for all rehearsals, and naturally there are always rehearsals for every opera in the repertory," said Clark. "They also have media payments and profit sharing from the Live in HD series."
According to Clark, the average take-home salary for a chorister working the 2012-2013 season was $200,000, or double base pay.
Union leaders argue that Gelb is scapegoating workers to cover losses accrued by his own failed management. They blame the surfeit of overtime hours on Gelb's production schedule.
"There's a track record of failure," said Laura Dolan, a spokeswoman for the musician's union Local 802, which represents the Met's orchestral members. "The budget has exploded. Overages are from [Gelb's] new productions, and his insistence on bringing his own failed productions into revival."
Dolan noted that the Met has been without a permanent artistic director during Gelb's tenure as general manager. Between 1986 and 2003, the conductor James Levine served as the first and only artistic director in the company's history. Dolan described the relationship between director and manager as a balancing act, with "an artistic director pushing for larger, grander productions, and the general manager holding the purse strings."
Union leaders hope to convince Gelb to reduce the need for labor, rather than cutting rates, said Dolan. Among the proposals union heads will bring to the table this week is a rethinking of "which operas to schedule concurrently with one another to reduce overtime."
In a phone call with HuffPost, Nathan Carlisle, a chorister on the bargaining committee, listed other possibilities: cutting Monday night shows, or performing one fewer opera per season.
All told, union-designed proposals could result in the Met saving roughly $20 million a year, according to Dolan.
Given the Met's caché, the incentive for performers to negotiate to stay put is obvious. (Carvin described a Met post as a "dream job" for a musician.)
Accordingly, they're joining forces. Workers from different unions, from stagehands to flutists, are swapping information on pay and other personal matters, a situation Carvin calls "unusual." Some employees are going outside the Met's walls, enlisting help from New York City-area organizations focused on securing health care for artists. Carlisle recently completed a multiday arts administration course at New York University to prepare himself for this week's talk, where he will be participating as a representative for choristers, part of a bargaining committee made up of a dozen or so employees, performers, union leaders and lawyers.
The efforts began in earnest at a meeting for unionized employees last Thursday, a sort of huddle before the game. There was a feeling of dread in the air, Carlisle said. "Some people were scared of what [the employees] were going to do August 1."
But, he added, "I reminded them that we are a highly educated group. Out of 80 choristers, there are 80 bachelor degrees, 52 master's degrees and 14 doctoral or postdoctoral degrees. We're eager to work and we want to work. If we're not working at the Met August 1, we'll be working somewhere else."
Update: In a statement provided to HuffPost Thursday, a representative of the Met said the company is now "willing to compromise" in order to avoid a shutdown:
The Met plans to be in negotiations all day and into the night with representatives of its three largest unions -- AGMA, Local 802, and Local One -- in the sincere hope that we will be able to agree to new contracts before midnight and continue preparations for our 2014-15 season without a work stoppage. It's too early for us to know if we will be able to extend the contract deadline, but the Met is willing to compromise, and if the other groups are as well, we're confident that we can reach new agreements.

AGMA and Local 802 have agreed to the Met's proposal that Allison Beck, a representative of the Federal Mediation and Conciliation Service, be appointed immediately to mediate negotiations, working with both sides to find a compromise agreement.
CORRECTION: An earlier version of this story indicated that Gelb detailed his cost-cutting measures in a letter sent to the Met's unionized workers on July 23. In fact, the letter did not include those proposals, which had already been shared with the unions. The story also characterized Gelb's proposed changes as a salary cut, rather than alterations in benefits and work rules to effect reduced pay.
Clarification: Language has been added to reflect that the Met's deficit was originally between $20 and $30 million, and that the role of artistic director is a relatively recent development in the company's history.
REAL LIFE. REAL NEWS. REAL VOICES.
Help us tell more of the stories that matter from voices that too often remain unheard.