The first in a three-part series, ZEALnyc speaks with Metropolitan Opera General Manager Peter Gelb.
Mark McLaren, Editor in Chief at ZEALnyc, August 5, 2016
It will be no news that many traditional performing arts institutions are challenged - and let's be specific - these are classical performing arts institutions. (Broadway attendance in the 2015 season, on the other hand, hit $13.3 million and revenue reached nearly $1.4 billion - growth of 2% in audience and 1% in revenue according to The Broadway League.)
Data suggest that different performing arts genres are affected at different rates, and the National Endowment for the Arts reported a 15% drop in the percent of U.S. adults attending a classical entertainment event from 2002 to 2012. In fact, even with the growth of the US adult population from 2002 to 2012 (217 million to 240 million), the US opera audience dropped 27%, with 2.1% of adults attending a live opera in 2012. Ballet saw a drop of 23% over the same period while classical music saw a drop of 16%.
Metropolitan Opera General Manager Peter Gelb sat down with ZEALnyc in February at the announcement of the Met's 2016/2017 season. In a wide-ranging interview, published in three parts, Mr. Gelb discusses risk-taking, Live in HD, talent discovery and here, his ten years at the helm of the Met and the particular challenges of audience building in 2016.
ZEALnyc: Thank you for you for taking the time today.
ZEALnyc: Taking a look at the Met that you found in 2006 and The Met that you see today, how would you characterize those two organizations?
PG: Well clearly, the Met is similar and different. There are parts of it that have changed dramatically and there are parts that are the same. I have tried to keep what is good about the Met, of which there is much, many wonderful things that I was aware of before I arrived. But at the same time I've tried to move the Met into the 21st Century which it was historically slow to react to.
And I think that the general condition for opera is not easier now then it was. Despite all the efforts that we've made to connect, or to reconnect the Met to a broader public, the overall condition for opera is even more challenging today than it was in 2006.
Opera, as an art form, finds increasing competition in terms of all the shorter-form entertainment and a challenge from the lack of any formal public school education for the classical arts. Classical arts education was already removed in 2006, but it is even more so a decade later.
So, in retaining the great traditions that the Met fostered over many, many decades of its 120 year history including the extraordinary orchestra, I looked to bring it more up to date theatrically.
And, using a page from the Met's own playbook, I looked to expand on its pioneering use of media, taking advantage of my own experience as a producer of film and television and classical music, using technology which enables us to embark on the digital kind of campaign to bring the Met to a broader, wider audience in terms of electronic distribution. Lead, of course, by the Met's HD programming at the movie theaters.
ZEALnyc: As you discuss competition from other sources, I'm assuming you're speaking of digital distribution of media in general and other short-form video...
PG: Well, I'm not talking about video so much. Opera is an old art form, it is in foreign languages, and is typically longer than movies and plays. It is more challenging for an audience, particularly an audience that doesn't already know about opera. With a lack of classical music education, it is very difficult to overcome those obstacles, those barriers.
On the other hand, it doesn't stop us from trying everyday. We have a wonderful team working at the Met, who I think have a shared vision, which is to fight for the art form and to produce great work on the stage, and to take on the daily battle of winning the public. It is something that every morning, we start again.
ZEALnyc: How have you done with your audience demos, either anticdocatlly or from your own data, in attracting a younger ticket purchaser?
PG: Well, the audience is changing certainly because we have lost some old-time subscribers through attrition. We have more first-time opera goers, by a large amount, than ever before, which is great. The thing is we have to convince people to not only come to the opera, but to come often. We have so many seats.
So, with this season alone, we have experienced an increase in first-time opera goers. Certainly people want to check out the Met. So that's why we have to make sure that the performances on the stage, in terms of the great singers that we have and the emphasis on the performance of opera being both musical and theatrical, is so important. So that as we introduce newcomers to the art form, they are convinced on the merits of what we present to them.
ZEALnyc: Are there any particular productions that have popped for first-time goers or younger audiences?
PG: Well you know, different things appeal to different people, obviously. Even a more challenging musical piece like Lulu, directed by the brilliant South African visual artist William Kentridge, this fall brought in a whole new audience of visual art lovers who were interested in experiencing the Met. Kentridge was the conduit for them. Along with the wonderful performance and the tour-de-force acting and singing of Marlis Peterson who played the title role. The problem is getting them to come back again.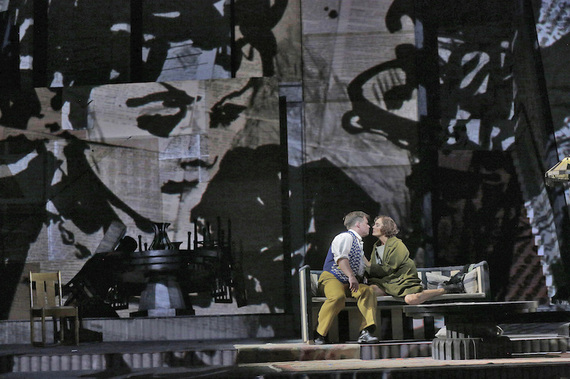 Daniel Brenna and Marlis Petersen in William kentridge's 'Lulu' at the Metropolitan Opera. Photo: Ken Howard/Metropolitan Opera
I'm obviously not afraid to take chances. I think taking creative risks in art is essential. They have to be calculated risks - you have to, hopefully, know what you're doing. I'm not saying I haven't had my share of stumbles. But I think the track record that the Met has had in terms of its productions has been a pretty good one.
Read the third installment of ZEALnyc's interview with Metropolitan Opera General Manager Peter Gelb, where he discusses opera talent, here.
Mark McLaren is Editor in Chief at ZEALnyc and writes frequently on classical music and theater.
Popular in the Community