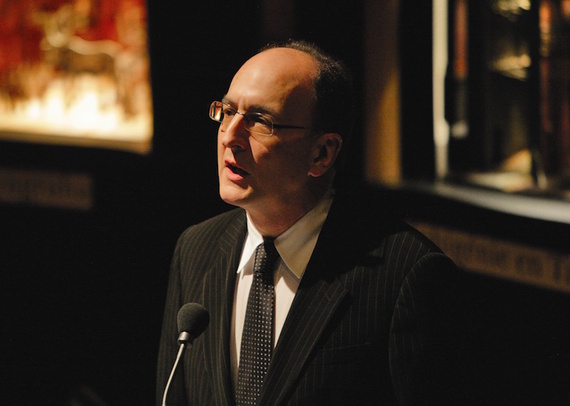 The second in a three-part series, ZEALnyc speaks with Metropolitan Opera General Manager Peter Gelb about his ten years at the Met.
Mark McLaren, ZEALnyc Editor in Chief, August 9, 2016
In the first of ZEALnyc's interview series with the General Manager of the Metropolitan Opera, Peter Gelb indicated that it has become even more difficult to attract a new audience to live opera in the time since he arrived at the Met in 2006. In a wide-ranging interview with ZEALnyc in February at the announcement of the Met's 2016/2017 season, Mr. Gelb discusses his ten years at the helm of the Met, the particular challenges of audience building in 2016, talent discovery, and here, taking risks and the influential Live in HD broadcasts.
ZEALnyc: ...How have you done in attracting a younger ticket purchaser?
PG: ...We have more first-time opera goers, by a large amount, than ever before, which is great. The thing is we have to convince people to not only come to the opera, but to come often. We have so many seats.
I'm obviously not afraid to take chances. I think taking creative risks in art is essential. They have to be calculated risks - you have to, hopefully, know what you're doing. I'm not saying I haven't had my share of stumbles. But I think the track record that the Met has had in terms of its productions has been a pretty good one - we have a pretty high batting average.
ZEALnyc: We had been speaking of risk and to The Ring which, as you say, was a big chance to take early on. What can we expect in the next few years that might resemble that in terms of a big step from the Met and your administration?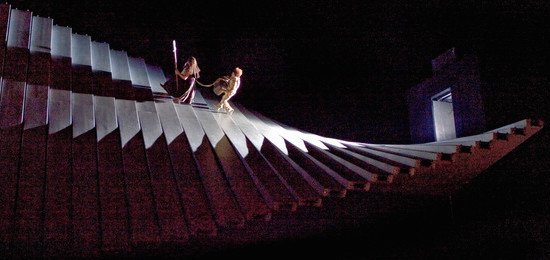 Metropolitan Opera production of 'Das Rheingold' by Robert LePage.
Photo: Ken Howard/Metropolitan Opera
PG: Well, there's no single opera project bigger than The Ring [laugh] so, I can't, in terms of challenge or risk, I can't top that. But I can say that we are not going to deviate from our commitment to continue to present new work, to introduce new directors that have not worked at the Met before. In 2017 Calixto Bieto makes his debut as a director. We are committed to keeping the Met on the cutting edge of theatrical invention, and nothing makes me more excited than presenting a new production that works, or discovering a new artist.
If there's any company that is truly a global company in the performing arts, it's the Met. Because we serve an audience of hundreds of thousands of people with each one of our HD transmissions. With last Saturday's Manon Lescaut transmission we sold our 20-millionth ticket since we began this project ten seasons ago.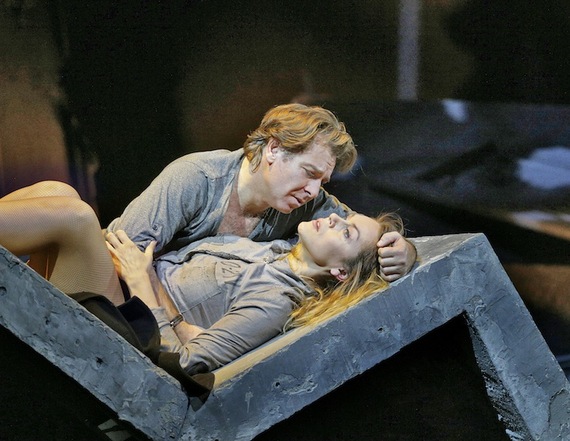 Roberto Alagna and Kristine Opolais in the Metropolitan Opera production of 'Manon Lescaut.' Photo: Ken Howard/Metropolitan Opera
Because of the Met's reputation around the world, which is stronger now than ever because of our high definition broadcasts (70% of our audience is outside the US), it is quite remarkable how many people see the Met in Europe, and who also listen to it on radio. The Met was famous for attracting the greatest singers in the world before I arrived, but we've been able to take that even a step further, in terms of the top stars, by making it possible that only on the stage of the Met does a singer really reach a global audience.
So singers want to be on the stage of the Met more so than ever before. But HD transmission also reinforces these singer's acting values as well. And we have been quite successful in attracting the best stage directors and designers who want to work with us.
ZEALnyc: Just a couple more questions. You talk about how important HD is to the whole organization and to opera as a whole. Are there any other plans as far as distribution, as far as digital, pay-per-view, or other distribution options?
PG: Well certainly, we're always open to new ideas and to new electronic platforms. Right now, because the Live in HD is so successful, we have not wanted to undercut it success by having pay-per-view taking place concurrently. Quite frankly, the window that we'd need to have for pay-per-view would have to be so much after the initial transmission to movie theaters that the current pay-per-view players feel it wouldn't have the value that they would like it to have.


2015 Promotional advertisement for Metropolitan Opera's HD Live. Metropolitan Opera General Manager Peter Gelb says HD broadcasts account for 70% of Met Opera viewing.

On the other hand, we have close to ten thousand subscribers right now on our own Metropolitan Opera On-Demand subscription service, a pay-service that opera-lovers have available to them here and around the world which is picking up steam. It started a few years ago, but it is gathering momentum now as subscribers have increased by about thirty or forty percent year to year. And it is picking up momentum because we have been assiduously picking up various technical platforms to enjoy it through. Whether its Roku, Android Googel application, Apple TV, Samsung SmartTV, they all handle it.
That service, which has all of our HD content, as well as hundreds of historic radio broadcasts and historic standard definition TV broadcasts, is for a real serious opera lover, a kind of a dream come true. It's got everything.
We also distribute on TV as well--PBS continues to be a partner of ours. In Japan we have the WOWOW channel that transmits our all of our HD transmission after they're seen in Japanese movie theaters.
ZEALnyc: How much growth is there left in the HD product?
PG: Well, there are still markets that are left untapped like China. We have a foothold in Russia, but I think that Russia can be much larger because it has a huge classical music and opera-loving audience. Certainly opera is far more engrained in the Russian culture than it is in the United States.
But perhaps for that same reason, it has not taken hold. And also, the time difference is a little too big in Russia. We are live in Moscow during our one o'clock matinees, but it is nine o'clock in the evening start for our Moscow audience.
Our biggest growth in Europe has been Germany, Austria, France, England, and Scandinavia. It's not uncommon for thirty-six, thirty-seven, thirty-eight thousand people to be watching us live on a Saturday night from our Saturday matinee in Germany and Austria--just those two countries alone. In Vienna we have movie theater capacity that is three times the capacity of the Vienna State Opera, and it's always filled.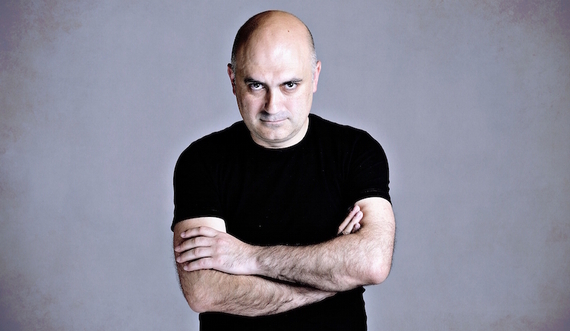 Spanish director Calixto Bieito, who mounts a new production of Verdi's 'La Forza del Destino' at the Met in the 2017/2018 season. Bieito's work has been called 'tough and intelligent.' Photo: David Ruano
____________________________
Cover Photo: Peter Gelb, General Manager of The Metropolitan Opera, during a press conference at the Metropolitan Opera. Photo: Ken Howard/Metropolitan Opera.
Mark McLaren, Editor in Chief of ZEALnyc writes frequently on classical music and theater.
Calling all HuffPost superfans!
Sign up for membership to become a founding member and help shape HuffPost's next chapter