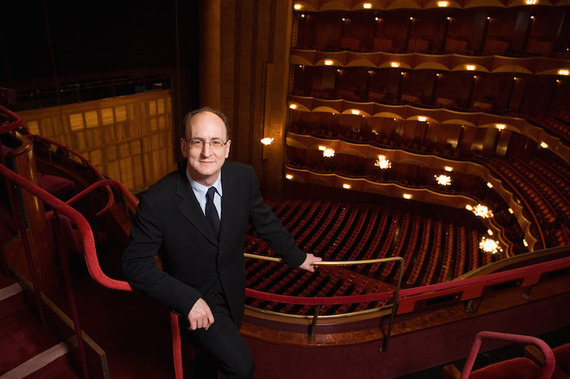 The final installment in a three-part series, ZEALnyc speaks with Metropolitan Opera General Manager Peter Gelb about his ten years at the Met.
Mark McLaren, ZEALnyc Editor in Chief, August 11, 2016
Last season saw some exciting talent on and off the Met Opera stage, artists both new and established. The bel canto soprano Sondra Radvanovsky had a triumph singing in Donizetti's "Tudor Queen" trilogy. German coloratura soprano Marlis Petersen sang (and retired) her acclaimed portrayal of Lulu in a visually arresting new production by South African artist William Kentridge. Music Director Designate Yannick Nézet-Séguin conducted Bartlet Sher's new Otello, and Esa-Pekka Salonen conducted a sizzling new production of Elektra starring the Swedish dramatic soprano sensation, Nina Stemme. And the young Mexican bel canto tenor Javier Camarena became only the third singer since 1942 to break the Met's strict ban on encores, as Ernesto in Don Pasquale.
Metropolitan Opera General Manager Peter Gelb sat down with ZEALnyc in February at the announcement of the Met's 2016/2017 season. In a wide-ranging interview that we've published in three parts, Mr. Gelb discusses audience retention and building, risk-taking, Live in HD, and here, discovering talent and artists on the rise.
ZEALnyc: ...We had been speaking of risk and to The Ring, which as you say was a big chance to take early on, what can we expect in the next few years that might resemble that in terms of a big step from The Met and your administration?
PG: ...I can say that we are not going to deviate from our commitment to continue to present new work, to introduce new directors that have not worked at the Met before. In 2017 Calixto Bieito makes his debut as a director. We are committed to keeping the Met on the cutting edge of theatrical invention, and nothing makes me more excited than presenting a new production that works, or discovering a new artist.
You know, I think one of the differences between now and when I started is that we are quicker to react to finding new talent. I think very consciously to creating an arc to a singer over a number of years, to develop them as artists on stage. Obviously our top stars sing at many opera houses, but we try to have a sense of having kind of a 'home team' in terms of our star performers. And we add to that roster all the time as we discover new artists like Nadine Sierra, the wonderful young soprano from Florida who made her debut as Gilda earlier in the season. I think she's something like 27 years old, which is very young for a debut on the stage of The Met.
And we have singers like Anna Netrebko and Sandra Radvanovsky, or now we have this wonderful tenor, Javier Camarena, who is singing Ernesto in the revival of Don Pasquale. We have many roles for him in the future. He is the great new coloratura tenor. In fact, we have a number of performances in the coming season where we couple him with the brilliant young South African soprano Pretty Yende. They will be performing in various operas together.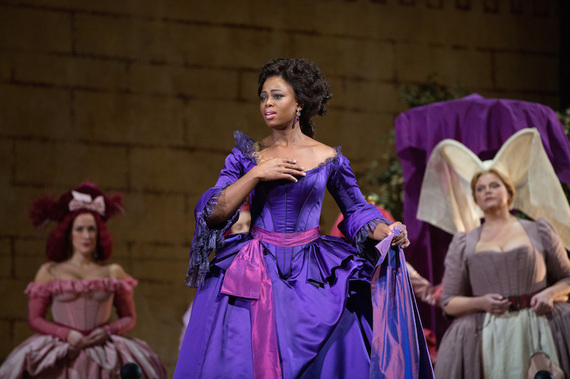 South African soprano Pretty Yende in Metropolitan Opera 'Le Comte Ory.'
Photo: Marty Sohl/Metropolitan Opera
The idea is to try to establish some kind of themes in terms of programming and casting that our audiences can feel comfortable with and be excited by at the same time.
ZEALnyc: One of my questions was to ask who is up and coming. The Met was a big champion of Anna Netrebko in her career. And thank you for hitting on the young discoveries. Is there anyone that you are looking at who may be at the beginning of the type of arc that Netrebko has had?
PG: Well, certainly a singer like Nadine Sierra fits that category. Or the wonderful young Bulgarian soprano, Sonya Yoncheva, who is our Desdemona in Otello this fall and who made her debut the previous season with Mimi in Bohème and Violetta in Traviata. She has multiple roles with us in the future.
I shouldn't say that no singer will have the career arc of Netrebko, but her transition from light soprano to Verdi soprano is extraordinary. That's really, if not unique, close to it. When you consider the fact that she was singing the lightest roles like Gilda, and now she's singing Lady MacBeth and Travotore, it's extraordinary.
ZEALnyc: How much time do you spend traveling in this position?
PG: I don't travel nearly as much as I used to in my previous jobs. I can't really. I have to be here on the scene, since I wear multiple hats. I have overall artistic and business responsibility, this is a very big company, its a living breathing organism. We're our own little village. We have over 3,200 full-time and part-time employees, and something is always happening here.
So my traveling during the season is always limited to a quick 24-hour trip to Europe or to London to check something out. For example, in a couple of weeks, I'm flying to Baden-Baden just for literally a 24-hour trip to be at the premier of our co-production of the new Tristan that will open our season this year in September, but that has its out-of-town premier in Baden-Baden. So I make trips like that, but I fly back the next day. So I'm missing from The Met for literally, 24 or 36 hours.


Stuart Skelton and Eva-Marie Westerbrook in Mariusz Treliński's 'Tristan und Isolde' in Baden Baden. The production opens the Metropolitan Opera Season with Nina Stemme. Photo: Szenenfoto
And then I travel more extensively at the end of our season in June and in July. I travel to Europe, I see a lot of productions that I'm interested in seeing that I couldn't see otherwise. I'm interested in always spotting new talent, new directors, new singers, meeting with my colleagues, talking about possible new projects, new co-collaborations.
ZEALnyc: Is there a company or two out there that you're particularly impressed with, given your vision for the Met?
PG: Every one of the major companies is capable of doing great work. Certainly there is terrific work being done in London, in Paris, in Milan, in Germany, but a lot of it depends on what the repertoire is, in whose hands it has been entrusted as far as the directors and conductors, and who the singers are. But certainly there are interesting stagings of work that I haven't seen yet, that I'm interested in seeing that might result in a director with whom the Met audiences are not yet familiar.
For example, that's how I discovered Dmitri Tcherniakov. He was already discovered in Europe and was in the midst of a major, major career which continues to flourish there. But seeing his work and discussing projects with him resulted in this wonderful, dramaturgically enhanced production of Prince Igor that we presented a few seasons ago, which I think is one of the highlights of my time here.
ZEALnyc: Two more questions. You mentioned the Tristan that Nina Stemme will be singing in the season opener this fall. What four or five words would you use to describe Ms. Stemme?
PG: Well she is, today, the greatest Isolde in the world. And for that reason, we are very thrilled that she is going to be singing the title role in the new production. We are in a bit of a run with her now, earlier in the season she was singing Turandot, she's going to be featured in the title role of our Patrice Chéreau's new production of Elektra in April, and she is one of the great singing actresses in that dramatic soprano rep, ever. So we're very happy that she is appearing at the Met so much in these months.
ZEALnyc: Would you say that it is an exciting time for fans of dramatic sopranos?
PG: Yes, absolutely. It seems that there are a number of great dramatic sopranos, and a number of lighter sopranos. We never seem to have enough tenors, so that's a bit of a problem!
ZEALnyc: If you could have seen only one performance over the past ten years at the Met, looking back what would that performance have been?
PG: That is an impossible question.
ZEALnyc: Good answer. Thank you for your time Mr. Gelb.
PG: Thank you so much, it was nice talking with you.
__________________________________
Cover Photo: Peter Gelb, General Manager of The Metropolitan Opera, in the opera house auditorium. Photo: Dario Acosta/Metropolitan Opera
Mark McLaren, Editor in Chief of ZEALnyc writes frequently on classical music and theater.
Popular in the Community