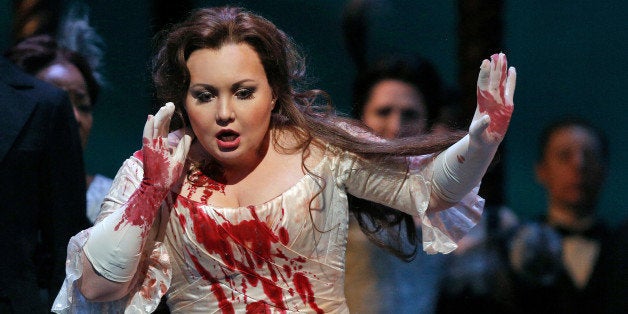 Donizetti may be one of the best things to happen to Sir Walter Scott. And with the return of Lucia di Lammermoor to the Met Opera stage last night, Albina Shagimuratova is one of the best things now going for Donizetti.

The Russian soprano captivated a first night audience with her bravura performance as the doomed Scottish lass, culminating in a heart-stopping Mad Scene that can take its place among those of the storied singers who have made the role a signature of their virtuosity.

Donizetti wrote his opera in 1835, with a libretto by Salvadore Cammarano based on Scott's novel The Bride of Lammermoor, and it became an instant success with the character of Lucia Ashton becoming the personification of a woman thwarted in love by a father who demands she marry another against her will in an effort to save the family's fortunes.
The plot is a simple one. Lucia has fallen in love with Edgardo di Ravenswood, who is the mortal enemy of her father, Enrico Ashton di Lammermoor. Lucia and Edgardo plight their secret troth, but Enrico forges a letter from Edgardo saying he has fallen in love with somebody else, and Lucia reluctantly agrees to marry Arturo, her father's choice. This turn of events drives Lucia to a complete mental meltdown and it all ends in bloody murder, death and suicide.
The opera, with some of the most beautiful and dramatic music of the Romantic era, became so familiar to 19th-century Europe that several novelists alluded to it in their work. Flaubert has Emma Bovary attend a performance of Lucia in Madame Bovary, and Tolstoy wrote a description of a performance in Anna Karenina.
The roster of sopranos who have sung Lucia to stake their claim to bel canto credentials is long -- Pons, Melba, Callas and Sutherland to name just a few from the past, and more recently at the Met, Natalie Dessay, Diana Damrau and Anna Netrebko.
Shagimuratova can join the list. She is apprehensive in her opening aria "Regnava nel silenzio" as she recounts seeing the ghost of a woman who was murdered near the fountain where she waits to meet Edgardo. Then when her thoughts turn to Edgardo, she beams and sings like a woman in love, full of joy and with silvery runs in "Quando, rapito in estasi."
The role is a demanding one, especially in the Mad Scene, a long passage of vocal dexterity that is one of the most liltingly lovely yet desperate pieces of music in all opera. Shagimuratova, singing in only her second role at the Met, hits every note squarely with ringing brilliance, and with only a solo flute for accompaniment, exquisitely played by Stefan Ragnar Hoskuldsson, evokes all the pathos of a deranged mind struggling with an ill-fated love.
The Met has assembled an excellent all-round cast for this round of performances of Lucia, which will be repeated seven more times this season. The tenor Joseph Calleja carried on in the role of Edgardo, though an announcement at the beginning said he had been suffering from the flu. There was indeed some strain in Calleja's opening act duet with Shagimuratova ("Ah! Verranno a te sull'aure") but he became vocally stronger as the evening went on.
By the third act, Calleja's voice had regained its brightness and the back-to-back arias in the final scene -- "Tombe degli avi miei" and "Fra poco a me ricovero" -- were wonderfully moving and tragic.
The Italian baritone Luca Salsi, also in only his second Met appearance, was splendid as Enrico. From the opening "Cruda, funesta smania" his rich powerful voice conveyed a man enraged yet one used to commanding and having his way. When he and Calleja face off at the end of Act 2, they circle each other like snarling dogs in their rousing duet. And the English basso Alastair Miles was excellent as Raimondo, the Lammermoor chaplain and Lucia's tutor.
Maurizio Benini conducted the Met Orchestra in a well-paced reading of the score. If the overture began with a certain deliberateness of foreboding, Benini proceeded at almost a gallop as the manhunt of the opening scene gets under way and the tempo throughout remained in step with the action onstage.
Mary Zimmerman's 2007 production, which moves the story to the 19th century, still conjures the bleakness of the wild and barren Scottish countryside, though there's not a kilt in sight. She actually brings the ghost in Lucia's story onstage, slowly wandering around the set before disappearing in the fountain, a theatrical addition that can be distracting to audience and soprano alike. But the grand staircase with a minstrel in the final act gives Lucia a spectacularly dramatic entrance for the Mad Scene.
REAL LIFE. REAL NEWS. REAL VOICES.
Help us tell more of the stories that matter from voices that too often remain unheard.