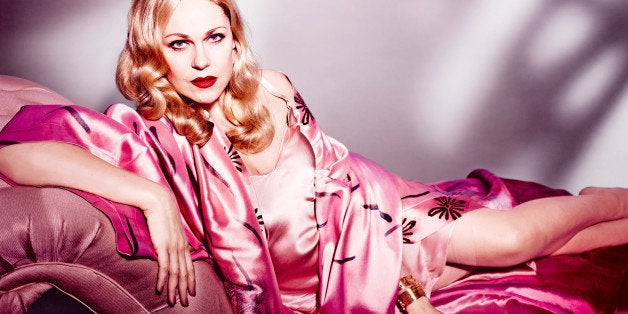 True love rarely, if ever, runs smoothly, but it seldom has quite as many roadblocks as Puccini throws up in Manon Lescaut, the composer's first great success, or the political pothole of the Met Opera's new production by Sir Richard Eyre, but with Kristine Opolais in the title role and Roberto Alagna as her lover Chevalier des Grieux it overcomes all in the end.
Puccini poured passion, longing, and despair into the score, and Opolais and Alagna deliver excellent performances that bring out every nuance. Their duets are tender and touching, and each shines in individual arias, Opolais especially in her second act "In quelle trine morbide" and her final "Sola, perduta, abandonata," and Alagna is his opening "Donna non vidi mai."
It is a love story audiences around the world can see on March 5 when the Met simulcasts its matinee performance to more than 2,000 theater is some 70 countries as part of its Live in HD series.
Manon Lescaut is a character made for the operatic stage, a gold-digger with a heart of gold, a beautiful young woman torn between true love and a life of luxury. When Puccini cast about for a story for his second opera he turned to an early 18th century novel by Abbe Provost although Massenet had used the same source for his opera Manon just a few years earlier.
The story concerns an 18-year-old girl, Manon, who is being sent by her father to a convent, escorted by her brother. At a stop in Amiens, her beauty is noticed both by des Grieux and an elderly and wealthy man, Geronte. The latter plans to seduce her and spirit her away to Paris, but des Grieux convinces her to run away with him instead.
In Puccini's version the next time we see Manon she is living in lavish splendor with Geronte (Massenet inserted an act with her living in poverty with des Grieux before leaving him for Geronte). When des Grieux arrives back on the scene, their old flame is rekindled and she agrees to flee with him. But before they can make their getaway, Geronte summons the police and Manon is arrested.
The action then jumps to the port at Le Havre where Manon is to be deported from France, along with a number of prostitutes, aboard a ship bound for Louisiana. A plan to rescue her fails and des Grieux bribes the captain to let him sail with her as a cabin boy on the ship. A final act takes place in what Puccini called "a barren desert near New Orleans" (he clearly had never been to Louisiana) with Manon dying but she and des Grieux declaring their love to the end.
For the new Met production, Eyre has kept the setting in Amiens, a northern French city that dates to Roman times, but advanced the date to 1941 during the German occupation in World War II. The opening scene is set around a sidewalk café opposite the Hotel de Ville with the train station up a steep and long flight of steps and a semicircle of risers that resemble a Roman amphitheater. One table is occupied by four Nazi soldiers, three of whom are wearing battle helmets.
Similarly, Manon's boudoir in Geronte's mansion is at the foot of a long staircase and features a giant pillar like Trajan's Column with erotica that could be illustrations for the Kama Sutra winding up the side instead of the military exploits of a Roman emperor.

But the main problem is simply in inserting a political element into an opera that is totally apolitical. When it comes time for Manon's arrest and deportation by ship (to where? is there a desert outside Bremerhaven like the one outside New Orleans?), one must assume the Nazis in Amiens were more interested in rounding up hookers than Jews or Partisans.
But the idiosyncrasies of the setting do not distract from the joys of Puccini's music, which the magnificent Met Orchestra renders so beautifully under Fabio Luisi's brilliant baton, especially in the sweeping Intermezzo before Act III, a soaring orchestral movement that captures all the emotion of the opera.
The roles of Manon and des Grieux have been a magnet for the great singers of the past. Kirsten, Albanese, Tebaldi, and Scotto all performed the title role at the Met, and Callas memorably recorded it though she never sang it onstage. And Caruso, Bjorling, Tucker, and Domingo have taken on des Grieux.
Opolais and Alagna can add their names to the list of Met duos who have mastered the parts. There is real chemistry between them, and given the circumstances that brought Alagna to the stage for this new production, that is no small feat. The role of des Grieux had originally been planned for the German tenor Jonas Kaufmann, but he withdrew at the last minute.
Peter Gelb, the Met's always resourceful general manager, prevailed on Alagna to forgo his remaining performances as Canio in Pagliacci and step into des Grieux in Manon Lescaut, a role he had once learned but had never sung onstage, on just 16 days notice. It is a remarkable feat and a happy one for Met audiences as well as those who see the production in theaters around the world.
The Italian baritone Massimo Cavalletti is solid as Lescaut, Manon's brother, and the English bass Brindley Sherratt is suitably pompous as Geronte. And Zach Borichevsky, a tenor from Philadelphia, makes a striking Met debut as des Grieux's friend Edmondo.
Related
Popular in the Community