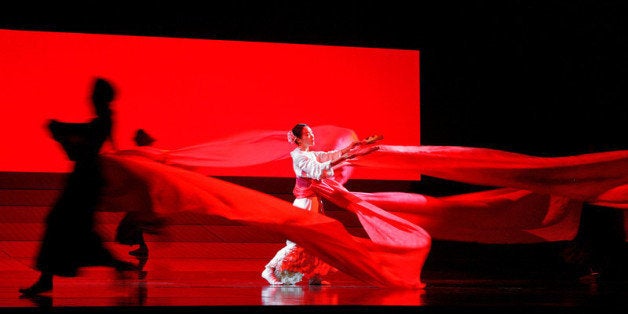 There are few, if any, more heart-rending operas than Madama Butterfly, and there are few, if any, productions that more fully capture the emotional power of Puccini's score than Anthony Minghella's magical staging for the Metropolitan Opera. And with a splendid Kristine Opolais singing the title role, it is an intense and moving experience no opera lover should miss.

Fortunately, audiences around the world will be able to see it for themselves when the Met simulcasts its matinee performance of Madama Butterfly on April 2 to more than 2,000 theaters in some 70 different countries as part of its Live in HD series.

Opolais, the Latvian soprano who teamed with Roberto Alagna in the Met's new production of Puccini's Manon Lescaut (which was also telecast to theater audiences earlier this month in the Live in HD series), is once again the French tenor's love object, only this time around he's the fickle one.

The story of Butterfly, based on a David Belasco play, involves a U.S. Navy lieutenant named Pinkerton who arranges a convenience marriage to a 15-year-old Japanese geisha named Cio-cio-san, or Butterfly, to amuse himself while he's based in the port of Nagasaki around the turn of the 20th century. Cio-cio-san, however, takes her wedding vows seriously, embracing Christianity and adopting America as her homeland, thus earning the enmity of her family.

After Pinkerton sails away, leaving Cio-cio-san pregnant, she remains convinced he will return for her someday and take her to America. When he does show up again three years later, it is with his new American wife in tow, shattering Cio-cio-san's faith with devastating and tragic results.

The role of Cio-cio-san is a demanding one inasmuch as she is onstage for most of the opera and she must transition vocally a range of emotions from demure bride to physical desire to anxious devotion to despair.
Opolais makes it all believable. In the famous "Un bel di vedremo" aria, Opolais clearly sees in her mind's eye Pinkerton's ship arriving in the harbor, her waiting for him at the top of the hill, him calling to her. Her lovely soprano soars, then drops to a pianissimo, never wavering in her conviction of his return for her until the very end.
Alagna's Pinkerton is a model of an ugly American abroad, seeking only his personal pleasure with a smile and devil-may-care swagger. Yet he is truly infatuated with Cio-cio-san and his and Opolais's love duet at the end of Act 1 is at once tender and passionate. It is a vocally assured performance that confirms the chemistry he and Opolais created in Manon Lescaut.

The other big star in this revival is Minghella's brilliant staging. Although now nearly a decade old, it can still amaze. The great British director, who died at the age of 54 two years after his Butterfly arrived at the Met, employed a life-size Bunraku puppet for Cio-cio-san's and Pinkerton's child and smaller ones for two other characters and of Cio-cio-san herself as a child.
It was a stroke of genius and the puppeteers from the Blind Summit Theatre, unobtrusively dressed in black like Ninja warriors with veils, earned their own special curtain call. The set is mostly bare, with sliding rice-paper panels moving on and off to separate scenes. Even the stagehands wear the same black costumes, whether removing props or carrying paper lanterns.
An incline, running the width of the Met stage, rises at the back, with steps behind leading up to it, representing the hill visitors must climb to the house Pinkerton rents for himself and Cio-cio-san. Her entrance with her bridal entourage from these stairs is simply breathtaking. And mirrors in the flies allow the audience a birds-eye view.
Madama Butterfly survived a disastrous premiere at La Scala in 1904 - it closed after one performance that was heckled. But Puccini re-worked it several times and the version audiences mostly hear today is one that Paris audiences cheered two years later. It first arrived at the Met the following year, with Puccini in the audience and Geraldine Farrar and Caruso singing the leads.
It is now one of the most often performed staples in the repertory, an opera whose music can bring tears to your eyes no matter how many times you've heard it, and in a thrilling production like Minghella's and with singers like Opolais and Alagna, it is easy to understand why.
While Cio-cio-san is the heart and soul of Madama Butterfly and Pinkerton is its driving force, other roles are essential to a successful production. The mezzo Maria Zifchak is admirable as Suzuki, Cio-cio-san's devoted maid, and the baritone Dwayne Croft is officious yet sympathetic as the American Consul Sharpless.
Karel Mark Chichon, in his debut on the Met podium, conducts a robust reading of the score, though perhaps a bit troppo forte in some of the more delicate passages. Yet he elicits all of the pathos in the music, especially in the Intermezzo between the two scenes of Act 2 and the so-called "Humming Chorus" as Cio-cio-san settles to wait for Pinkerton's return.
Calling all HuffPost superfans!
Sign up for membership to become a founding member and help shape HuffPost's next chapter