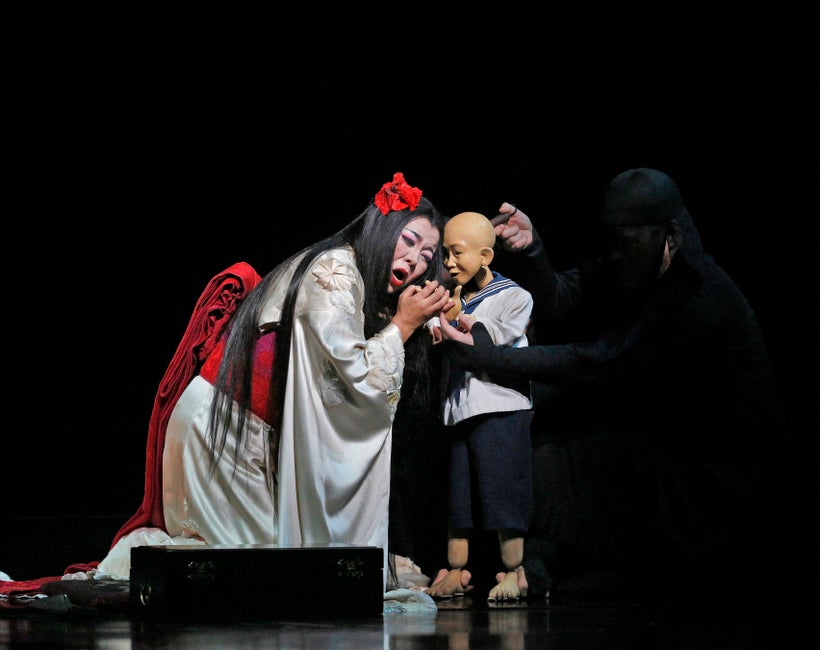 If you feel in the need a good cry, and who doesn't now and then, the Metropolitan Opera has revived its splendid production of Puccini's Madama Butterfly, and with Hui He singing the title role of the betrayed Cio-Cio-San and Roberto Aronica as Pinkerton, the American Navy officer who jilts her, it's a three-hanky night at the opera that is immensely satisfying.
Hui He, a Chinese soprano whose only previous Met appearance was an Aida seven years ago, runs Cio-Cio-San's emotional gamut with agility. She has a soaring, passionate voice, and her "Un bel di" is so full of fervent faith that one can almost see the ship bringing her American lover back to her on the horizon.
Cio-Cio-San is one of the more difficult soprano roles in the repertory. She is onstage nearly the entire opera and she must range from bashful schoolgirl in the opening, to hopeful expectation as she waits for Pinkerton's return, to despair as the realization of his duplicity becomes clear. Hui He is credible throughout, shy, devoted, and ultimately tragic.
Aronica, an Italian tenor with a booming delivery that is full of bravado, conveys a sense of American superiority that is an ugly American at its ugliest. Yet the love duet that ends the first act, beginning with Cio-Cio-San's "Vogliatemi bene" ("Please love me"), is tender and his sense of guilt at the end is genuine.
Jader Bignamini, making his debut in the Met pit, conducts a sweeping and dramatic reading of the score, and a fine all-round cast includes the always dependable mezzo Maria Zifchak as Suzuki, Cio-Cio-San's maid; David Bizic, a Serbian baritone, as the U.S. Consul Sharpless; Kidon Choi as the rejected Japanese suitor Yamadori; and Tony Stevenson as Goro.
The other star in the Met's Madama Butterfly is Anthony Minghella's production, still riveting after it first captivated Met audiences 11 years ago. Minghella, whose untimely death at 54 came two years after his Butterfly premiered at the Met, was a superb film, TV, and stage writer and director known for his fine attention to detail, however small.
He was also one of the most imaginative and innovative directors in any medium. For Butterfly, his first and only opera assignment, he employed Bunraku puppets, including one for Cio-Cio-San's young son, which are unobtrusively handled by a baker's dozen puppeteers from the Blind Summit Theatre, all costumed in black Ninja-like suits and veils. Another is of Cio-Cio-San herself in a dance sequence that separates the two scenes of Act II.
Minghella's staging enhances the drama. A raked ramp stretches across the width of the stage from which the wedding party and others arrive, and mirrors hanging in the flies give the audience a bird's-eye view. Even before a note is played, a solo dancer, Hsin-Ping Chang, enters upstage and performs a traditional Japanese fan dance.
The set is spare with sliding rice-paper panels shifting to separate scenes, while paper lanterns and bird puppets dart about to create romantic effect. Han Feng's wonderful costumes further serve to mirror the difference in Japanese and American cultures at the turn of the 20th century – the Westerners in Edwardian three-piece suits and the Japanese in traditional dress of the Meiji period.
From a disastrous premiere at La Scala in 1904, Puccini revised it extensively, fusing Eastern and Western sounds into one of the most popular operas in the repertory. The score reaches an emotional height with the so-called "humming chorus" as Cio-Cio-San spends the night waiting, waiting, waiting in vain for Pinkerton to return. It is a passage of music that can break your heart however many times you have heard it.
The story of Madama Butterfly is taken from a David Belasco play. A U.S. Navy captain, Pinkerton, takes a 999-year lease on a house situated on a hill overlooking Nagasaki harbor. He also buys for 100 yen a convenience wife, a 15-year-old geisha from a once prominent family that has fallen on hard times and whose father was forced to commit seppuku by the Japanese emperor.
When his tour of duty in Japan is up, Pinkerton returns home and forgets about his Japanese wife, not knowing that she is pregnant. But Cio-Cio-San is certain he will return one fine day, rejecting an offer of marriage from a wealthy prince and turning a deaf ear to entreaties she should forget about Pinkerton ever coming back. And when his ship does put into port three years later he has his new American wife with him, crushing Cio-Cio-San's hopes and dreams.
A subtext to the opera is a dilemma many immigrants face even today. Cio-Cio-San renounces her Japanese heritage – religion, customs, family – to become a full-fledged American, converting to Christianity and turning away from family.
Always one of its most popular draws, the Met is performing Madama Butterfly a dozen times this season – four more in November and returning it in February and March for six more performances with a different cast.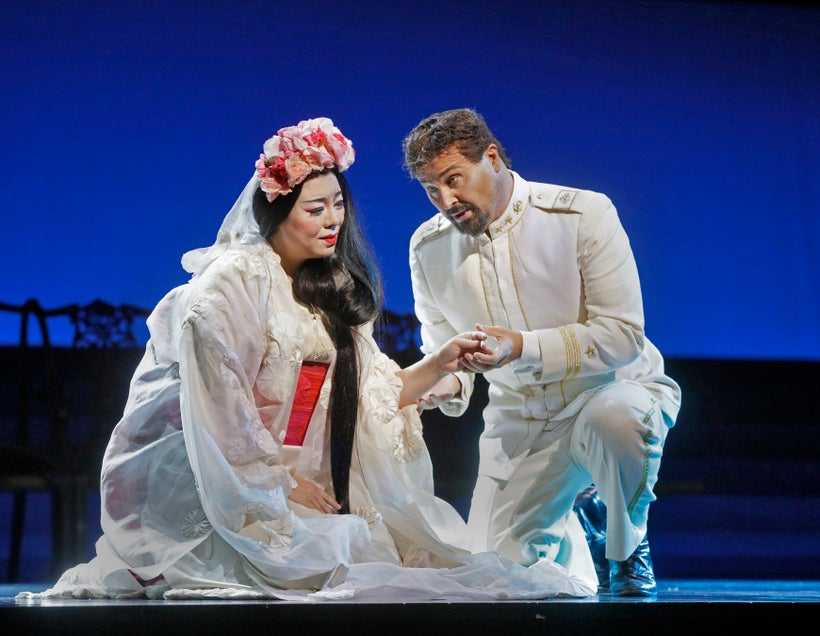 Calling all HuffPost superfans!
Sign up for membership to become a founding member and help shape HuffPost's next chapter
This post was published on the now-closed HuffPost Contributor platform. Contributors control their own work and posted freely to our site. If you need to flag this entry as abusive,
send us an email
.