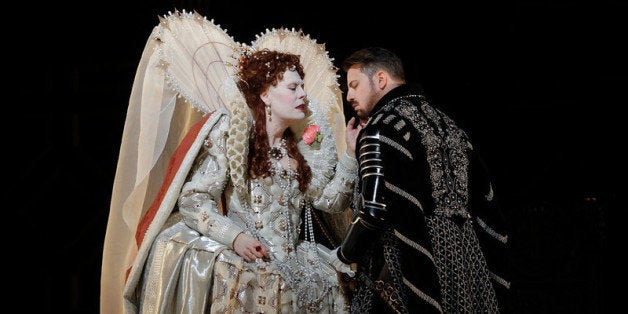 Sondra Radvanovsky completed her hat trick of singing all the leads in Donizetti's Tudor Trilogy last night with a triumphant and bravura performance as Queen Elizabeth I in the Met Opera's premiere production of Roberto Devereux.

Supported by an excellent Matthew Polenzani in the title role and a brilliant Elina Garanca as Sarah, the Queen's rival for Devereux's affections, Radvanovsky soared through her opening "L'amor suo mi fe beata," a sweeping aria that is both regal and earthy and defines Elizabeth's conflicted character. By the opera's grand finale she brought down the house.

With the splendid conductor Maurizio Benini leading the outstanding Met Orchestra and Chorus in a fine rapport between pit and stage this is a Roberto Devereux that is a musical joy. And it is a delight audiences around the world can hear for themselves on April 16 when the Met simulcasts its matinee performance to over 2,000 theaters in some 70 different countries.

Roberto Devereux was the third opera Donizetti wrote about the Tudors over a seven-year period, beginning with Anna Bolena in 1830 and following with Maria Stuarda four years later. It is one of the most dramatic in the bel canto repertory and runs the gamut of emotions, all of which are given full musical voice, making it one of the most demanding.

Although Anna Bolena and Maria Stuarda found places in the bel canto revival over the past few decades, Roberto Devereux had never been staged at the Metropolitan Opera. The production by Sir David McVicar - the Scottish director who also staged the first two operas for the Met - is something of an oddity, an indulgence in whimsy that seems to be inspired by Art Deco meets Tudor England.
A unit set serves all three acts, all in gold and black, with a large double door in the center flanked by individual doors on a façade that could be a bank or a church. Two statues are set in niches against this front, one a skeleton Death holding his Grim Reaper scythe and the other of Father Time, bearing a distinct resemblance to Michelangelo's Moses, holding an hourglass and with a shapely mannequin leg protruding from his cloak.
Colonnades run along either side of the stage and minstrel galleries look down from above. A dozen candelabras rise and fall from the flies and lamps that look like jelly fish provide side lighting. McVicar also moved the setting from London to Nonsuch Palace in Surrey, built by Elizabeth's father King Henry VIII and torn down 330 years ago.
One also gets the distinct impression McVicar didn't much like Queen Elizabeth I. In Roberto Devereux, he has Radvanovsky first appear clomping about the stage in a bustle the size of a pup tent and two angel wings sprouting on her back, and for her finale she removes her wig, presumably to accent her crazed state of mind, but which simply makes her look like a beggar.
Of course, Donizetti didn't exactly burden himself with the niceties of historical accuracy in any of the operas. Elizabeth I, the self-described Virgin Queen, may have had romantic dalliances, but Devereux, the 2nd Earl of Essex, 33 years her junior, was almost certainly not one of them. Historians have described him as one of her "favorites," but that's a term used to describe courtiers with whom she liked to play cards or dance as well as any who may have shared her bed.
Devereux was indeed beheaded, but it was after he was suspected of being involved in a coup plot against the Queen, not for dumping her for the wife of his best friend. And it does not take a historian to know that Elizabeth I never abdicated the throne.
But it is the music that makes Roberto Devereux such a pleasure, and the story of unrequited love, forbidden happiness, jealousy, betrayal, and revenge is valid whether it involves a Queen of England or a chimneysweep.
And Radvanovsky's feat of singing all three leads in all three Donizetti operas -- and with such dazzling virtuosity -- in one season is as remarkable as it is rare. The last time a soprano did it was Beverly Sills more than 40 years ago.
Radvanovsky's powerful voice can climb to vocal heights unheard since Sutherland, then drop to a hushed pianissimo with such ease that it can make one gasp. She expresses tortured feelings of love with the most delicate phrasing and jealous rage with a fire that can make one tremble. She should not be missed.
Polenzani delivers an outstanding and nuanced performance as Devereux, and his final act aria "Come uno spirito angelico" is sublime. His early love duet with Garanca, "Tutto e silenzio," is tender and touching. They make a lovely couple. Garanca, the Latvian mezzo who dazzled Met audiences in Carmen, is a delight as Sara. She has a rich and strong coloratura and one looks forward to hearing more from her next season.
The baritone Mariusz Kwiecien turned in a solid performance as the Duke of Nottingham, Sarah's husband, especially in his duet with Polenzani, a reprise of their wonderful pairing in Les Pecheurs de Perles earlier in the season.
Related
Popular in the Community