Vengeance may best be served cold for some people, but in Strauss's Elektra it is a rite of unbridled passion and Nina Stemme conveys all its fury in a fiery performance of the title role in the Metropolitan Opera's stark and searing new production.
With Adrianne Pieczonka giving a captivating reading of Chrysothemis, Waltraud Meier singing the tortured Klytamnestra (to use the opera's German spellings for all the characters), and Eric Owens as Orest, his mother's nemesis, the new staging by the French director Patrice Chereau is 100 minutes of almost nonstop rage that ends in one of opera's most frenzied bloodbaths.
It is a gripping account of the classic Greek tragedy that the Met Opera will make available to audiences around the world on April 30 when the matinee performance of Elektra will be simulcast to more than 2,000 theaters in some 70 countries.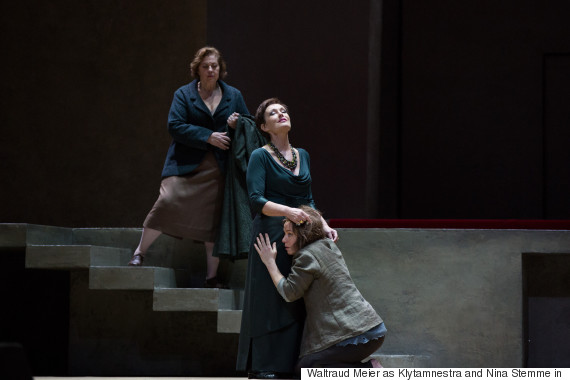 Chereau uses a spare unit set of whitewashed stone with an entrance to the Atreus family palace at center under a sort of bandstand shell in Mediterranean blue. Steps lead down from a porch to a courtyard, while a metal door on rollers that looks like a storage warehouse entrance leads off stage right. The costumes are sort of Eileen Fisher modern.
Strauss was still aglow from the success of his first opera, Salome, in 1905 when he happened to see a play by Hugo von Hofmannsthal titled and based on Sophocles' tragedy about Agamemnon's troubled daughter. The composer immediately contacted the playwright with an idea for an opera, but it was more than three years before their collaboration reached the stage in Dresden.
Elektra was a departure musically for Strauss. Expressionism was coming into vogue, and the dissonant, clashing chords that open the opera, and the harsh atonal passages that build the drama throughout - especially in the confrontational duets between Elektra and her sister and mother - were excitingly new at the time.
In a way Hofmannsthal's libretto owes almost as much to Freud or Shakespeare as to Sophocles. Freud's Studies of Hysteria had been published and one case study of a patient with split personality resembles some of Elektra's symptoms. Klytamnestra's nightmares, with her suppressed memory of murdering her husband, echo Freud's The Interpretation of Dreams. And, of course, there is the obvious comparison to Hamlet.
The character of Elektra has been one of the most enduring from ancient Greek literature. Depending on which playwright you read - Aeschylus, Euripides, and Sophocles all had a go writing about her - the details of her story as well as the endings vary, and Hofmannsthal's version, which cites Sophocles as its inspiration, is as valid as any of them.
The back story, however, is pretty much agreed on by all. Agamemnon, the chief Greek general of the Trojan War, returned home to find his wife, Klytamnestra, had taken a lover, Aegisth, in his 10-year absence. Wife and lover then kill him at his welcome-home banquet.
Agamemnon's young son, Orest, is hustled off to safety by Elektra and her sister(s) (in other versions Iphigenia is Agamemnon's other daughter, but she doesn't appear in Sophocles' play or Strauss's opera). In due course, Orest will return to avenge his father's murder by killing his own mother and her lover.
The opera begins in the courtyard of the Atreus palace in Mycenae where servants taunt Elektra for her continued grieving over her murdered father. Chrysothemis comes out to appeal to her to drop her obsession and return to palace life, a suggestion Elektra treats with utter contempt.
Klytamnestra enters and complains about her nightmares that keep recurring and asks her daughter's advice on how to stop them. Electra replies that a special sacrifice would end them. Klytamnestra hopefully asks what should be sacrificed. A virgin, maybe? When her daughter replies that it is she, the Queen, who must die, her mother retreats into the palace.
When Orest does finally arrive, he is in disguise and he and Elektra don't recognize each other immediately. Once they do, however, they have a touching reunion then waste little time dispatching Klytamnestra and Aegisth. Revenge for their father's murder is complete and Orest walks off while Elektra does an agitated dance of exultation.
Much of the opera consists of Elektra's lamentations, beginning with her opening "Allein! Weh ganz allein," which Stemme imbues with genuine anguish and grief in a strong yet plaintive voice that carries over the huge orchestra even from the back of the Met stage.
The role is a demanding one with a daunting range, both vocally and emotionally, and Stemme masters it completely, from tender remembrances of her father to her fantasizing about dancing on the corpses of his murderers. Her long "Orest" soliloquy when she finally recognizes her brother is a small tour de force.
As Chrysothemis, Pieczonka is excellent as the young sister who basically has a "life goes on" outlook and longs only to become a wife and mother and live a normal existence somewhere far away from Mycenae. Pieczonka has a lovely vibrant soprano that soars to grand heights, especially in her early "Ich kann nicht sitzen" aria.
Waltraud Meir is convincing as Klytamnestra in her "nightmare" arias and Eric Owens is strong as Orest. The Finnish conductor Esa-Pekka Salonen leads a booming Met orchestra - Elektra is scored for one of the largest orchestras in all opera - in an explosion of sound that dominates the opera.
Related
Popular in the Community