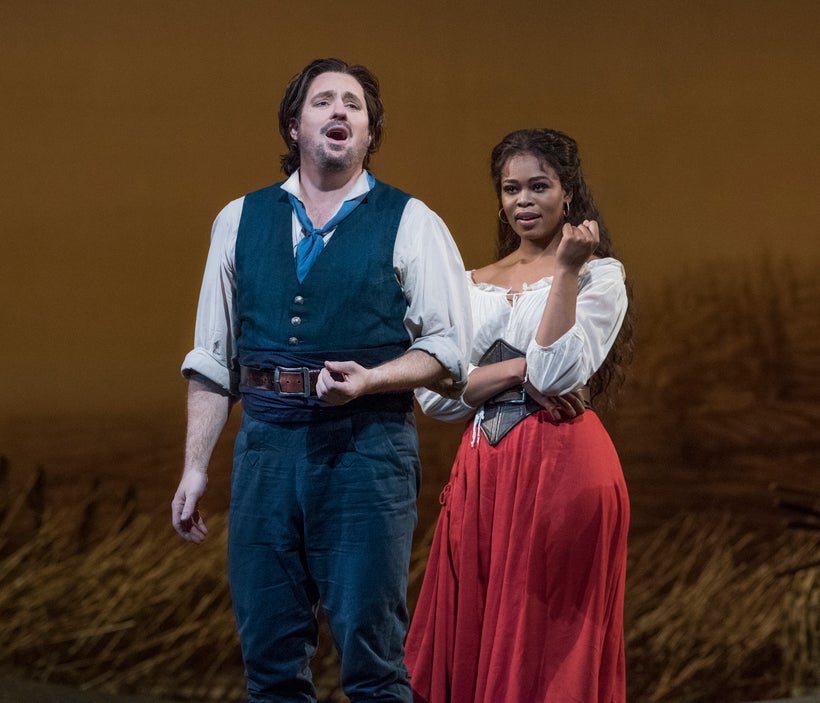 Nothing can melt a chilled, wintry heart quite like a romantic tale of love conquering all and Donizetti's L'Elisir d'Amore, which the Met Opera returned to the stage last night, is one of the most heart-warming. With the exquisite Pretty Yende singing the capricious Adina and Matthew Polenzani as her ardent admirer Nemorino, it is a revival at once funny, delightful, and tender.
Ildebrando D'Arcangelo in the role of Dulcamara, a traveling snake-oil salesman, and Davide Luciano, making his Met debut as Belcore, the army sergeant who woos Adina, deliver polished performances to provide the comedy. And Domingo Hindoyan, also making his Met debut in the pit, leads the Met Orchestra in a gallop through Donizetti's familiar score.
All in all, it's a thoroughly enjoyable night of opera and one the Met will make available to audiences around the world when it simulcasts its Feb. 10 matinee performance to over 2,000 theaters in 73 countries as part of its Live in HD series.
Donizetti wrote L'Elisir in just a few weeks (the exact number depending on which historian you read). He had accepted a hasty assignment from Milan's Teatro alla Canobbiana when another composer failed to produce a score. It premiered on May 12, 1832, was an instant success, and has never been out of the repertory.
Although the Met staging by Bartlett Sher takes place in rural, 19th-century Italy, the story could be anywhere, anytime, from ancient Rome to modern-day soap operas. Nemorino, a sort of country bumpkin, is hopelessly in love with Adina, a bookish yet fickle girl from his village, and he must find a way to win her.
While Nemorino sighs and moons over Adina, she basically tells him to get a life, and advises him that her cure for the illness called "love" is to change lovers every day. But when she reads to him and some villagers from her book, the fable of Tristan and Isolde, and gets to the part about Tristan obtaining a love potion from a magician that will make Isolde love him, Nemorino thinks he has found his solution.
Enter in quick order a group of Italian soldiers, whose sergeant, Belcore, immediately starts chasing Adina, and a traveling salesman, Dulcamara, who is peddling a cure-all patent medicine. Nemorino, remembering the Tristan and Isolde story, asks him if he also has a love potion for sale, and Dulcamara palms off a bottle of Bordeaux wine as the titular elixir of love.
If there is veritas in vino, there is also coraggio, and the bottle of wine gives Nemorino the self-confidence he had been lacking in his pursuit of Adina. And although Adina at first agrees to marry Belcore, a second bottle of Dulcamara's Bordeaux eventually manages to turn the tables in Nemorino's favor. As Ogden Nash once observed about the courtship of women, "Candy's dandy, but liquor's quicker."
Yende, the South African soprano who is fast becoming a favorite at the Met, is a natural as Adina. Her flirtatious smile is always playful and her transitions to jealousy and then love for Nemorino are convincing. Her voice has a lilting, silvery quality that is at once bright and delicate, especially her pianissimo passages. In her opening cavatina, reading from the book, she runs through a succession of trills like a race horse. And her duets with Nemorino are at first feisty then tender and loving.
Polenzani, the Illinois tenor with over 300 Met performances in 37 roles on his resume, delivers a strong Nemorino. L'Elisir is a tenor's showcase (little wonder Pavarotti sang it so often) and from his opening "Quanto e bella" through "Adina, credimi" and especially in the moving "Una furtiva lagrima," which drew extended applause, Polenzani's robust and assured vocal powers shine through.
D'Arcangelo, an Italian basso, captures every nuance of Dulcamara. He has a sturdy voice that takes the rapid runs in the character's patter songs with clarity and ease and his barcarolle with Yende is a highlight. Luciano, an Italian baritone, is a treat as Sgt. Belcore, alternately smug and bullying and in commanding voice.
Hindoyan, a Venezuelan conductor, led the always excellent Met Orchestra with an assured baton and had good rapport with the singers onstage. One hopes to see more of him in the Met's pit.
The Sher production, which premiered in the 2012-13 season, is a curiosity. The action flows smoothly, and the scene in the village piazza could be anywhere in Italy. But the villagers look like they just stepped off the set for "Little House on the Prairie." And the barn where the wedding is supposed to take place looks more like one on the Great Plains, and the men are all decked out in pastel top hats and cut-away coats with tails, attire not found in many wardrobes in rural Italy.
Calling all HuffPost superfans!
Sign up for membership to become a founding member and help shape HuffPost's next chapter
This post was published on the now-closed HuffPost Contributor platform. Contributors control their own work and posted freely to our site. If you need to flag this entry as abusive,
send us an email
.