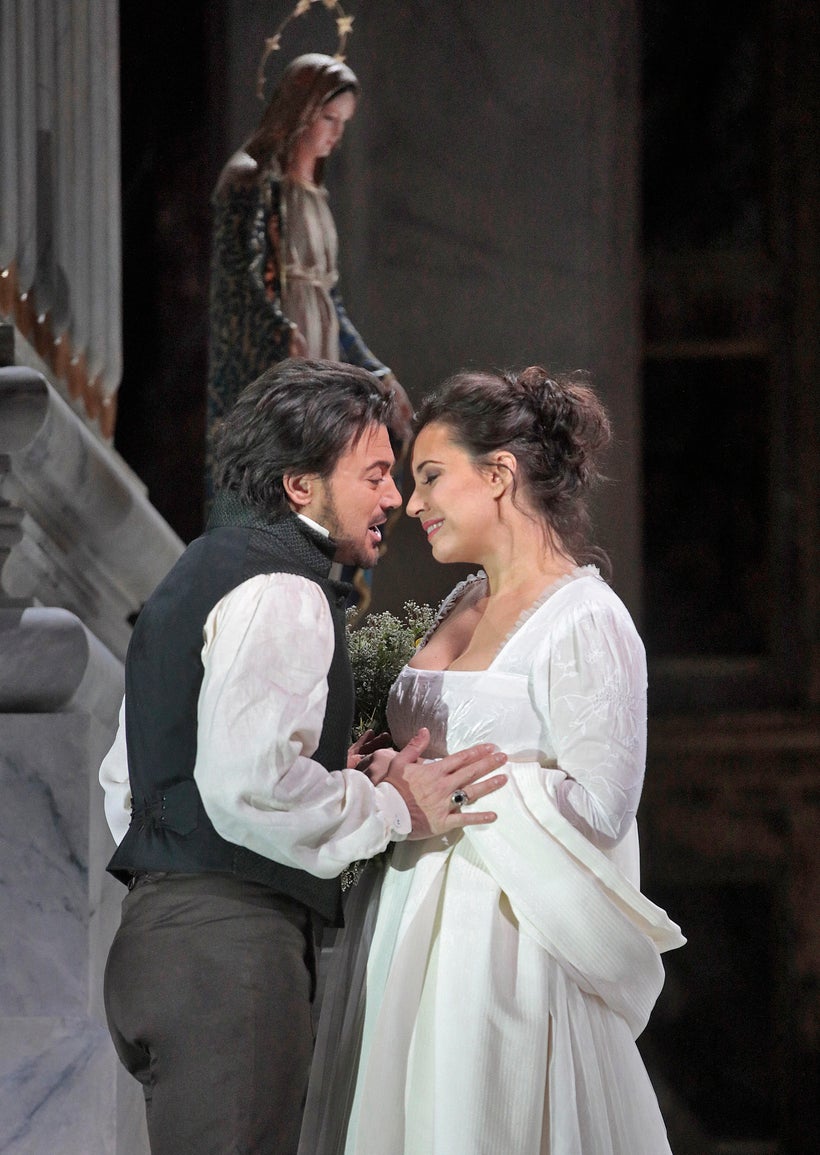 The Met Opera brought Puccini's Tosca back home to Rome in a smashing new production by Sir David McVicar that overcame a spate of adversity to be cheered at a New Year's Eve gala premiere along with its excellent cast led by a magnificent Sonya Yoncheva in the title role, Vittorio Grigolo as her lover Cavaradossi and Zeljko Lucic as the nefarious Scarpia.
If the Met's new Tosca represented an atonement of sorts, it was one for which General Manager Peter Gelb had to work overtime. The three principals originally signed for the production dropped out, along with the conductor. Then the replacement conductor, James Levine, was suspended while the Met investigated sexual misconduct allegations.
But in strokes of managerial brilliance Gelb recruited a trio of top singers, two of whom – Yoncheva and Grigolo – had never sung the roles before, and the French conductor Emmanuel Villaume to take over in the pit. The result was a grand triumph that relegated the old Met Tosca to the list of forgotten flops.
It is a triumph the Met will share with opera lovers around the world on Jan. 27 when the matinee performance is simulcast to more than 2,000 theaters and other venues in 73 countries as part of its Live in HD series.
Tosca has just about everything a modern opera could ask for. There is political intrigue, possible collusion with foreign interests, sexual harassment and manipulation by a powerful figure, fake news, and at the center a passionate love affair between a celebrated singer and an artist (it is opera, after all). If it sounds like it came from today's headlines, the new Met production by McVicar and his team captures it all.
Puccini based his opera on a play by Victorien Sardou that was loosely set around historical events of the turn of the 19th century. A nascent Rome republic that had been protected by Napoleon had been overthrown and the Eternal City had reverted to a monarchist coalition under Austrian and papal rule. However, a battle was underway in northern Italy between French and Austrian forces would decide its future political fate.
McVicar, the inspired Scottish director whose new production of Norma opened the Met season in September and who staged Donizetti's Tudor trilogy of operas two years ago, has returned Puccini's great tragedy of love and politics back where it belongs, specifically to Rome on June 17, 1800, three days after Napoleon won the Battle of Marengo in Piedmont.
In John Macfarlane's wonderfully detailed sets Tosca again comes to life in places that any tourist to Rome can recognize today. The opening act takes place in a side chapel off the nave of the basilica of Sant'Andrea della Valle, a glorious 17th-century church on the Corso Vittorio, with a Bernini-esque crucifix at center and a bank of votive candles stage right.
The second act moves to the Palazzo Farnese, a 16th-century Renaissance palace near the Campo de' Fiori that was once the Rome residence of the Farnese family and is now the French Embassy. The final act is on the ramparts of the Castel Sant'Angelo, originally built by Hadrian in the 2nd century as his tomb, later converted into a castle and even a jail and whose statue of the archangel St. Michael holding a sword was added in 1753.
But apart from the beautiful sets and costumes that replaced the ill-conceived Luc Bondy production of 2009, and about which the least said the better, it is the marvelous cast Gelb put together in the weeks when one after another singer dropped out that made the premiere of McVicar's staging such a rousing success.
Yoncheva, the Bulgarian soprano who has become a Met favorite, embodied the character of Tosca as few have done. From her first entrance, as she strides into the church like the prima donna she is, Yoncheva is convincing. Whether flirting with Cavaradossi or taunting him in jealous fury, Yoncheva is in command.
But it is in her famous second act aria "Vissi d'arte," one of the most emotional arias in the repertoire, that she stakes her claim as a memorable Tosca. In an almost perplexed voice she conveys her anguish at what has been thrust upon her, pleading in ringing, silvery high notes to be spared the fate that awaits her.
Grigolo, the Aretino tenor who has also won a Met following, is a natural as Cavaradossi. Given to certain Italian exaggerated gesturing, he makes it seem part of the artist's character. Grigolo's singing is always full of ardent passion, especially here in Cavaradossi's third act aria "E lucevan le stelle," in which he effortlessly ranges from pianissimo to fortissimo.
As Baron Scarpia, the police chief who falsely promises Tosca freedom for Cavaradossi if she submits to his sexual demands, Lucic is evil personified. Every note he sings is full of menace, and his duets with Tosca are chilling.
Villaume and the Met Orchestra convey all of the drama of Puccini's score, though occasionally at a ponderous pace, and the Met chorus delivers a moving Te Deum in the opening act when the priests erroneously believe Napoleon was defeated.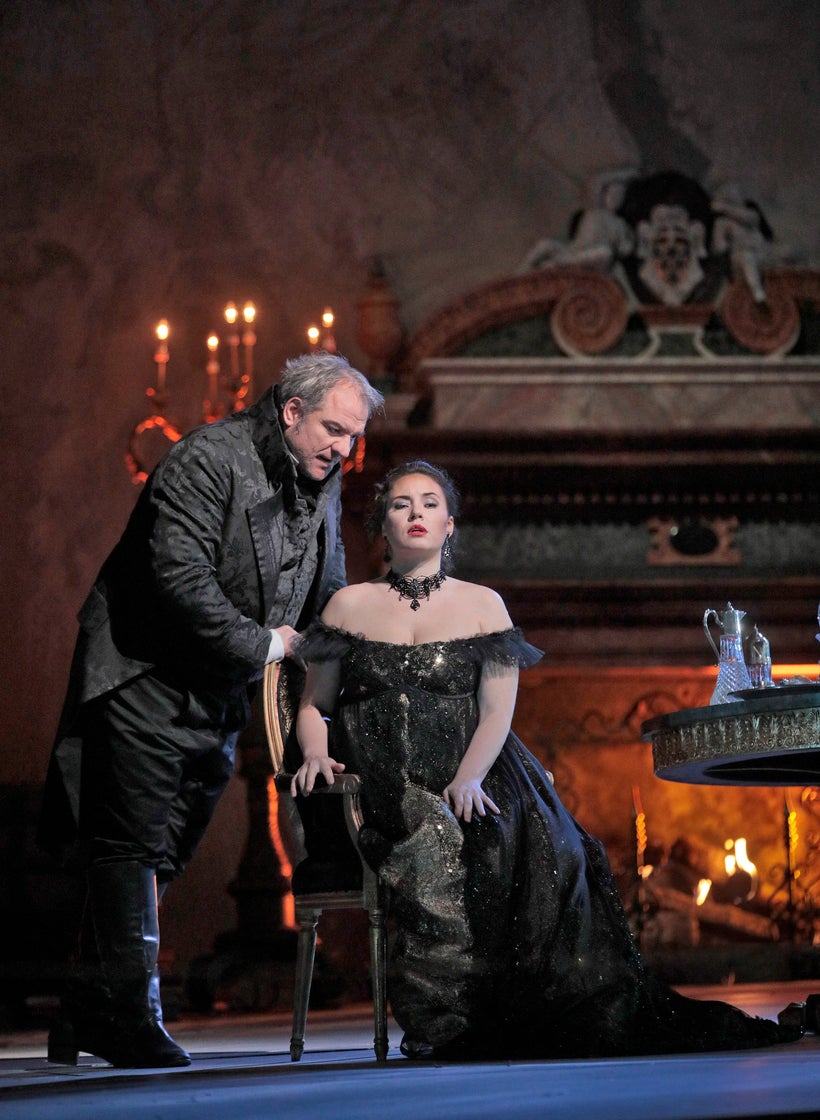 Calling all HuffPost superfans!
Sign up for membership to become a founding member and help shape HuffPost's next chapter
This post was published on the now-closed HuffPost Contributor platform. Contributors control their own work and posted freely to our site. If you need to flag this entry as abusive,
send us an email
.