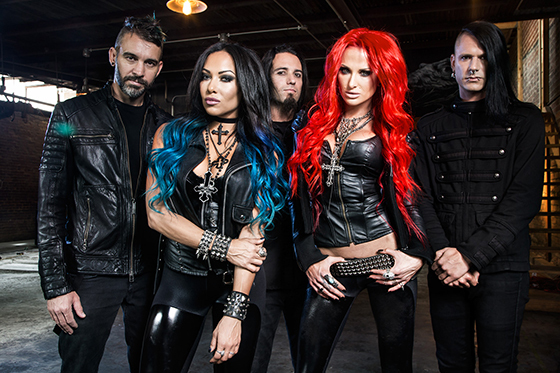 In a world where music gets labeled into nauseating amounts of sub-genres or terms are coined to try to place music in some sort of box, the heavy metal band Butcher Babies strive to be more than just a "female-fronted" band, they just want to be a metal band. With vocalists Heidi Shepherd and Carla Harvey as the band's front along with Henry Flury (guitar), Jason Klein (bass), and Chrissy Warner (drums), they are much more of just a band, they are a family that have been able to build Butcher Babies into something that has connected with many fans out there, and they just released their sophomore album Take It Like A Man earlier this year on Century Media Records.
Recently, I was able to chat with one of the band's vocalists, Carla Harvey, while on their current tour with Amaranthe and Lullwater. Harvey is originally from Detroit and we spoke about her experiences growing up there and how that led to her love of music and eventually become a music artist herself.
With you and Heidi as the front of the band, do you think it's hard to be considered as just a metal band than a "female fronted band"?
I don't think we're at the point yet in metal music where you can just say "metal". Everyone likes to categorize metal these days but I think that's doing kind of an injustice to women in metal because we're all the same. It's just metal music. At the same time, I don't like to be too cynical about it because there are people that seek out just female fronted metal. I guess being categorized is okay in that respect but we prefer to be called just a metal band.
As much as you don't want everything to be about gender when it comes to this band, the dynamic that women have brought to metal and hard rock over the years has been amazing at times. There's been a lot of great bands and so much have come from bands with actively creative women in them. How important is it to have that women's voice in metal and what do you think the women who have been actively in metal have brought to the genre over the years?
It's definitely changed since I was a kid. I really didn't have anyone to look up to as far as women in metal when I was young. There was few people that I gravitated towards like Wendy O. Williams, but that was more punk rock. Women like Bitch, Betsy Bitch. In the 90s, there was that string of girl power bands like L7 and Hole, and PJ Harvey, who I absolutely love, but as far as metal, there wasn't very many real metal women. I always gravitated towards male fronted bands out of necessity, but I think its great that there's so many more women now and it just brings an even bigger female audience into metal. That's a great thing for everyone involved. Of course, if you're a man, you want more women at the shows, right? (laughs) It's a win-win situation all the way around. I think its great that young girls feel okay with liking metal. Even though you should always be okay liking whatever you like regardless, it does help a young kid if they can associate with someone. For instance, when I was a kid, I grew up in a all black neighborhood, and I'm half black myself, I wasn't supposed to like rock-n-roll. Then I saw bands like Living Colour and Fishbone and I saw Slash, and I realized that there is a ton of African-Americans in rock-n-roll and its okay for me to like it. So the same thing goes for young girls who want to be a part of the metal scene, but they are not sure if its for them or not. They see girls up there on stage rocking out, then they know its cool, and they can be a part of it, they should be a part of it. It's not unusual for them to like it.
What sort of connection do you feel like you have with you audience whether its live or on record?
Obviously, you form the greatest connection live when you can look into someone's eyes and sing the lyrics, but I think it all sorts too with them listening to your record, identifying with the music. I think everyone in my band will agree that music saved our life in some way. Everybody wants to connect to a lyric and point to something going on in their life. I think if you're a fan of the band and you read our lyrics or hear the lyrics and you connect to them and you see the intensity they are performed with on stage that leads to an even greater connection. That's what makes the fan-band connection so intense.
When you're on stage, when you look out in the crowd, what do you see? What goes through your head?
I really study people's faces. I see each and every person out there. People ask all the time, "Can you see us out there in the audience?" Yes, we can. We see the people yawning in the back. That doesn't happen too much, but you do see all that stuff. There's one thing that me and Heidi like to do. If we see somebody who's not into it or not having a good time, we like to focus on that person and kind of turn their mind around by the end of the set. It's kind of a fun little thing for us to do. For us, it's been such a wild ride and its been so amazing to see everyone singing back these lyrics that we wrote and bopping their heads to the music that we've created as a band. It's just an amazing feeling. We've come so far in past 5-6 years. We're thrilled every time we go out there and you can see the intensity in the people's faces that they're listening, starting pits. If you can move someone, you know you have done your job. We've been doing that.
How do you feel like music saved your life?
Me personally, I grew up with a lot of lost and abandonment in my life. I didn't have anything. Music was the one thing that I turned to and really kept me sane and let me know that there was people out there who felt the same way as I did. It became a healthy release for me. I was a big thrash metal fan when I was a kid. The first time I heard old school Metallica I was in the back of some kids van. We were all listening to music and it was so fast and so angry. I felt like all the feelings I felt on the inside that was how it would be if it was on the outside. That sound. That music. That rage. I felt if I could just kind of listen, it really helped me release my own feelings. Just listening to the music and releasing that way, singing along, screaming along, and just getting into it really helped me, instead of doing destructive things with my life, I focused on music. I started playing music. It became very cathartic for me to write my own songs, write down my own lyrics, and just get all the anger and frustration out in that healthier way.
Going into the writing and recording of the new album Take It Like A Man, what was the overall mood of the band when trying to figure out where you wanted to go with it?
With this album, we really wanted to go back to our roots, which were a little bit more aggressive, a little bit more thrashy than what was on Goliath. We love Goliath, we're very proud of it, but it was a more melodic album than what we had intended, but we proved a lot with that album. We proved we could sing and scream and do all of the above. Once we got that out of the way, I think we want to go back to our roots. I think we definitely did that with this album. There's some of the heaviest stuff on this album that we ever written, but some of the slowest stuff, like we have a song "Thrown Away". The general mood was obviously excitement to be doing our second album, but there was also a lack of time because we were on that road so much. It was a little bit of anxiety, but once we started the process, it just really flowed. The cool thing about this album, in my opinion, is that when we wrote Goliath, we had feelings on there than spanned our whole lives. Heidi and I had journals from the time we were in high school that we took lyrics from. With this album we have a lot of new feelings, new experiences to write about, being in a band and being on the road and literally leaving everything that we'd loved in our lives, our families, our pets, our homes, behind for so long at a time to be out here performing. It's not always a great time. It's not always a party. There's lots of feelings of loneliness and alienation and just responsibility that you don't ever think you're going to feel that you do when you're on the road. So lyrically, we got to put a lot of those newer emotions into these songs, which makes them very special for us.
Butcher Babies set to play The Machine Shop in Flint on Friday, November 13th along with Amaranthe and Lullwater. Their new album "Take It Like A Man" is available now. For more information, visit butcherbabiesofficial.com.
Popular in the Community