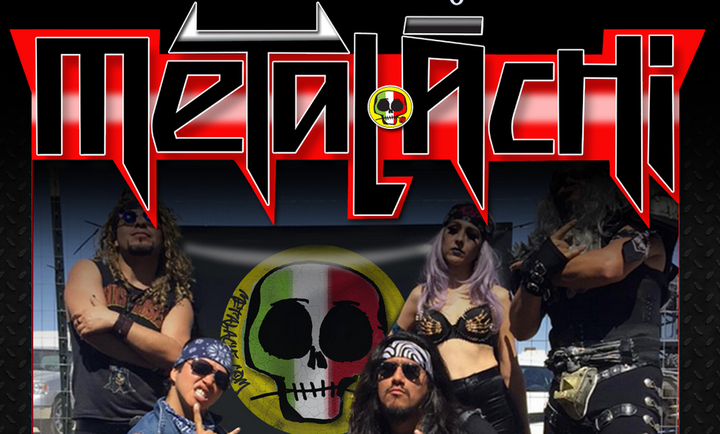 Going to a Metalachi Show is a cross between going to an Alice Cooper Christmas Pudding Show with Mariachis at the forefront. It's a mesh between metal headbanger dudes with a Mariachi flare. Members of Metalachi have been performing Mariachi music since they were little kids. And they have been doing the Metalachi music for almost 8 years. They put the Mariachi flare to songs like Enter Sandman, Immigrant Song, Man In The Box, Crazy Train, Iron Man, Sweet Child O' Mine and more.
I've written about Mariachi Rockers such as Alex Ruiz (vocals in Chingon) before and it's no secret that according to the Recording Industry Association of America (RIAA), Regional Mexican music is the hottest selling Latin music format in the United States, making up 49 percent of all Latin music sales. Its popularity is fueled by the tremendous growth of the Mexican population in the U.S., which the Census estimates to make up 67 percent of the Hispanic population in this country; actual estimates may be higher.
I believe that Metalachi is on to something and here's why:
According to Metalachi band members, the idea of meshing Mariachi music and Rock n' Roll came from an idea in listening to the Paranoid (album) from Black Sabbath. One of their favorite songs was Iron Man so they decided to modify the lyrics to the tune of Iron Tapatio which is a blend of the Jarabe Tapatio (often called the national dance of Mexico, and better known internationally as the Mexican hat dance) and the Iron Man song. One day they decided to play the Iron Tapatio at a Quinceañera, to spice things up and do something different for the people and that is when they saw the people get excited, throw up their rocker horn finger signs and start dancing. It was at that moment when they knew they were on to something and they decided to see more of that energy and excitement in future performances.
Warren Moscow is given credit by the founding band members as helping put Metalachi together – hence they were born.
So how does Metalachi incorporate the guitar instrumentals to conform to rock sounds you may ask?
What they sometimes do is substitute the electric guitar instrumentals with the horn or the violin and they alternate between them. To the Chicano audience that digs both metal rock and Mariachi music – it's the greatest thing since tortillas were made!
I asked what criticisms the band received from both Mariachi and Rock musicians and one Metalachi band member who refers to himself as Nacho Piacante (close to the Mariachi community) says most mariachis love the Metalachi music but there are traditionalists who want to keep the Mariachi music traditional. However, Picante also stated that Metalachi has been opening a lot of doors for them and it has been accepted by more and more Mariachis. It's not just a show about Metalachi clowning on stage -- they are playing good music moving things in a good direction.
It appears Rock n' Roll fans are smitten and drawn towards Metalachi by metal and rock musicians. For instance, Slayer's drummer gave props to Metalachi and joined in on their performance. Punk Rocker Billy Idol appreciates Metalachi music, and Avenged Sevenfold absolutely loves what Metalachi does.
The bottom line is that there will always be people who don't like what Metalachi is doing – but more and more people do like what they do.
I for one love the extreme festive environment and laughs they bring. It's genius and creative to hear a blend of metal rock and Mariachi music. I believe they are on to something, and unless you have been to one of their shows you won't know what I mean. Currently they are touring in the southwest and their next two shows will be in Albuquerque and Santa Fe, New Mexico, then later back to the California circuit. Go to their show. I promise you won't stop smiling from ear-to-ear with a night full of belly laughter.
Related
Popular in the Community