Meteorologist Julya Johnson knows a thing or two about how to deal with haters.
News personalities get feedback all the time, from the good to the ugly and everything in between. A recent note to Johnson, a meteorologist for WATE TV 6 in Knoxville, Tennessee, fell into the "ugly" category. Johnson recently posted a letter from a viewer complaining about her looks to her Facebook page.
"Please change your appearance!!" the viewer wrote. "Those high Bodice dresses are Not (for) you. Do you Have any dress or dresses that don't fit snugly under your (Bust)? Please! You are Beautiful – But you need a change."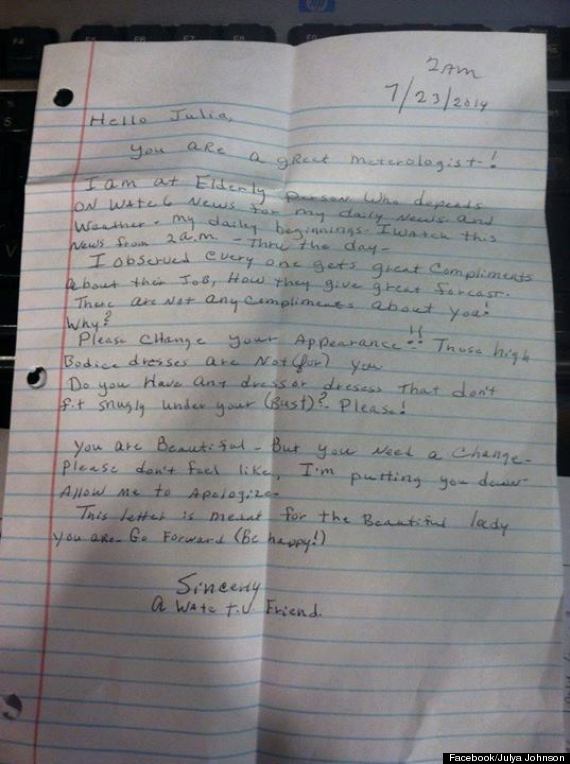 That viewer shouldn't expect any changes soon. Johnson responded, writing, "I will never, ever be able to please everyone with my appearance. It's not possible. I have tried for 12 years on-air to do that. I have 'changed my appearance' to try to please people before. It never works. So, I please myself. I like my dresses. I feel good about my appearance. I am always covered, dressed modestly and professionally."
"Does the fact that I bring an accurate forecast mean nothing?" she continued. "I was a straight A student. If I had known being on People's list of "best dressed" mattered more than an accurate forecast, I could've saved a ton of money on that meteorology degree."
And one last bit of wisdom: "Don't do this, people. Just don't. It's very rude. That's my opinion, and it is as valuable as anyone else's opinion."
Related
Popular in the Community