Republicans' bid to roll back an Obama-era rule limiting methane emissions from drilling rigs on public lands narrowly lost in the Senate on Wednesday after three GOP senators voted against the repeal.
In a 49-51 vote, the Senate preserved the rule, strengthened after last November's election, that limited the amount of the powerful greenhouse gas methane that can be vented and burned from oil and gas extraction sites on federal lands.
Sens. Lindsey Graham (R-S.C.) and Susan Collins (R-Maine) were expected to vote against the rule, but the surprise defection of Sen. John McCain (R-Ariz.) helped tilt the scales on a vote environmentalists are hailing as a rare victory over President Donald Trump's assault on policies that address climate change.
"Improving the control of methane emissions is an important public health and air quality issue, which is why some states are moving forward with their own regulations requiring greater investment in recapture technology," McCain said in a statement. "While I am concerned that the BLM rule may be onerous, passage of the resolution would have prevented the federal government, under any administration, from issuing a rule that is 'similar,' according to the plain reading of the Congressional Review Act."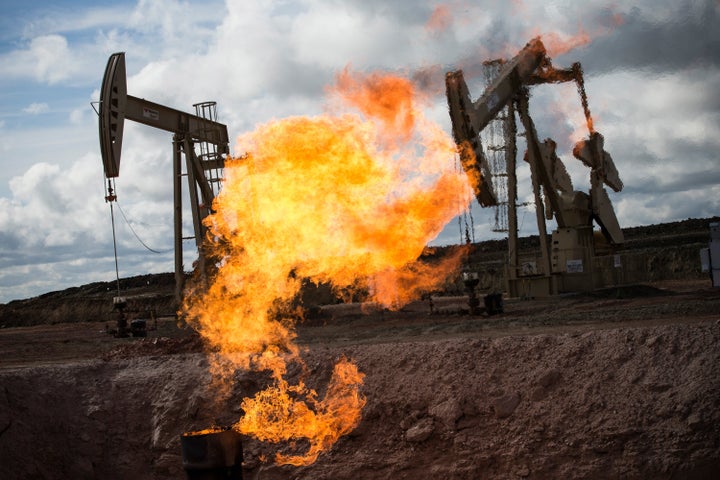 Under the 1996 Congressional Review Act, Congress can undo any regulation within 60 days of its finalization and bar agencies from writing a "substantially" similar rule after the initial rule has been blocked. Using that law, GOP lawmakers hoped to dismantle a rule announced last November by the Interior Department's Bureau of Land Management that cracked down on the amount of methane gas producers could release. Congress had until the end of the week to use the CRA.
Following the vote, which came three months after the House passed similar legislation, the Interior Department said it would move to modify or eliminate the rule anyway. 
"As part of President Trump's America-First Energy Strategy and executive order, the Department has reviewed and flagged the Waste Prevention rule as one we will suspend, revise or rescind given its significant regulatory burden that encumbers American energy production, economic growth and job creation," the agency said in a statement soon after the vote. "The rule is expected to have real and harmful impacts on onshore energy development and could impact state and local jobs and revenue."
The rule doesn't do much to reduce emissions from the natural gas industry. Just 11 percent of the country's natural gas supply and 5 percent of its oil is drilled from public lands, according to Interior Department data cited by Axios. And environmental advocates have spent the last four months in back-footed opposition to the Trump administration's moves aimed at undoing regulations to address global warming. 
Trump delayed his announcement this week on whether he will withdraw the U.S. from the Paris Agreement, the historic climate deal signed by all but two countries, but sources told HuffPost last week he is leaning toward exiting the accord. In March, Trump ordered his Environmental Protection Agency, led by brazen oil and gas industry ally Scott Pruitt, to review the Clean Power Plan, the United States' foremost policy to reduce greenhouse gas emissions. As one of his first moves in office, Pruitt scrapped a regulation requiring oil and gas drillers to report methane emissions
Today's vote means that an important solution to reducing venting, flaring and leaking of methane and other hazardous pollutants will likely be upheld.

Harold Wimmer, CEO of the American Lung Association
Still, the Senate vote on Wednesday marks a symbolic victory for environmentalists. 
"Today's victory against Trump's plan to hand our public lands to Big Oil is a win for the American people," Lukas Ross, climate and energy campaigner at the nonprofit Friends of the Earth, said in a statement. "Today the Senate proved it will not always rob taxpayers to line Big Oil's pockets."
Climate advocates are increasingly framing the fight to scale back greenhouse gas emissions as a public health issue in hopes of using the "endangerment finding." The somewhat-obscure Environmental Protection Agency ruling requires the federal government to regulate planet-warming gases as pollution due to the risk they pose to public health. 
"Today's vote means that an important solution to reducing venting, flaring and leaking of methane and other hazardous pollutants will likely be upheld, which will help protect the health of our families," Harold Wimmer, CEO of the American Lung Association, said in a statement. "Reducing methane emissions is essential to combating climate change, which is already harming Americans' health."
Still, the oil and gas companies and their allies argue that the rule puts an unnecessary burden on an industry that is already striving to waste less methane. 
"Methane emissions from our sector continue to fall, even as natural gas production nationwide has soared, making this redundant and technically flawed rule a solution in search of a problem," Jack Gerard, president of the American Petroleum Institute, wrote in a letter to Senate leadership on Tuesday.
Another industry-backed group, the Western Energy Alliance, said it plans to continue to push a lawsuit filed in November, arguing that the BLM lacks the authority to enforce the rule. 
This article has been updated with more details on and reactions to the vote.
Calling all HuffPost superfans!
Sign up for membership to become a founding member and help shape HuffPost's next chapter
BEFORE YOU GO
PHOTO GALLERY
Climate Marches Across The U.S.