When the Rev. David Meredith, an openly gay United Methodist pastor, told his Ohio congregation that two documents that affirmed his pastoral credentials were stolen from his office, his parishioners did what they've been doing ever since he arrived at their church six years ago. 
They affirmed him in their own way.
Members did their best to ease the pastor's sadness after he said an intruder sneaked into his office and stole his seminary diploma and ordination certificate in late April. Congregants plastered Meredith's office door with awards and certificates of their own on Sunday, sharing handwritten notes about how he had changed their lives.
"I grew up going to church. I was so jaded by all the inequality and hypocrisy I saw in the institution that I stopped going to church," one congregant wrote on a certificate. "Through his actions, warmth, and incredible kindness ... David has made me want to be part of this again."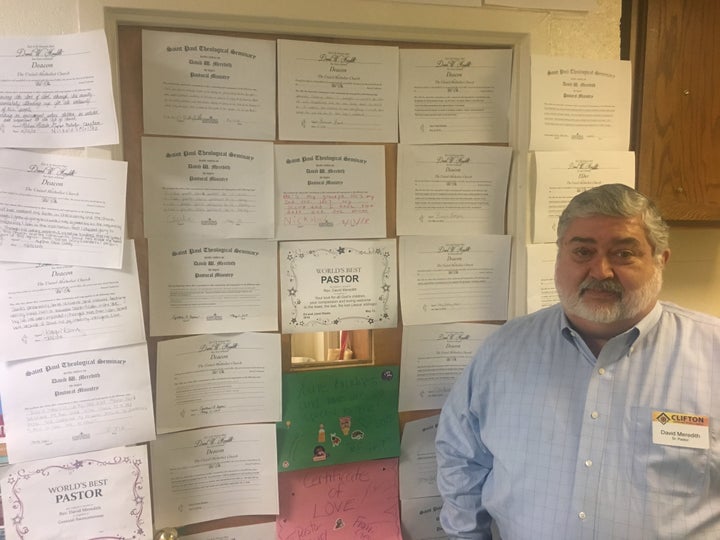 Given that the UMC is still debating whether he should be allowed to continue as a pastor, Meredith said, the theft of his diploma and certificate seemed like a "planned, purposeful attack."
"It was a despicable act of intimidation," he told HuffPost in an email.
Meredith said he believes the theft occurred in the last week of April. He said there were no obvious signs of an intruder going through drawers, shelves or closets. His laptop and other valuable church items were not taken.
The two missing items ― his 1983 ordination certificate and his 1984 diploma from the St. Paul School of Theology in Overland Park, Kansas — were of priceless personal value, however. Meredith said that none of the signers of the original documents are alive to provide him with copies.
He said he was profoundly sad and angered when he realized that he had lost these "outward and visible signs of a powerful, spiritual, and communal experience from my life and history."
"My rage expanded from the one who did the crime to the ones who were complicit in it because of their silence and/or their fear-based and punishment focused theology," he wrote.
He said that Cincinnati police have conducted an initial investigation into the theft. Lt. Steve Saunders, a public information officer for the department, said it is aware of the incident and is actively investigating.
While Meredith is saddened by the loss of the documents, he is heartened by the response of his congregants, who have been supportive of his relationship since he arrived at the church in July 2012,he said.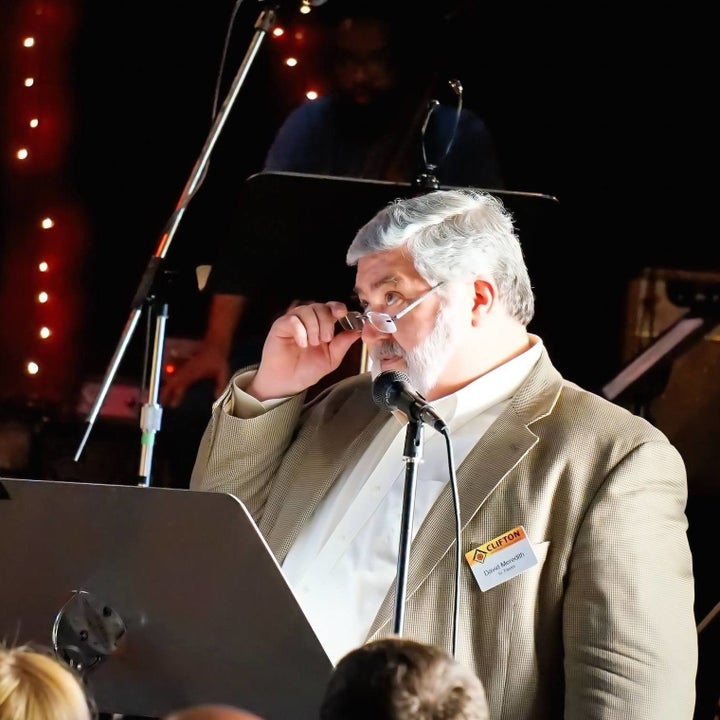 "They are a marvel as a United Methodist congregation," he said. "Even when the denomination leans toward the suggestion that there is no place for LGBTQ persons, pastors, their families or congregations, this congregation steps in a little deeper."
In addition to the homemade certificates, Clifton UMC and the Cincinnati interfaith community held a rally at the church on Sunday. Jewish and Muslim community leaders were among those who spoke up in support of Meredith.
The reported theft occurred during a pivotal moment in the UMC's history. Church leaders are trying to prevent a schism in the church over whether to ordain queer clergy or allow ministers to officiate at same-sex weddings. Progressive members of the church are in favor of these moves, but conservatives and many UMC leaders from Africa and Asia oppose them.
Meredith told HuffPost that no matter what happens, Clifton UMC will remain committed to letting LGBTQ Methodists know that there is a place for them in the denomination.
"There is no iteration of the United Methodist Church without us," Meredith said. "We'll be there, not for our own sake, but for the sake of the gay kids, lesbian couples, emerging trans college students, and others who will be born in and grow up in all of those variations of our UM denomination, in the United States and in every place we are around the world."
REAL LIFE. REAL NEWS. REAL VOICES.
Help us tell more of the stories that matter from voices that too often remain unheard.
BEFORE YOU GO
PHOTO GALLERY
15 Moments In Queer Religious History That Give Us Hope