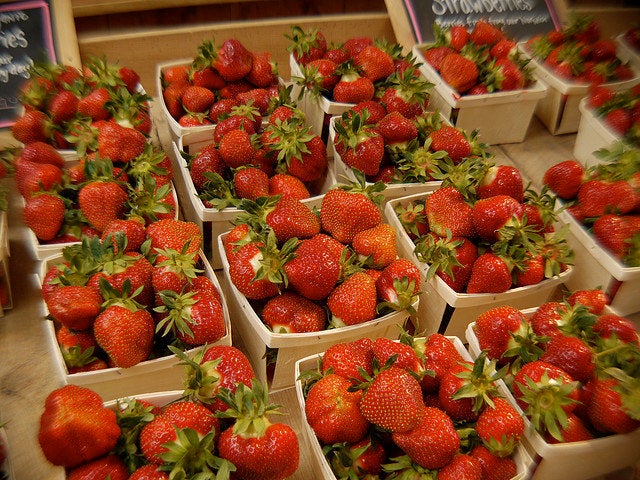 In some of California's top strawberry-growing counties, levels of banned methyl bromide remain nearly as high as they were a decade ago, despite a mandated phaseout, according to an analysis by New America Media.
The fumigant was supposed to have been phased out completely by 2005, under a global pact to halt the thinning of the earth's protective ozone layer. But in 2009, the latest year for which data is available, more than 5 million pounds of the pesticide were still in use, down just 50 percent from 2000.
A limited amount of methyl bromide is allowed in instances in which no alternative exists, through a "critical use exemption," determined by treaty members in a three-year process and administered by the U.S. Environmental Protection Agency. Strawberry growers in California are among the groups that can apply for an exemption.
As a result, in a handful of the state's highest strawberry production areas, methyl bromide is nearly as ubiquitous as it was in 1999, indicating that not all communities in the state are benefiting similarly from the phaseout.
An analysis of state pesticide use data revealed that in Monterey County, the state's main strawberry production area, methyl bromide use has fallen only 24 percent over the decade, from roughly 1.7 million pounds in 1999 to 1.3 million pounds in 2009.
Adjacent Santa Cruz County, another top strawberry-producing region, saw a similar percentage drop in use, to about 400,000 pounds from 564,000 pounds in 1999. San Luis Obispo County actually saw an uptick, to roughly 125,000 pounds in 2009 from 110,000 pounds a decade earlier.
"While overall the use of methyl bromide has declined in recent years in California, (its) use in certain crops, including strawberries, has declined very little," said Michael Marsh, a Salinas-based attorney with California Rural Legal Assistance, a public interest law firm that advocates on behalf of farm workers. "And when you look at overall use of fumigants, including methyl bromide, chloropicrin and Telone, you find that the amount of dangerous fumigants used is much higher than it was 20 years ago."
Methyl bromide is on the state's Proposition 65 list as a chemical known to cause reproductive harm. At high exposure levels, it can cause acute symptoms, including eye and skin irritation, blurred or double vision, slurred speech, dizziness, vomiting, and abdominal pain.
Dangerous conditions for farm workers prompted California Rural Legal Assistance and two other legal advocacy groups to file a Title VI civil rights complaint in 1999, charging that the state's approval of methyl bromide disproportionately affected Latino children in schools near fields that were sprayed. This August, after 12 years of litigation, the EPA finally agreed.
In a settlement [PDF] with California pesticide regulators announced Aug. 26, the EPA stated that it had found a preliminary violation of Title VI "as a result of an unintentional adverse disparate impact upon Latino schoolchildren." State regulators agreed to add one air monitor in a heavy-use area and step up outreach to the Latino community on pesticide safety.
State pesticide regulators disagree with EPA
The California Department of Pesticide Regulation said it disagrees with the EPA's "methodology and assumptions in the analysis and disputes there were adverse or disparate effects on Latino children during the time period examined."
"We agreed to settle without going through the process (a hearing before an EPA law judge) because we have made significant changes to ensure the safety of field workers, the public and environment in the past 12 years," said department spokeswoman Lea Brooks. "It was not worth the investment in resources to take it to hearings. We agree to continue on the course we have been following for years."
The agreement between the Department of Pesticide Regulation and the EPA suggests that the phaseout of methyl bromide already is a remedy to the problem.
But in the state's strawberry bowl, the areas around Salinas (Monterey County) and Watsonville (Santa Cruz County), little has changed. Farm workers, their families and the public are exposed to higher levels of the fumigant than in other parts of the state.
In an e-mail response, the EPA said: "Since 2001, both EPA and the State of California have implemented stringent regulations that address exposure levels. For example, the State of California instituted a cap in 2010 that limits total usage within specified geographic areas in each calendar month."
The EPA said it also has taken steps, along with the Department of Pesticide Regulation, to increase protections from methyl bromide exposure.
"Overall, EPA has mandated a suite of complementary mitigation measures to protect handlers, re-entry workers, and bystanders from risks resulting from exposure to the soil fumigant pesticides," the agency said.
In 2000, the Department of Pesticide Regulation set an exposure limit of 210 parts per billion (ppb) for the public for "acute, single full-day exposures" and the "equivalent level for 12-hour exposure for workers," said Anne Katten, a pesticide and work safety specialist with the California Rural Legal Assistance Foundation in Sacramento.
State regulators set a "township cap" in 2004 to keep exposure levels to a "safe" limit of 9 ppb for the public and 16 ppb for workers for peak or monthly exposures. But the state's Office of Environmental Health Hazard Assessment recommended much tighter exposure limits - 1 ppb for the public and 2 ppb for workers.
California Rural Legal Assistance sued state pesticide regulators over their failure to base rules on the those stricter recommendations and won, Katten said. In 2010, by court order, the Department of Pesticide Regulation lowered the "township cap" to 5 ppb for the public.
"Three townships - one in the Watsonville area, one in Salinas area and one is Siskiyou County, where strawberry nurseries are located - have in some past years reached or exceeded this monthly use level," she said.
The department also has set a buffer zone around schools and prohibits spraying on properties near these zones.
"The 300-foot buffer zone ... is an extra protection around schools," Katten said, "but it doesn't do anything for kids in residences or anywhere else."
Other counties see bigger reductions
In several other high strawberry production areas in California, methyl bromide use has seen bigger reductions. In Santa Barbara County, use of the fumigant fell by roughly 50 percent, to 484,000 pounds in 2009. In San Diego County, methyl bromide use dropped by three-fourths, to 8,300 pounds in 2009.
The most dramatic drop is in Ventura County's strawberry fields in coastal Oxnard.
Strawberry production has nearly doubled there, while methyl bromide use has dropped to about 131,000 pounds from 1.6 million pounds in 1999. California Rural Legal Assistance's Marsh said the county has been under added pressure to phase out the fumigant because of tougher state limits on volatile organic compounds to combat smog.
But like Monterey County, Ventura County has seen a big increase in the use of other fumigants, including Telone and chloropicrin. On the state's Prop. 65 list, Telone is a chemical known to cause cancer. Chloropicrin causes acute symptoms, including irritation to the nose, eyes, throat and upper respiratory track, according to the Office of Environmental Health Hazard Assessment.
With the EPA's preliminary finding in the California Rural Legal Assistance case behind them, farm worker and pesticide reform advocates have shifted to the fight brewing over a long-awaited alternative to methyl bromide: methyl iodide. As the season to fumigate strawberry fields nears, several groups are challenging last year's decision by state regulators to OK methyl iodide for use in California.
"We won this (the agreement on methyl bromide)," said Erik Nicholson, United Farm Workers' national vice president. "In the meantime, the growers have a chemical that is even worse."
Ngoc Nguyen is an editor and reporter at New America Media, and frequently covers environment/health topics. She completed a 10-month reporting fellowship at the Sacramento Bee through the Metcalf Institute for Marine and Environmental Reporting. In 2008, she won The California Endowment Health Journalism fellowship. Nguyen was previously editor of NHA Magazine, a national bilingual Vietnamese American publication. She also worked as a healthcare journalist for SavvyHealth.com and About.comameri, and was an assistant producer at Marketplace, the radio program about business and global economics distributed by American Public Media.