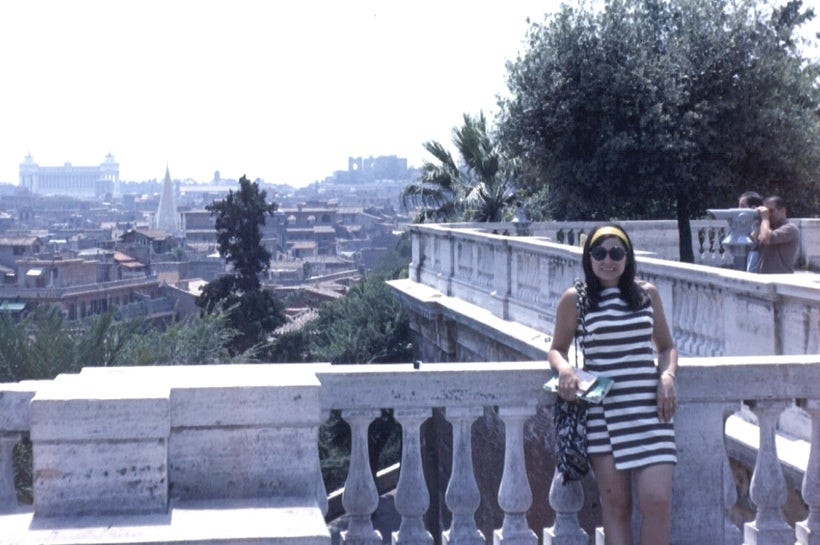 My friend and I shared how sad we felt that so many of our daughters' friends posted "me too" or #MeToo on their Facebook and Twitter feeds. As an early childhood educator, I worked with women most of my career. Never had a job prior to that with an abusive boss. And then it hit me as I was falling asleep. Yes. In Italy in 1969. #MeToo.
I guess I didn't think this counted because my husband and I were in another country, in a different culture, in an era when men harassing women was accepted as a form of flattery. Suddenly, I was a 24-year-old newly married woman again, sitting alone on the Spanish steps in Rome, with men leering at me, bumping into me, and saying things that I understood to be degrading, even though I didn't speak Italian. And then I was harassed by the owner of the family-run hotel where we stayed.
At the time, I told myself this was a cultural phenomenon. Men in Italy were known to pinch women's bottoms. It was our fault for putting me in the position to be pinched and harassed on the Spanish Steps. My husband had to check for mail at the American Express office, which was mobbed with people. I elected to sit by myself on the steps. Neither of us thought men would bother me, touch me, or proposition me there. But when in Rome…
The creep at our hotel was another matter. I was truly afraid of him. When I left our room to use the communal bathroom, he cornered me and tried to kiss me. It was clear I couldn't go anywhere in that hotel by myself. We checked out the next morning but it never occurred to me that what had happened was my "me too" moment. All I remembered was how afraid I was. And then we went on with our "Europe on $5 a Day" tour and I forgot about it.
What hits me now, some 48 years later, is that in some twisted way I blamed myself. That's what so many women have done, especially women from my era. It's how you dressed. It's where you were. It's going somewhere without a male companion. It's 69-year-old fashion designer Donna Karan saying in her initial response to the Harvey Weinstein scandal,
"I also think how do we display ourselves? How do we present ourselves as women? What are we asking? Are we asking for it by presenting all the sensuality and all the sexuality? . . . You look at everything all over the world today and how women are dressing and what they are asking by just presenting themselves the way they do. What are they asking for? Trouble."
While she eventually walked back her remarks, her initial comment represents the knee jerk reaction of women my age back in the day. I am really proud of the brave women writing "me too" on their social media. We didn't ask for it by how we dressed, where we were, or if we ventured out alone. We shouldn't have had to feel afraid like I did when I came home by myself after dark.
Almost a year ago, our electoral college made a man accused by many women of sexually inappropriate conduct our president. Our country is now led by a man who was caught on videotape saying,
"I moved on her, actually. You know, she was down on Palm Beach. I moved on her, and I failed. I'll admit it… I did try and fuck her. She was married…I moved on her like a bitch. But I couldn't get there. And she was married. Then all of a sudden I see her, she's now got the big phony tits and everything. "
And then about the soap star who greeted him when he exited the Access Hollywood bus with Billy Bush,
"Yeah, that's her. With the gold. I better use some Tic Tacs just in case I start kissing her. You know, I'm automatically attracted to beautiful — I just start kissing them. It's like a magnet. Just kiss. I don't even wait. And when you're a star, they let you do it. You can do anything… Grab 'em by the pussy. You can do anything."
Especially now, it is so important for women (and men) who have been sexually harassed to rise up and declare no more. So yes, me too.
Calling all HuffPost superfans!
Sign up for membership to become a founding member and help shape HuffPost's next chapter
This post was published on the now-closed HuffPost Contributor platform. Contributors control their own work and posted freely to our site. If you need to flag this entry as abusive,
send us an email
.