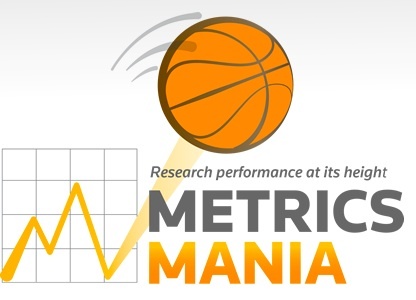 The NCAA's "March Madness®" tournament is gearing up, soon to winnow the field of 68 men's collegiate teams vying for the national basketball championship. As always, the tournament promises surprises, upsets, and, more than likely, at least one inspiring tale of a "Cinderella" team.
Meanwhile, for a fourth consecutive year, this feverish collegiate competition is not just confined to the basketball court. Once again, the Intellectual Property & Science business of Thomson Reuters is presenting its "Metrics Mania" tournament, in which the 68 schools in the hoops tourney are pitted against one another in a different competition, based on their research programs.
Using In-Cites™, an evaluation and benchmarking tool deriving from the Web of Science™ and its indexing of the world's premier scientific and scholarly literature, analysts assess the impact and reach of the competing schools' research output. For example, to what extent do publications by faculty exceed the average rate at which scholarly papers are cited by other researchers, thereby demonstrating influence in the research community? How many of these papers rank among the world's most-cited reports? How many are written with international collaborators, suggesting a strong presence on the world scientific stage?
As Metrics Mania progresses in successive rounds, these and other measures are applied as the winners advance. Ultimately, as in the basketball tournament, two schools will be left to battle for the championship. In last year's competition, Harvard bested Duke to win the crown. In 2014, it was Stanford over Duke. In the previous year, the University of California at Berkeley edged Harvard to take the overall win.
In this year's NCAA tournament, Harvard and Stanford failed to qualify and are therefore missing from the current edition of Metrics Mania. This could open the door for perennial contender Duke. Then again, California could spoil Duke's party, or some other powerhouse (Yale, Pittsburgh, Michigan State) could emerge. Meanwhile, schools whose research programs are comparatively small but potent in impact might pull off a surprise or two.
To follow the competition and learn the ultimate winner of the Research Crown, go to the Metrics Mania site. Join the competition, make your predictions and download the official bracket. There are prizes to be awarded. Continue to visit the site to see who's still in it as the rounds progress.
Metrics Mania fans can follow the game with the latest updates on the InCites Twitter Feed - @InCites_TR and @TR_ScienceWatch, hashtag #metricsmania.
Even if your favorite school meets an early end on the basketball court, its research prowess might make it this year's scholarly Cinderella.
REAL LIFE. REAL NEWS. REAL VOICES.
Help us tell more of the stories that matter from voices that too often remain unheard.