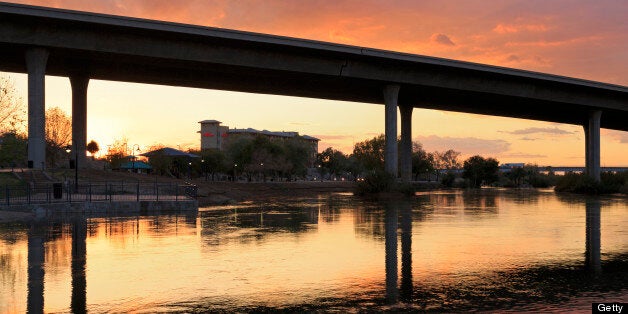 The collapse of an interstate bridge in Washington Thursday evening has brought new attention to the persistent underfunding of transportation spans across the country. And in Southeast Michigan, motorists have plenty to worry about.
Every day, it's estimated that 146,000 motorists cross the Second Avenue bridge across I-94 just north of Detroit's Midtown neighborhood. They're traveling on the busiest structurally unsound bridge in Michigan, according to a report prepared by Transportation For America, "The Fix We're In For." Nearly 120,000 travelers use the I-94 bridge over Grand Boulevard. in New Center, the second busiest span.

The Second Ave. Bridge crossing I-94 is the busiest structurally unsound bridge in the state of Michigan.
"These are bridges in the worst condition, with the most urgent need for repair – and with the greatest risk of disaster," writes the DriveMi.org coalition, which has created a website and app highlighting the state's decaying infrastructure. "Sometimes people throw around the word too casually, but the condition of Michigan's bridges is truly a crisis."
According to Transportation for America, 14 spans (mostly in a row) along I-94 in Detroit, from French Road to West Grand, are all rated structurally deficient. They join more than 80 bridges ranked "structurally deficient" in Wayne County, the highest per-county tally across the state of Michigan. Another 369 bridges were rated "functionally obsolete."
138 bridges across the tri-county region are rated structurally deficient, and the total cost of repair to fix and replace Michigan's bridges exceeds 1.3 billion dollars, according to the 2013 report card prepared by the American Society of Civil Engineers (ASCE). The state ranks 19th in total costs across the nation -- and ASCE says one in nine U.S. bridges need serious repair.
There are three main components of a bridge: a substructure that pushes against the ground for support, which holds the superstructure, upon which the drivable part, or deck, is placed. Engineers rank each component on a 1 to 9 scale. Bridges that receive a score of '4' or less on any of the three main components are deemed structurally deficient, meaning that a major defect has been found in the bridge's major support structure or deck. According to federal guidelines, all bridges longer than 20 feet must be inspected every two years. Functionally obsolete structures are designed in a way that that no longer meets current engineering standards. Too-narrow lanes or low load-carrying capacity are two common examples. That was the rating assigned to the collapsed Skagit River Bridge in Washington, which may have hit the water after a commercial rig struck the side.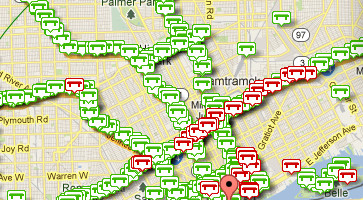 Structurally deficient and functionally obsolete bridges shown in the city of Detroit. The red trail of icons refers to a series of spans that cover the I-94 freeway (Transportation for America).
While MDOT had planned to remove several other pedestrian/automobile bridges along I-94, such as the John R, Beaubien and Third Street bridges spanning the freeway, for a $1.3 billion proposed freeway expansion, the controversial project is still on hold.
And bridges keep getting older. Barring weather conditions or accidents, the life expectancy for a bridge is only about 50 years old. According to the ASCE, America's bridges are, on average, 42 years of age. Most of the I-94 bridges are nearing this maximum age.
"Unfortunately," the report comments, "preserving aging bridges while replacing deficient bridges is a significant challenge for cash-strapped state and local governments to manage."
Gov. Rick Snyder has recently called on lawmakers to invest $1.2 billion in Michigan's roads for next year's budget, and suggested changing the gas tax to fund infrastructure needs in his 2013 State of the State address, but an agreement on funding sources hasn't been reached. Earlier this week, lawmakers agreed to budget targets that include an additional $350 million from the year's surplus that will go to fixing roads. The target agreement may be voted on next week.
Metro Detroit Bridges.

Wayne County: 1991 bridges Structurally Deficient: 80 Functionally Obsolete: 369

Oakland County: 764 Structurally Deficient: 22 Functionally Obsolete: 107

Macomb County: 546 Structurally Deficient: 36 Functionally Obsolete: 46

Source: ASCE 2013 report card
Popular in the Community