Rising up on the folk-rock charts, New York City-based "Metrobilly" band 2/3 Goat has just released a foot-stomping, evocative and inspiring video performance from their breakthrough new CD, Stream of Conscience.
Featuring lead singer/mandolin player Annalyse McCoy, whose golden pipes resound from the hollers with the haunting beauty and power of a young Shawn Colvin and Patty Loveless, Stream of Conscience is an acoustic-driven foggy mountain breakdown that chronicles the ravages of mountaintop removal operations in the Appalachian hills. A reckless strip mining process that has destroyed more than 300 mountains and 600,000 acres of hardwood forests in McCoy's native eastern Kentucky region alone, mountaintop removal operations throughout central Appalachia have led to a humanitarian crisis of large-scale water contamination, entrenched unemployment, cancer corridors and birth defects, and the largest forced removal of American citizens since the 19th century.
"Music is such an integral part of Appalachian culture and tradition," said McCoy, who grew up in Inez, Kentucky and also works as an actress in New York City. " As a child of Appalachia, I felt that there was no better or more natural way to "give back" to try and help my community than through song. Amid all the destruction that mountaintop removal causes -- all the thousands of miles of streams that have been buried, all the remaining water that's been tainted by heavy metals -- there is purity and light left in Appalachia; there is Hope."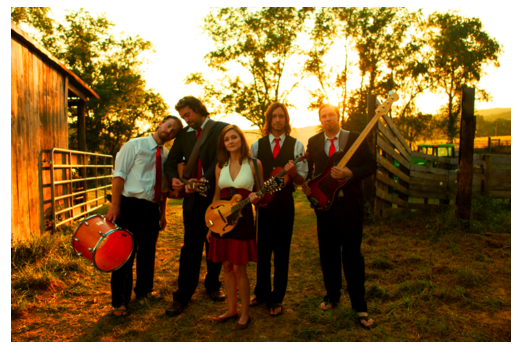 2/3 Goat, photo courtesy of 2/3 Goat and Feeling Anxious PR
Flanked by cowriter, singer and guitar player Ryan Dunn, whose confident bluesy licks add a natural Johnny Cash resonance to McCoy's June Carter, and talented fiddler Ryan Guerra, 2/3 Goat's new CD was recorded by famed Gin Blossoms producer Chris Mara at the Welcome to 1979 Studios in Nashville.
"Coal has been king for over a hundred years in Appalachia," the band posted on their website. "Taking rock from under the ground is one thing; but blowing up mountains, burying thousands of miles of freshwater streams, inciting flooding in areas where it's never been a problem, and causing the highest cancer rates in the nation from industry runoff is another. Mountaintop removal also takes away more and more jobs from an area that desperately needs them. It's time we take a stand. Our song and music video "Stream of Conscience" are focused on this very topic. Appalachia is Rising!"
The "Stream of Conscience" single was featured last week on AOL Music's top charts.

"Stream of Conscience," video courtesy of 2/3 Goat and Feeling Anxious PR
"Writing this song, I envisioned the People, this light, flowing down like the cleanest water you'll ever drink; a Stream of Conscience, descending on the industry that's dealt them such a terrible hand, saying, "We will no longer be poisoned!" McCoy said. "I can't wait for that day."
Here's another video performance of 2/3 Goat's version of Darrell Scott's classic, "You'll Never Leave Harlan Alive":

video courtesy of 2/3 Goat and Feeling Anxious PR

Related
Popular in the Community