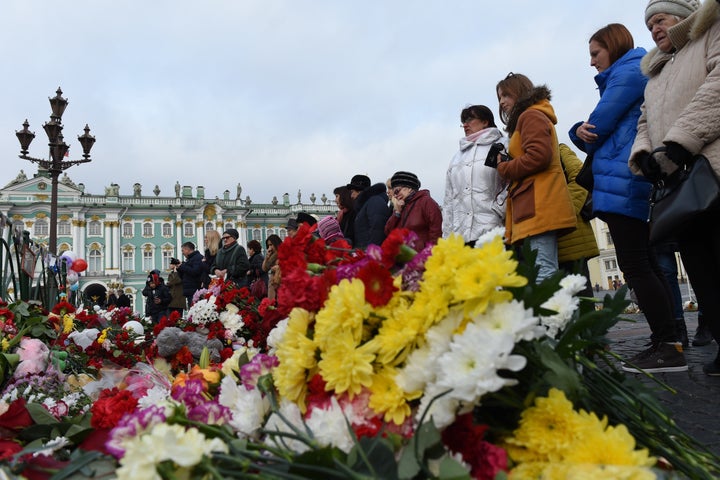 As the probe inches closer to the possibility of an onboard bomb, John Pistole, former administrator of the Transportation Security Administration and deputy director of the FBI, said investigators' work is just beginning.Evidence is still limited. Two black boxes have been collected and officials are on the scene.
Pistole, now the president of Indiana's Anderson University, said officials will likely be triaging on-site observations, data from the flight itself and chatter from the traditional intelligence community to determine what happened.
"Depending on what the investigation shows, if this was a terrorist attack, if this was ISIS, [they'll be asking] 'what do we need to do ... what regulatory changes need to be made and for how long?'" Pistole said.
He said while U.S. airports and those with direct flights to the United States have some of the world's most stringent security procedures, others may not. Something as simple as a baggage handler bribed to smuggle what they thought were drugs or money onto a plane could have unwittingly transported a bomb, according to Pistole.
Unfortunately, the TSA is still shockingly bad when it comes to preventing prohibited items through security checkpoints. An internal investigation this year found investigators were able to smuggle mock explosives and banned weapons through 95 percent of checkpoints.
Shortly after Pistole ended his tenure at the TSA in 2014, he told The Washington Post aviation was "still one of those gold-standard targets" for terrorist groups. "If the terrorist can exploit just one location on one day, that person can be on a flight to the U.S. and have a shot at blowing up the plane," he said. 
Pistole told The Huffington Post aircrafts remain a prime target for terrorist groups because of the sensational nature of aviation accidents. Coupled with revenge motives -- like Islamic States' claiming it downed the plane in retaliation for Russia's increased airstrikes in Syria -- planes provide an opportunity for a "huge amount of attention."
Todd Sandler, a professor at the University of Texas at Dallas specializing in political economy and terrorism, cautioned against putting weight behind the ISIS claims and said while the group has a motive, investigators have no idea what the story is yet.
"We won't know until the black boxes are analyzed and forensic evidence supports the ISIS bomb claim," Sandler said in an email.
President Barack Obama said Thursday there was a possibility a bomb was planted on the plane, which fell from the sky 23 minutes after the aircraft took off from the resort town of Sharm al-Sheikh in Egypt. British Prime Minister David Cameron took the notion one step further, saying it was "more likely than not a terrorist bomb," linking the accident to reports that Islamic State affiliates may be responsible for the act of terrorism.
Still, others have been far more wary of any connections to terrorist groups. The accident could have possibly been caused by a faulty engine -- some have pointed toward a repair made to the tail after the plane struck a runway in 2001. If it was done incorrectly, the crack could've widened and led to the breakup.
Russian and Egyptian leaders called the notion that external factors led to the accident rushed judgment.
Thousands of European tourists have been stranded in Sharm al-Sheikh after the UK suspended flights on Wednesday. Cameron has since announced some of the 20,000 Brits will be able to return home starting Friday under increased security measures.
Travelers will only be allowed to take hand luggage on board. All checked baggage will be transported separately.
Calling all HuffPost superfans!
Sign up for membership to become a founding member and help shape HuffPost's next chapter