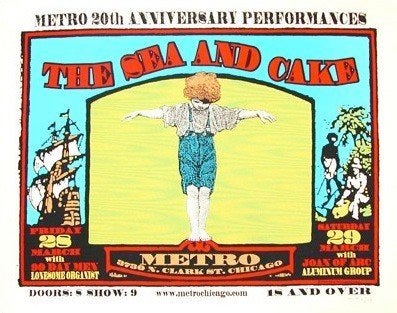 Chicago's beloved concert venue, the Metro, is turning 30 this month, and in honor of its contributions to music and art (through live performances and meticulous accompanying poster artwork), Chicago Loop Alliance's Pop-Up Art Loop is showcasing the latter in a gallery walk.
The July 12 show, hosted on the first floor of the Inland Steel Building at 77 S. Dearborn, will feature three decades of art, posters and photos from the independent music venue's archives, including some never-before-seen artwork, plus a special live DJ set, according to a release from the Chicago Loop Alliance. The walk will be held from 5-8 p.m.

'Metrospective' and the rest of the city's the pop-up galleries are open all month during regular visiting hours, from 10 a.m. to 6 p.m. Monday through Friday.
CORRECTION: A previous version of this story listed incorrect gallery hours.
Check out some posters being featured in the showcase, all courtesy of Metro: