 From 1963 to 1996, Banner Day at Shea Stadium was the Facebook of our time. Once a year if a fan made a sign or a banner celebrating the New York Mets, they were allowed to parade their work around the field prior to the game, and former players and/or celebrities would choose the best banner. It was a brief moment of fame for the fans, and although I never participated, I attended a number of them and never missed one on television.
This past Sunday, the Mets decided to bring back Banner Day, with Rusty Staub and Dwight Gooden acting as judges. Rusty looked like a genial, retired fireman while Gooden's massive forearm seemed as if it could still easily throw a baseball faster than 90 mph.
According to a Mets official, there were approximately 300 banners and while one of them took as long as 19 days to assemble, others were thrown together on the 7 train that morning as it rolled towards Citi Field. No matter, a great deal of love went into the banners and watching all of those proud fans on the field made me glad that the Mets brought back this great tradition.
Citi Field has a wonderful old-world feel, and it radiates charm and a sense of nostalgia that's missing from other new stadiums. I left the press box for a few innings to roam the stands and I met a group of sailors from a destroyer, the USS Donald Cook. I chatted with a very personable Ensign named Elizabeth, who serves as the Main Propulsion Officer, which sounds to me like Mr. Scott's job on Star Trek.
Another group of sailors danced to "In The Navy" during the 7th inning stretch, and I found myself getting choked up when the public address system played God Bless America.
As for the actual game, the Mets beat the Padres 2 - 0 sweeping the three game series. Starting pitcher R. A. Dickey gave up 3 hits in 7 innings and struck out 10. Manager Terry Collins commented, "Starting pitching -- that's where it is." Collins further assessment of the team: They always think they can beat you. When things go bad they forget about it and move on.
Just like one of the banners said: Still Amazing.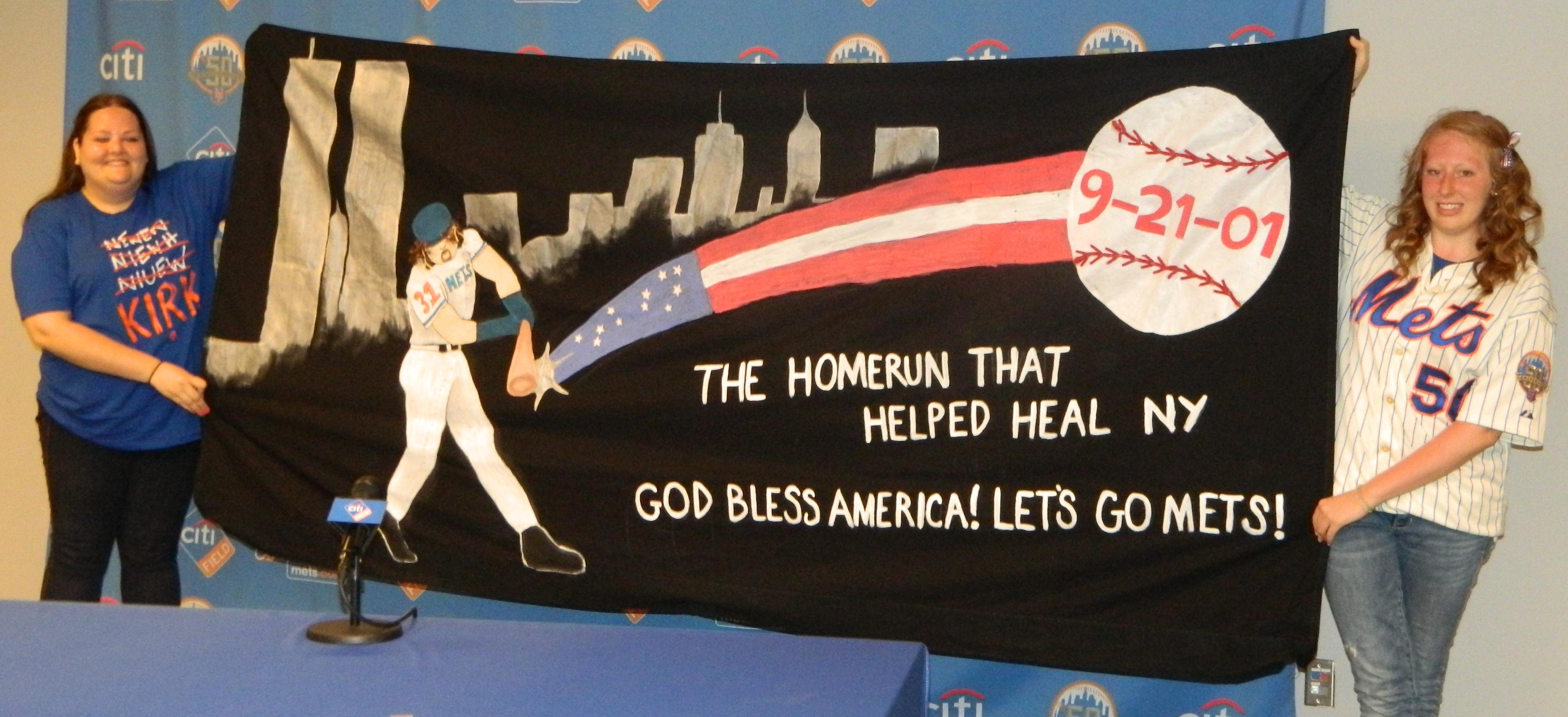 (Stephanie & Olivia hold their winning banner depicting Mike Piazza's post-9/11 home run)
Photo by: Scott Blakeman
REAL LIFE. REAL NEWS. REAL VOICES.
Help us tell more of the stories that matter from voices that too often remain unheard.