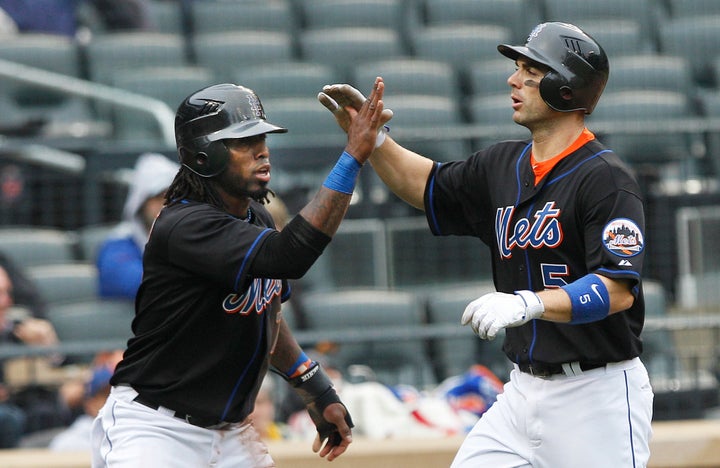 Sometimes people forget that it was less than five years ago when the New York Mets were supposed to win the World Series. When Omar Minaya was hired as general manager in 2005, he was treated like a king. He brought in stars, Pedro Martinez and Carlos Beltran, and although they did not make the playoffs that year, there was clear significant improvement, and particularly with the acquisitions of Carlos Delgado and Billy Wagner, the Mets were predicted by many to win the World Series the following year.
And for most of 2006, winning is exactly what they did. They clinched the NL East with nearly two weeks left to go in the regular season, and they easily defeated the Los Angeles Dodgers in the division series, needing only three games to do it. But between set-up man Duaner Sanchez's car-accident in late July and losing their top two starters, Martinez and Orlando Hernandez shortly before post-season play, the Mets were unable to keep up with the roster they had against the St. Louis Cardinals in the championship series, and players and fans were forced to have the lone memory of 2006 be Adam Wainwright's seventh-game-jaw-dropping curve ball.
As much as the Mets tried to recover from their crushing defeat, it just became worse and worse. They were the victims of the greatest collapse in Major League history in 2007, going 5-12 in their final seventeen games to let the Philadelphia Phillies win the division, and despite a mid-season managerial change in 2008, they failed to clinch a playoff berth yet again by losing on the last day of the regular season. Everyone was frustrated, and between the fans, players, and the front office, no one could understand how a team with so much talent could manage to consistently lose so miserably and so tragically. The '09 and '10 seasons started off well, but an array of injuries and what often seemed like a lack of fundamental baseball skills greatly impacted both seasons, causing the Mets to finish in fourth place for two consecutive years.

Then in 2011, the New York Mets organization made a change. Sandy Alderson and Terry Collins arrived and assured the team and its fan base that they would do everything in their power to alter the image of the Mets and bring back winning baseball to Queens. While fans remained skeptical, throughout nearly two months of the season now, you will not find many Mets fans who are not satisfied with the job Alderson and Collins have done, given that the team continues to hover around the .500 mark, far surpassing most people's expectations. Sure, there have been frustrating games here and there, and there is still a lot of room for improvement, but it is clear that Alderson and Collins are pointing this team in a positive direction.
Then, early Monday morning, as Mets fans, myself included, were still trying to recover from a truly tough weekend against the Yankees, Jeffrey Toobin of The New Yorker published a 10,000-word article detailing the life of Mets principal owner Fred Wilpon and how he got to be in the middle of a financial lawsuit that has forced him to put a minority share of the team on the market, primarily thanks to Bernard Madoff. In addition to discussing his unfortunate investments, though, Toobin discusses a mid-April game he attended with Wilpon and the disturbing comments Wilpon would make about some of his best players throughout the game, including Jose Reyes, David Wright, and Carlos Beltran.
I have never met Fred Wilpon, but despite the number of people who wrote throughout the unfolding of Monday's events how unlike Fred it is to say these comments or how much the Wilpons love the Mets, it is simply unacceptable to publicly label your team as "shitty." While it could certainly be argued that Jose Reyes might not make 'Carl Crawford money' next season or that David Wright is not a 'superstar,' it is not Fred Wilpon's place to reveal his true thoughts and feelings about his team to the media. His primary job as principal owner of a Major League Baseball team is to provide his players with the support they need, not to be a fan.
There is no question that all of us at one point in our life have said something that we regret or we did not mean, and it does not seem as if Toobin's article was intended to bash or embarrass Wilpon. In fact, I think his intent was quite the opposite, and to have people perhaps feel sympathy for Wilpon and the current situation he is in, despite the number of poor decisions he made over the years, most notably investing with Madoff. But as I sit here today, I can honestly say that I am ashamed to be a New York Mets fan and I am extremely frustrated with the Wilpon family. I think Fred and his son, Jeff, have done a lot of great things over the years for this ball club, and I am thankful for that, but why Fred would voluntarily say these comments to a reporter about the core of a team he has run for over 30 years is beyond me. While I looked at 2011 as the start of a new generation for this Mets team, Fred Wilpon made it quite clear in Monday's article that he sees it as the end of an era, and a disappointing end at that.

REAL LIFE. REAL NEWS. REAL VOICES.
Help us tell more of the stories that matter from voices that too often remain unheard.