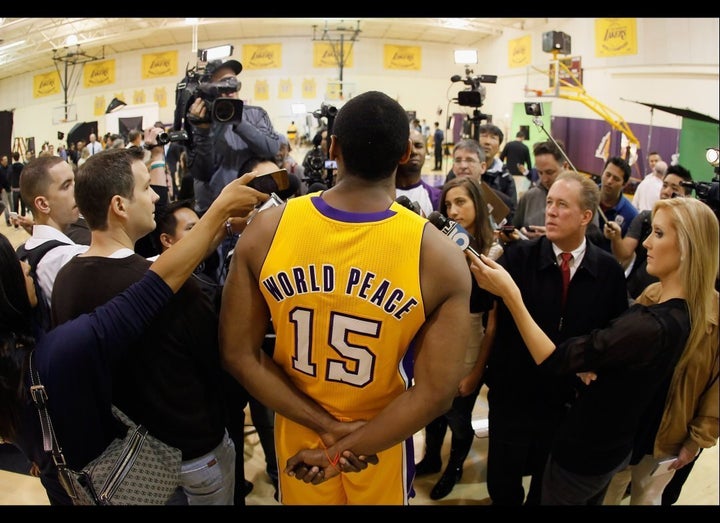 The possible suspension for the move, which he claimed was accidental, is a sad step backward for a player who has spent years rehabilitating his reputation by transforming himself from hothead to role model. The fallout is also disheartening for LA Lakers fans who have had a front-row seat to his makeover.
The fight was a huge black mark for the NBA and led to massive suspensions and fines for all the players involved. It also derailed the Indiana Pacers season. Artest was suspended for the remainder of the season.
In the years since, World Peace had taken pains to emphasize his goofy side over the violence and intensity that had once made him the NBA's Defensive Player of the Year in 2004.
Since being signed to the Lakers in 2009, World Peace has made good on his vow to hang out with local fans to thank them for their support.
Here he is singing "My Heart Will Go On" on karaoke machine with a local family in 2009.
In this 2009 video, Artest hangs out on the beach at a picnic table with fans.
In 2010 when the Lakers won the NBA league championships, World Peace famously thanked his psychiatrist for helping him relax during that stressful time. He later auctioned off his championship ring and donated the proceeds to mental health causes. His work on behalf of mental health issues even won him the NBA's J. Walter Kennedy Citizenship Award.
In 2011, the player announced that he was changing his name from Ron Artest to "Metta World Peace." The Laker explained to PTI that he liked "Metta" because in Buddhism, it means "friendship, loving, kindness and togetherness." He wanted the rest of his name to be equally inspirational, which is how he landed on his surname: "World Peace."
World Peace also appeared on TV with his 8-year-old daughter Diamond to talk frankly about her battle with cancer -- and the new music video about how she overcame it.
According to USA Today, World Peace was only suspended once during his time as a Laker thus far. Hopefully his inevitable suspension over Sunday's dangerous play with be his last one.
Popular in the Community