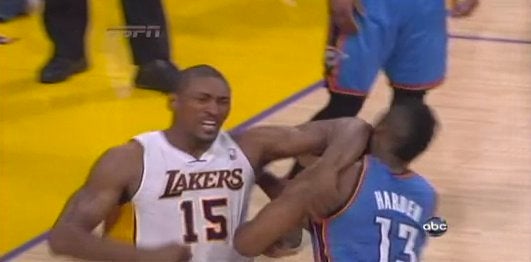 Is it possible for World Peace to have its pants on fire?"
Once again, a significant NBA-related flame out spoils the basketball talk at the most important time of year and it should've been extinguished by the league before playoff action begins this weekend. The NBA needed to address the unnecessary, pointless and near criminal act of violence on the basketball court perpetrated by the player formerly known as Ron Artest. The act resulted in a multi-game (one regular season; up to six playoff games or future 2012-13 regular season games) suspension. The NBA emailed in its decision on Tuesday evening, two days before the Lakers were to take the court for their final regular season game on Thursday night in Sacramento.
It's obvious that NBA Commissioner David Stern gave Peace a chance with the ruling. But, in the name of John Lennon, Stern needed to make a more significant statement and protect some 449 union members, his prized players, from one of their own. .Stern's decision came in just under the radar of the players' union that would be required to file an appeal to defend the offender (12 games triggers appeal level).
From my vantage point, Stern and the NBA deans of discipline should've hit Mr. World Peace with a one game and full 2013 NBA playoffs suspension. By potentially allowing aka Artest to return to an NBA court near you, Stern will be putting the rank and file at a risk that even the law firm of Jacoby & Myers could litigate a billion-dollar decision of neglect of a proper working environment. The proof would be right in the post game quote sheet of denial or all-out lies told by aka Artest.
"It was unfortunate that James (Harden) had to get hit with an unintentional elbow," World Peace said. "I hope he's OK."
The ill-advised postgame comments and subsequent tweet-up, the modern-day attempt at a social media style cover-up, continued when Peace stated immediately after the game, "During that play, I just dunked on (Kevin) Durant and (Serge) Ibaka, and I got really emotional and excited. The Thunder, they're playing for a championship this year, so I hope that he's OK, and I apologize to the Thunder and to James Harden. You know, it was such a great game, and it was unfortunate so much emotion was going on at that time."
Then, the player formerly known as Ron Artest only made things worse on Twitter: "I just watched the replay again," World Peace tweeted. "Oooo... My celebration of the dunk really was too much... Didn't even see James ..... Omg... Looks bad."
Then, his teammates, namely Kobe Bryant, came to his defense, looking to sway public and media opinion with a lengthy NBA suspension looming in the aftermath.
"One play in the heat of a battle, all of a sudden it changes his perception as a man and as a person? No," said Bryant, seeking media support and consent. "Everybody, all you guys, know what a sweet guy he is."
Can you believe it? Unintentional elbow in a celebration? I'm glad World Peace didn't hit a game-winning three in a big playoff series, a la Robert Horry.
This recent act of violence can only be compared to the very worst on-court NBA incidents of all-time and it was met with a short seven-game suspension and defended by a fellow player with a "what a sweet guy" character reference? Please.
In this case, Stern should've placed a call to obtain opinion on his verdict from union Executive Director Billy Hunter or maybe union president Derek Fisher, a former teammate of World Peace and now a teammate of Harden. Or, Stern might've placed a call to Rudy Tomjanovich or Kermit Washington, two former NBA players forever linked by Washington's "heat of the battle" reaction and cold-cock to Tomjanovich's face which nearly killed the Rockets legend.
Washington was fined $10,000 and suspended for 60 days back in 1977 when the incident occurred and when the league office levy was about one one-millionth as strict as it is in today's NBA. A non-scientific conversion or equivalent might be estimated at $1,000,000, a full playoffs and a 10-game 2012-13 suspension, pending league investigation and expert observation from anger management experts. Or, Stern might literally throw the book at Metta World Peace and his J. Walter Kennedy Citizenship award and send him packing for good.
Without a doubt, the members of the NBA union would be safer and would be better represented and protected if Stern had come down harder on World Peace.
What a disgrace to the game of basketball.
Terry Lyons is the editor of DigitalSportsDesk.com
REAL LIFE. REAL NEWS. REAL VOICES.
Help us tell more of the stories that matter from voices that too often remain unheard.