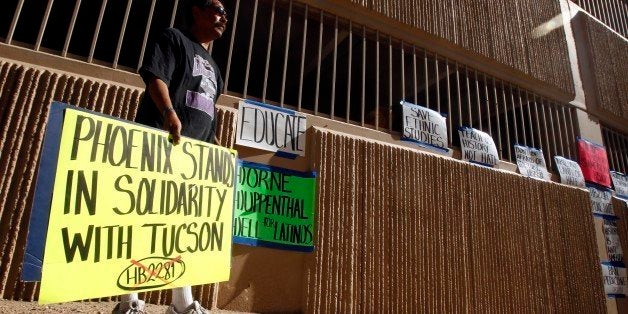 The Mexican-American Studies curriculum in Tucson public schools banned by the conservative-dominated Arizona legislature helped boost student achievement and offers a promising approach to bridge the achievement gap between Hispanic and white students, a new study says.
To test the effect of taking the defunct classes, the researchers used administrative data from the 2008 to 2011 school years to assess the relationship between taking the courses and high school graduation rates and performance on state standardized tests.
Students who took the courses performed better on the state tests and graduated at a higher rate, the study found.
"The estimated relationship between MAS participation and student educational attainment was surprisingly strong," the study says. "These results corroborate findings that ethnic studies can lead to increased student development."
The researchers found that that Mexican-American Studies students out-performed their peers who didn't take the courses, even though the MAS students generally had lower grade point averages -- a result the study refers to as "counterintuitive."
The researchers say Mexican-American Studies offers a method with a proven track record to address the performance gap in Arizona schools, but that opposition from conservatives will likely keep it from happening in the near future.
"MAS represents one option that meets the state superintendent's requirement for investing in educational innovation with an empirically supported record of success," the study says. "Currently there are few approaches to educating Latina/o students that hold as much promise, but racial politics continue to overshadow a needed focus on student achievement."
The banned courses presented students in the majority-Latino district with literature written by Mexican-American authors and social science works that dealt critically with controversial topics like race, discrimination and socioeconomic inequality.
The teachers, following the thinking of scholars who developed ethnic studies programs at the university level in the 1960s, argued that students would take greater interest in their education if they could read works by people with similar cultural backgrounds and study issues that directly affect them.
But conservative Arizona officials, led by then-Superintendent of Schools Tom Horne and then-State Sen. John Huppenthal, accused the teachers of politicizing students and breeding resentment against whites. The Arizona legislature passed a law in 2010 aimed at the Tucson curriculum that prohibited courses that called for the overthrow of the U.S. government, treated students as members of a group rather than individuals, or that bred ethnic resentment.
Before You Go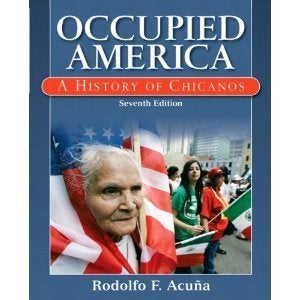 Latino Books Once Banned In Arizona
Popular in the Community