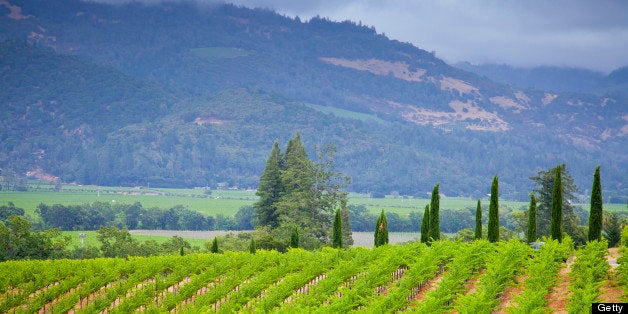 Get ready for Mexican-American wine.
Immigrants from south of the border have long played a key role in California's wine industry, serving as one of the most important sources of labor in the grape fields.
Some of them, like Bulmaro Montes and his daughters Mara and Sofía, show off their immigrant, up-by-the-bootstraps stories to lend their product a personal feel. Montes migrated from Oaxaca, Mexico, at the age of 16, to Napa Valley, where he eventually learned and planted his own vines.
"What we do is we invite (customers) to come and visit our house so that they can learn my father's story and taste the wines," Mara Montes told La Opinión.
Maldonado vineyards offers another example. According their website, the winery was founded by Lupe Maldonado, who moved to the United States from the small town of Atacheo in Michoacán some 44 years ago. He worked his way up to manager at Newtown Vineyard before buying 10 acres of Napa Valley land to found his own. The website reads:
Lupe began devoting his three decades of viticulture wisdom to his own grapes. He bought a 10-acre piece of land in the coolest southern reaches of Napa Valley, in Jamieson Canyon, which he developed into his own vineyards. Lupe lives in the midst of the vines that he planted and tends.
Mexican-American newcomers to Napa Valley wine production make up only a small part of the overall market, relying on Internet sales, according to La Opinión.
It's not the first time grapes have defined a new trend in Mexican-American history. The United Farm Workers union, led by civil rights leaders Cesar Chavez and Dolores Huerta, won one of its early victories in the 1960s with the Delano grape strike. Years of strikes and boycotts pressured growers in 1969 to sign an agreement with the UFW (then known as the United Farm Workers Organizing Committee) that boosted wages, ended exploitative hiring practices, protected workers from harmful pesticides, and other benefits.
About 68 percent of U.S. hired crop farm workers were born in Mexico, according to the U.S. Department of Agriculture. That figure is down from a peak of around 79 percent from 1998 to 2000. About half of hired crop farm workers in the United States are undocumented, according to the USDA.
The two states of California and Texas account for roughly one-third of U.S. farm labor.
Calling all HuffPost superfans!
Sign up for membership to become a founding member and help shape HuffPost's next chapter
BEFORE YOU GO
PHOTO GALLERY
6 Misconceptions About The Border