PHOENIX ― Belén Gutiérrez will cast her first ballot in a U.S. election on Nov. 8. But she might have let the opportunity slip by, if not for Berta Rita.
In the weeks ahead of Election Day, Rita has driven 40 minutes into town every afternoon to knock on doors in Phoenix's heavily Mexican-American West side on behalf of the Bazta Arpaio campaign. When Gutiérrez answered, she said she'd looked forward to voting since she became a U.S. citizen two years ago, but found the process unfamiliar and intimidating. When she couldn't find her early voting ballot, Gutiérrez accepted an offer for a free lift to her polling station on Election Day.
In an election where GOP presidential nominee Donald Trump's farcical attacks against Mexicans and other immigrants have energized the Latino vote, Gutiérrez has a more local reason to cast a ballot this year.
"More than anything, I want to get [Maricopa County Sheriff Joe] Arpaio out," Gutiérrez told HuffPost. "I've got a lot of family here who don't have papers. I don't want him after us just because we've got Mexican colors. Just because of the color of my skin, they want to stop me and ask for my papers."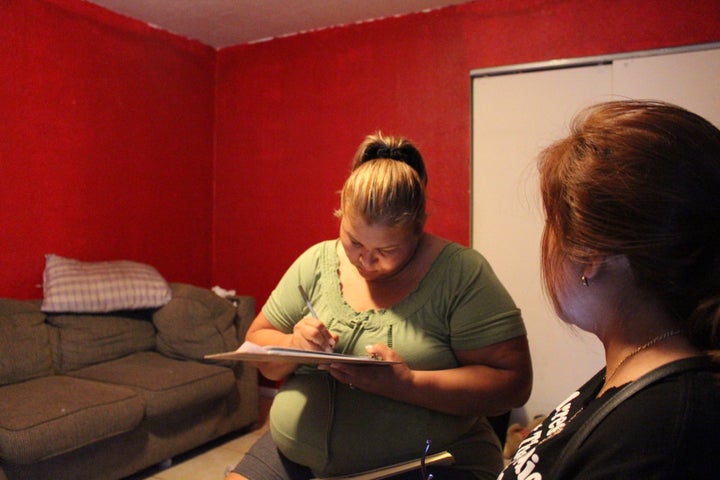 Arpaio, the sheriff of Maricopa County, which encompasses Phoenix, has made immigration raids a centerpiece of his two-decade tenure. He's butted heads with federal authorities in the process and lost a 2007 civil lawsuit that found he racially profiled Latinos. With Arpaio preparing to face criminal contempt charges for allegedly continuing to discriminate against Hispanics in violation of the court order, the chances of unseating the hardliner have rarely looked so good.
For Rita, who can't vote herself because she's undocumented, each door knock resulting in another Latino vote amounts to a personal victory. She lost her job doing cleaning work at an office building after one of Arpaio's raids. She hasn't had steady work since. Her husband also lost a construction job after a raid, though he's been able to find work since.
"Almost everyone we've reached is voting for the first time," Rita says, flipping through pictures of herself meeting with voters on her cell phone.
Even if they fail to unseat Arpaio, grassroots efforts to mobilize the Latino vote against him will likely continue to have an impact well beyond this electoral cycle.
"People aren't going to spend money to lose by a smaller margin," Sylvia Manzano, a principal at Latino Decisions, told HuffPost. 
So it's often been grassroots groups like One Arizona who do the long, slow work of knocking on doors and setting up tables outside supermarkets and public parks to recruit first-time voters into the electoral process. Viridiana Hernández, Rita's daughter, volunteered in that campaign, which registered 150,000 Latino voters, and now sits on the board of People United for Justice, the group running the Bazta Arpaio campaign.
"For years, neither party has served our community," Hernandez told HuffPost. "People have been disengaged by the political process… When you look at the neighborhoods and don't see campaign signs, you can see the lack of investment."  
Over the the last few months, however, that's changed. After the Democratic National Convention, Arizona party leaders began pressing the Clinton campaign to spend more time and money trying to move the state, arguing that this year it could flip. The party responded, sending both Clinton and top surrogates to the state and mobilizing get out the vote efforts. Liberal billionaire George Soros also spent $2 million this month to fund super PAC Maricopa Strong's TV ads attacking Arpaio and promoting his Democratic rival, Paul Penzone.
"Democrats have a unique opportunity to win in Arizona, and we're not letting it go to waste," DNC spokesman Walter Garcia told HuffPost in an email. "That's why Secretary Clinton, Tim Kaine, and Michelle Obama have all recently campaigned in the state, and the DNC's 'Forward Together' bus tour rallied voters in the Grand Canyon State to elect Democrats up and down the ballot." 
Gutiérrez, a mother of five, hopes those votes send the message that anti-immigrant politics won't win elections.
"People who came here from another place didn't come to hurt anyone," Gutiérrez said. "What mother wouldn't want to make a better future for her kids?"
Calling all HuffPost superfans!
Sign up for membership to become a founding member and help shape HuffPost's next chapter
BEFORE YOU GO
PHOTO GALLERY
How Donald Trump Talks About Undocumented Immigrants