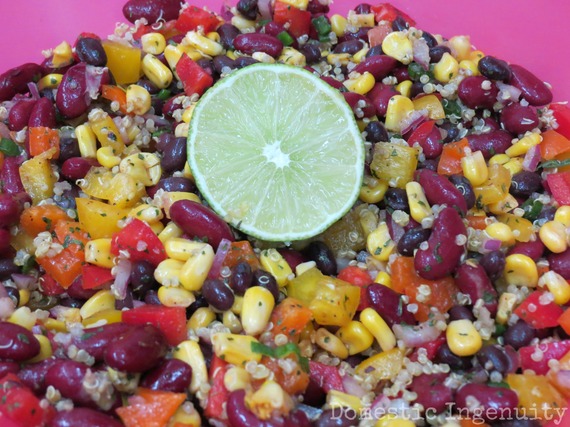 With the weather starting to feel more like spring than winter, I am already excited for lighter dinner ideas as opposed to heavy comfort food. This bean salad is fresh, flavorful and full of great ingredients! Beans are nutritional powerhouses packed with protein, fiber, B vitamins, iron, potassium, and are also low in fat, so I incorporate them into our diet on a regular basis for these reasons. But try for yourself. This is the perfect side dish for BBQ meats and quinoa dishes. Enjoy!
Ingredients
1 red bell pepper, chopped
1 yellow or orange bell pepper, chopped
1 can kidney beans, rinsed and drained
1 can black beans, rinsed and drained
2 cups frozen corn kernels
1 red onion, chopped
1/2 cup olive oil
1/2 cup red wine vinegar
2 Tbsp fresh lime juice
1 Tbsp lemon juice
2 Tbsp white sugar
1/2 Tbsp salt
1 clove crushed garlic
1/4 cup chopped fresh cilantro
1/2 Tbsp ground cumin
1/2 Tbsp ground black pepper
1 dash hot pepper sauce
1/2 tsp chili powder
In a large bowl combine all vegetables and beans.
In a small bowl, whisk remaining ingredients. Season to taste with hot sauce and chili powder.
Pour olive oil dressing over vegetables and toss. Chill for about an hour and serve cold.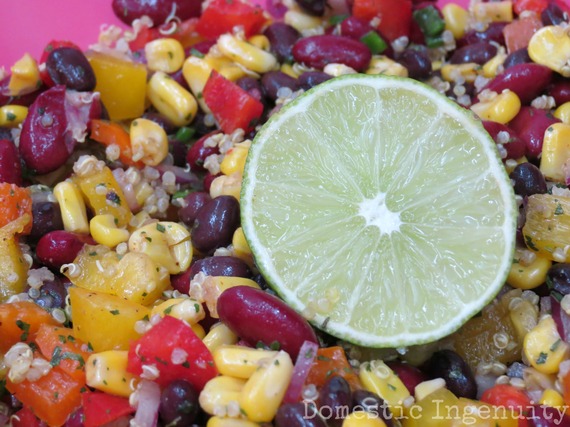 Q: What do you get when you mix beans and onions?
A: Tear gas.
Popular in the Community