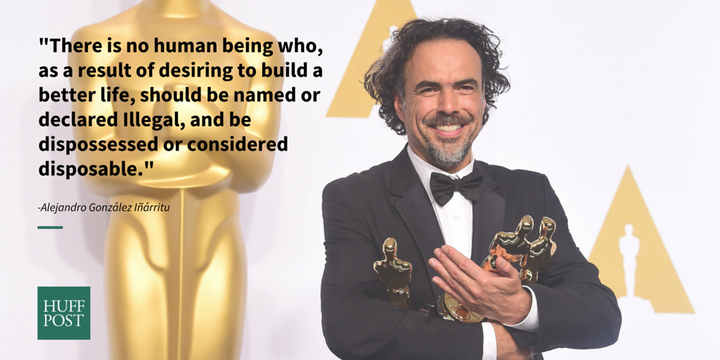 As Donald Trump gave "Saturday Night Live" viewers a satirical sneak peak at what life in the United States would be like if he became president, Mexican director Alejandro Gonzalez Iñárritu spoke candidly about what life is actually like for Mexicans living in Mexico and the U.S. today. 
Iñárritu delivered his speech Saturday at the Los Angeles County Museum of Art, where he was being honored alongside artist James Turrell as part of the museum's Art+Film Gala.
Below is a partial transcript of the "Birdman" director's speech, which was originally published in English and in Spanish on Medium.com.
As a Mexican, I consider the honor I am receiving tonight a recognition to the whole Mexican community for their eminent hard work and vibrant cultural contributions made for years and years to the city of Los Angeles and the United States.

 

I have been extremely fortunate to shoot films around the world; sharing human experiences with different kinds of people, regardless of where we are from.

 

We are the only creatures on planet Earth that want to see ourselves in the mirror. Because we know we are the same, but we are different, we need to share. We need to see ourselves projected in other members of our species to, in turn, understand ourselves. Cinema, is that mirror. It is a bridge between the others and us.

 

Unfortunately, there are currently people proposing we build walls, instead of bridges. I must confess that I debated with myself, if I should bring up this uncomfortable subject tonight. But in light of the constant and relentless xenophobic comments that have been expressed recently against my Mexican fellows, it is inevitable.

 

These comments would be unacceptable if they were targeted against another minority, nevertheless, these millions of people do not have a voice or any rights  -- even though they have lived here all of their lives.

 

These sentiments have been widely spread by the media without shame, embraced and cheered by leaders and communities around the U.S. The foundation of all this is so outrageous that it can easily be minimized as an "SNL" sketch, a mere entertainment, a joke.

 

But the words that have been expressed are not a joke. Words have real power; and similar words in the past have both created and triggered enormous suffering for millions of humans beings, especially throughout the last century.
Visit Medium.com to read Iñárritu's speech in its entirety. 
PHOTO GALLERY
9 Outrageous Things Donald Trump Has Said About Latinos
Calling all HuffPost superfans!
Sign up for membership to become a founding member and help shape HuffPost's next chapter