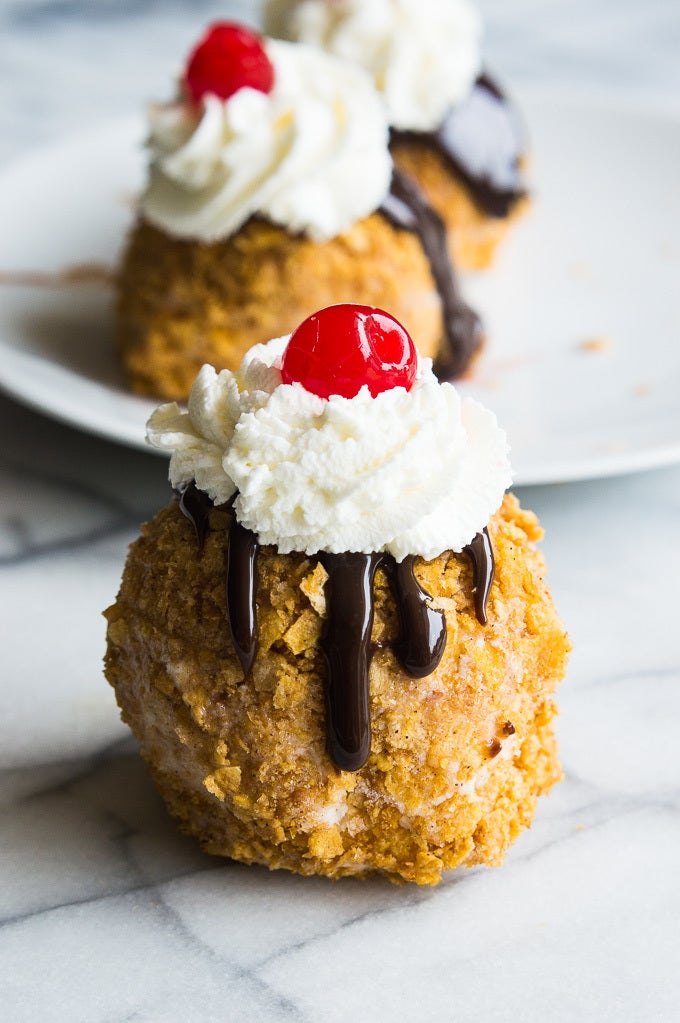 Easy Mexican Fried Ice Cream. It's a thing. And yes, it involves actually frying ice cream. Because, people love to fry things. Have you ever been to a fair? They fry sticks of butter there these days. And while that sounds like a heart attack waiting to happen, fried ice cream is wonderful! However, this easy mexican fried ice cream has a little secret. It's not actually fried. Want to hear more?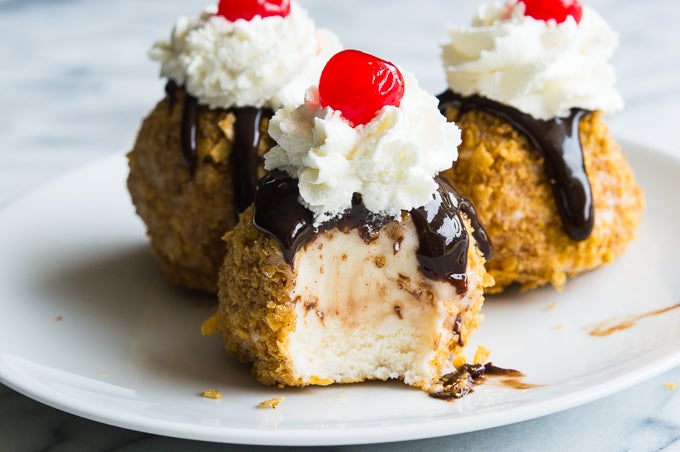 Now, I enjoy a fried ice cream as much as anyone. But I'm not a big fan of frying things at home. Don't get me wrong, I'll do it when the end result is worth it, like these fried pickles. But if I can get the end result without frying I typically will take that way. The trick to making this little treat is to make sure you toast up the corn flakes that will be the outside coating though. That way we still get that fried taste and crunch mixed with the cold ice cream. It's slightly spectacular.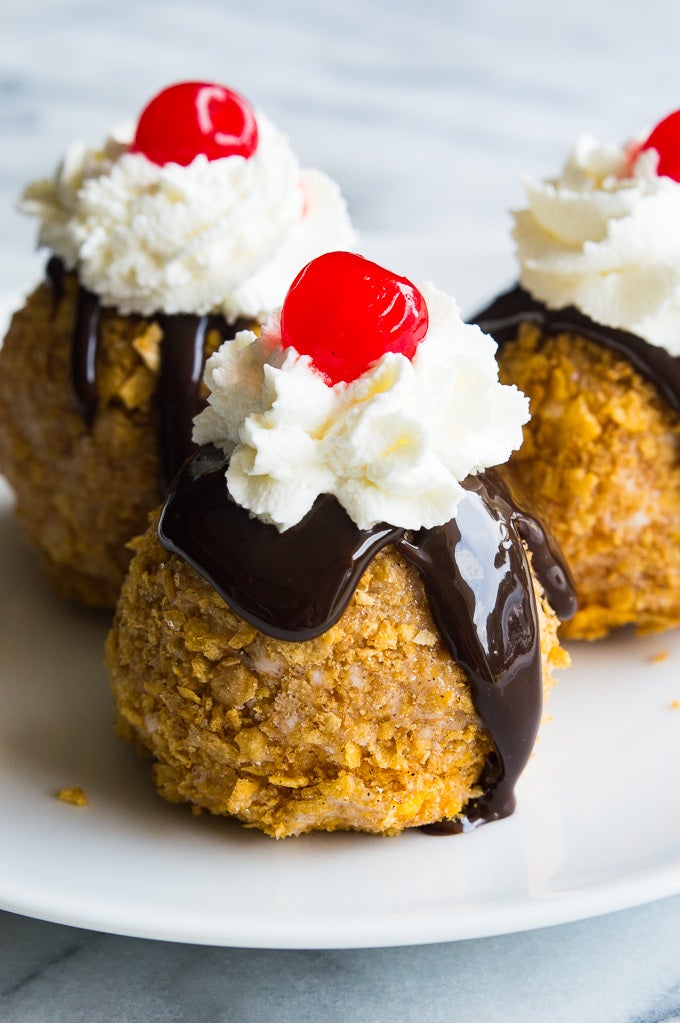 Tips for This Easy Mexican Fried Ice Cream
Shape the ice cream into the ball form and then re-freeze for at least 3 hours.
When handling the ice cream to put the coating on, wear plastic gloves, it will help prevent the ice cream from melting due to the heat from your hands
Instead of rolling the ice cream in the crumb coating, it's easier to set the ice cream there and press the coating on using your hands.
Prep Time: 3 hours 15 mins
3 large scoops of vanilla ice cream (or frozen yogurt)
2 tablespoons white granulated sugar
1/2 teaspoon ground cinnamon
1 tablespoon butter
2 cups corn flakes (crushed)
1/2 teaspoon ground cinnamon
Whipped Cream
Hot fudge sauce
cherries
Scoop the ice cream and shape into a round ball. Place on a baking sheet or plate and put into the freezer for at least 3 hours.
Crush the corn flakes, sprinkle with cinnamon. Heat the butter in a small skillet over medium heat. Add the corn flakes and saute for about 5 minutes or until the corn flakes are toasted.
In a small bowl combine the white sugar and remaining cinnamon.
Take the ice cream from the freezer, roll in the cinnamon sugar mixture, then coat with the toasted corn flakes.
Top with hot fudge, whipped cream and cherry
Serve immediately and enjoy!
Prep time includes time to freeze the ice cream into the ball shape.
Related
Popular in the Community