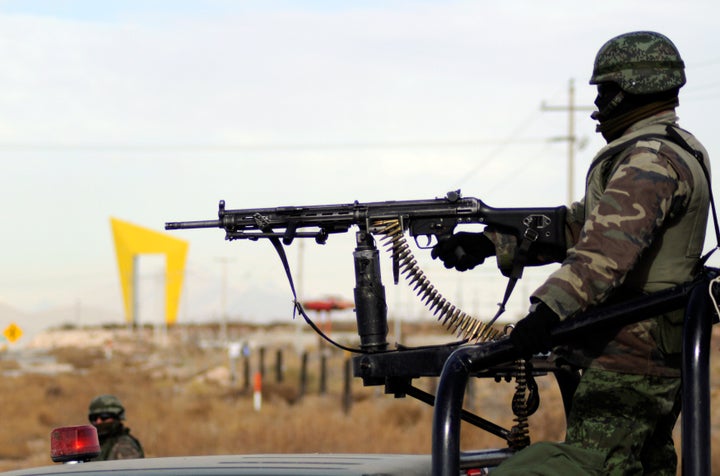 The Inter-American Commission on Human Rights excoriated Mexico's human rights record Friday, saying the country's security forces routinely torture and kill people with impunity.
The Washington-based IACHR, an arm of the Organization of American States devoted to protecting human rights in the hemisphere, fielded a group that has visited several cities in Mexico since Sept. 28. Group members have met with members of all three branches of the federal government, as well as victims of human rights violations, members of nongovernmental organizations, social activists and journalists.
"The Inter-American Commission confirmed on the ground the grave human rights crisis that Mexico is experiencing, characterized by a situation of extreme violence and lack of public safety, extrajudicial executions and torture, high levels of impunity and insufficient care for the victims and their families," the preliminary findings of the report read.
Friday's report highlighted several positive steps the Mexican government has taken in recent years, including reforming the constitution to specify that all Mexicans enjoy human rights guarantees.
But the group's preliminary findings present a dismal image of a country in which people fear security forces who kill and torture with impunity, where criminal groups pay off authorities to traffic drugs and people, and where the armed forces have taken on a policing role, leading to what the commission called a "militarization" of criminal justice.
Mexico's human rights crisis has drawn international attention repeatedly in recent years. Some 100,000 people have died in drug-related violence since former President Felipe Calderón launched an assault on the country's cartels in 2006, prompting a spike in Mexican asylum claims in the United States. More recently, Mexican police attacked a group of students in Iguala several times during the night of Sept. 26, 2014, killing six people, wounding several and abducting 43.
Then-Attorney General of Mexico Jesus Murillo Karam said in November that police handed the missing students over to four accused members of the Guerreros Unidos drug cartel, who confessed to killing the students that night and incinerating their bodies at a trash dump in the neighboring town of Cocula.
Journalists and independent experts have poked gaping holes in the federal government's version of events, however. Investigative reports by journalists Anabel Hernández and Steve Fisher published since December, based largely on government documents, say Mexican security forces had tortured several key witnesses in the investigation -- including the accused gang members, all of whom were impoverished construction workers who didn't have the means to carry out such a complex crime.
The IACHR panel's report last month found evidence that security forces tortured witnesses in the investigation. The report also said the government's assertion that students bodies' were burned to ashes at the Cocula site had no basis in forensic science, echoing concerns expressed months earlier by other forensic experts.
Calling all HuffPost superfans!
Sign up for membership to become a founding member and help shape HuffPost's next chapter