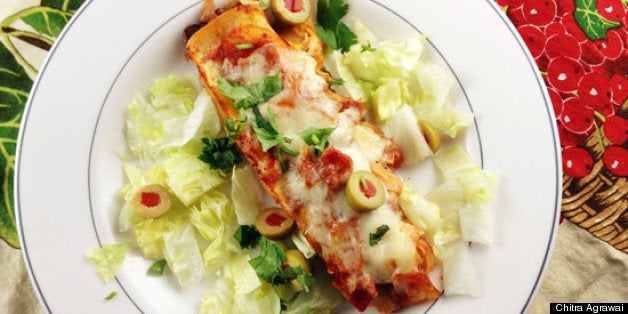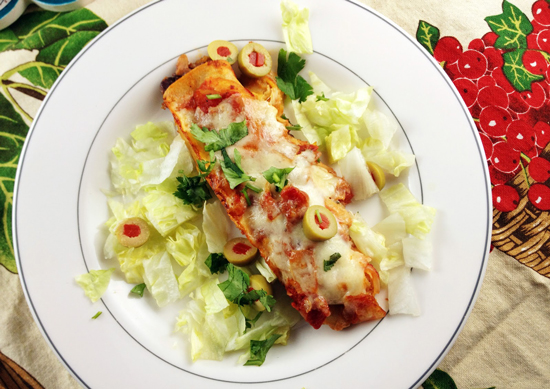 I recently took a trip to Santa Fe, New Mexico with my family to celebrate my father's 70th birthday. While there, I consumed an insane amount of enchiladas and learned a lot about the local chiles. If you eat authentic New Mexican food, you will most likely at first burn your tongue off (in a good way) because the chiles are super hot, but they also have a unique earthy and fruity flavor. They have a deep and dark reddish brown coloring too. I loved the flavor so much, I brought back some of the special New Mexican red chile powder from The Chile Shop. I definitely recommend trying out New Mexican chile powder (and using it in this recipe), which differs from the more usual varieties like cayenne, ancho, pasilla and chipotle. The name of the chile powder I bought is called Dixon Medium Hot, which is hotter than the most commonly used New Mexican chile, called Hatch. You can find New Mexican chile powder in specialty markets or order it online.
This recipe is actually one of my favorites that I've been dying to share, but this was the first time I made the sauce with real New Mexican chiles. It's essentially a Mexican-Indian enchilada, corn tortilla filled with rajma, a North Indian kidney bean curry and baked with enchilada sauce (recipe below courtesy of The Chile Shop in Santa Fe) and cheese. Rajma is kind of like the lesser known, but just as delicious, relative to channa masala, that's made with kidney beans instead of chickpeas. I like to make my rajma with spinach too. This enchilada recipe is a hearty one for vegetarians and you can omit the cheese if you are vegan.
From making enchiladas quite a bit, I've figured out some tricks so you don't end up with soggy enchiladas. You just need to do a few things to make this happen: use corn tortillas, fry the tortillas lightly and lightly dip them into warm enchilada sauce before filling and putting in a greased pan. The oil acts as a barrier to the sauce so they don't start to break up apart.
This recipe is really versatile in that you can make some of the parts of it beforehand and assemble the enchiladas on another day. In the past, I've also stuffed them with a variety of different Indian curries like potato and paneer and swiss chard and served them with different chutneys on top, like coconut.
Rajma (Kidney Bean Curry) Enchiladas
Ingredients
12 corn tortillas
2 cups shredded jack or cheddar cheese
Diced onion (optional)
Vegetable or canola oil
Enchilada Sauce (Red Chile Sauce), courtesy of The Chile Shop Santa Fe
Ingredients
2 tablespoons oil
1 large clove of garlic, smashed and minced
1/4 teaspoon oregano
1/4 teaspoon cumin
2 scant tablespoons flour
6 tablespoons Dixon Medium Hot chile powder or other New Mexican chile powder, vary amount according to your taste
2 1/2 to 3 cups vegetable broth
1/4 teaspoon salt
Rajma with Spinach Recipe
For garnish
Sour cream or Greek yogurt
Iceberg lettuce, chopped or shredded
Spanish or black olives, sliced (optional)
Hot sauce (optional)
Cilantro, chopped
To make Enchilada Sauce:
Saute garlic in oil for one to two minutes over low heat. Add oregano, cumin and flour. Stir until golden. Blend together chile and broth until smooth and add to flour mixture. Simmer very gently for 15-20 minutes. Chile scorches easily, imparting bitter taste; cook slowly, stirring frequently. Sauce should be thick enough to heavily nap a spoon. Keeps one week refrigerated. Can be frozen.
Make rajma with spinach recipe.
Assembly of Enchiladas:
Preheat oven to 350 degrees Fahrenheit. Oil the bottom of a 9x13 baking dish.
In a non-stick pan, fry each corn tortilla in oil for a few seconds until pliable and soft. Don't cook until they are crunchy.
Set them aside on a paper towel.
Warm up your enchilada sauce and place in a flat dish or plate.
Take one fried corn tortilla at a time and dip completely in the enchilada sauce. Shake off excess sauce, you want it to be coated lightly, but not completely doused with sauce.
This part may get messy as you are working with the sauced tortilla so just be ready for it! I just use my hand for filling it too. Fill the enchilada with two to three tablespoons of rajma and spinach curry (can add a little cheese or diced raw onion too if you like) and roll closed. Place seam down in the baking dish. Repeat for each enchilada.
Spoon and spread sauce over the enchiladas (reserve some for serving with cooked enchiladas if you like it more saucy) and top with shredded cheese.
Place in the oven for about 10 minutes or until cheese is melted to your liking. If you want it to be more brown, you could turn the heat up to broil for a little until the cheese browns more.
For each plate, put down some enchilada sauce (optional) and place enchilada on top. Garnish your enchiladas with shredded lettuce, olives and cilantro. Serve with sour cream or Greek yogurt and hot sauce on the side.