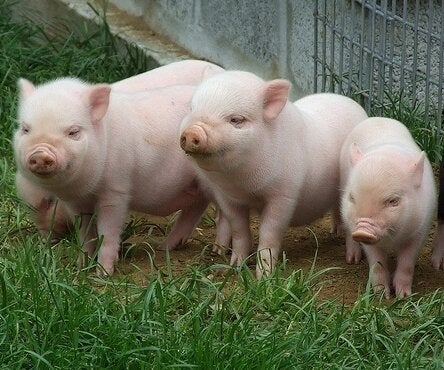 Large-scale swine producers in Mexico deny that their industry is the source of the deadly new influenza strain, saying the animals are all healthy, and that it is scientifically "not possible" for hogs to infect people with the illness. But lawmakers in the eastern state of Veracruz are now charging that large-scale hog and poultry operations are "breeding grounds" of infection that are making people sick and fueling the pandemic.
On Sunday, the state government of Veracruz confirmed swine influenza in a five-year-old girl in the village of La Gloria, located near a massive US-owned hog facility. The bodies of two other village children who died in February and March will be exhumed and tested for signs of the illness, local media reports said.
And in the western state of Guerrero, 500 pigs were just killed after becoming ill with swine flu.
The nation's hog industry says it is not to blame for any human illness. "We deny completely that the influenza virus affecting Mexico originated in pigs, because it has been scientifically demonstrated that this is not possible," said a statement issued by the National Organization of Pig Production and Producers and its president, Mario Humberto Quintanilla González.
The group said it had ordered a series of lab tests and sought technical support from the National Autonomous University of Mexico and others, "in order to demonstrate, once again, that pigs are not the cause of the flu that is affecting the country. It must remain clear that the flu problem is caused neither by the proximity to swine operations nor by the consumption of pork meat or pork products."
The statement went on to say, however, that pork producers, "will respect whatever scientific determination is made as to the actual causes that have provoked this health problem."
Meanwhile, one of Mexico's largest producers, Granjas Carroll, a subsidiary of US hog giant Smithfield Foods, issued its own statement saying there was no sign of swine flu at any of its operations in the states of Veracruz and Puebla. The company's huge facility near the town of La Gloria was first mentioned as a possible source of the new human-swine flu outbreak by Tom Philpott at www.grist.org.
According to El Universal newspaper, the company reported no signs of disease in any of its 907 workers - nor in its 60,000 breeding sows or 500,000 feeder pigs, all of whom were vaccinated against swine flu. "The press release stated that that the virus was found in people who were not near swine production facilities, and who did not have contact with pigs, and therefore, 'it has been concluded that the contagion has been between humans,'" El Universal reported.
But the industry statement that this disease was not transmitted from pigs to people contradicts virtually all Mexican government statements so far, including Mexico's Health Minister, Jose Angel Cordova, who said the virus, "mutated from pigs, and then at some point was transmitted to humans." Whether they were Mexican pigs or not remains a mystery, of course.
As Philpott pointed out in his post, Mexican newspapers have been reporting for weeks that residents living near Granjas Carroll's massive hog facility at La Gloria are falling ill with severe upper respiratory diseases. One five-year-old girl in the village just tested positive for swine flu - the bodies of two more children who died recently are being exhumed.
According to an April 5 article in La Jornada newspaper, "Clouds of flies emanate from the lagoons where Granjas Carroll discharges the fecal waste from its hog barns - as well as air pollution that has already caused an epidemic of respiratory infections in the town."
More than 400 people had already been treated for respiratory infections, and more than 60 percent of the town's 3,000 residents had reported getting sick, the paper said. State officials disputed that claim, and said the illnesses were caused by cold weather and dust in the air.
The problems began in early March, when many neighbors of the hog CAFO (confined animal feeding operation) became sick with colds and flu that quickly turned into lung infections, causing local health officials to impose a "sanitary cordon" around the area and begin a mass program of vaccination and home fumigation.
"According to state agents of the Mexican Social Security Institute, the vector of this outbreak are the clouds of flies that come out of the hog barns, and the waste lagoons into which the Mexican-US company spews tons of excrement," La Jornada reported. "Even so, state and federal authorities paid no attention to the residents, until today."
The state legislature of Veracruz has demanded that the Smithfield subsidiary turn over all documents and environmental certifications on its three massive waste lagoons, but so far, the company has only supplied information on one of them, news reports said today.
On Friday, the chairman of the state legislature's Committee on the Environment, Marco Antonio Núñez López, called on Veracruz's Secretary of Health to impose a "sanitary cordon" around all hog and poultry CAFOs in the area - as well as bus terminals and airports - to prevent the spread of influenza among the population.
He said the factory farms should be considered "breeding grounds" (focos rojos - which might also translate as "hot spots") of potential infection for the cities of Veracruz, Boca del Río, Coatzacoalcos, Córdoba, Orizaba, Xalapa and Perote.
"I asked the Secretary to inform us about what was going on in La Gloria with Granjas Carroll, because avian flu is spreading from birds to pigs, and from there to humans, and that urgent measures are needed," Núñez López told reporters.
He was referring to another CAFO, this one containing poultry, called Granjas de Bachoco, located near the state capital of Xalapa. He said there was an epidemic of avian flu among the chickens being raised there, but that this was being kept quiet so as not to interfere with exports. Influenza-infected chickens raise the risk of cross-infection to pigs in the same area, scientists say.
Meanwhile, on the other side of Mexico, about halfway between Mexico City and Acapulco in the town of Cocula, Guerrero, health officials ordered the destruction of 500 pigs infected with swine flu, local newspapers reported. One hundred of the animals fell sick at the Rancho La Joya operation and were sacrificed last Wednesday. On Thursday, 400 more infected pigs were killed.
There is no proof that this illness emerged on a Mexican hog factory farm, or in Mexico, or even in hogs. But we do know that Mexican pigs with swine flu are being destroyed. And we know that Mexican lawmakers think that CAFOs are making people sick.
And now we know that a five-year-old girl in La Gloria has swine flu. I wonder if the CDC is going to go check on her, and see how she contracted that virus.NOTE: For more on this subject, please see yesterday's post
Related
Popular in the Community