A Mexican newspaper that last month lost a reporter to an alleged retaliatory murder has ceased publication after 27 years, citing ongoing, unpunished violence against journalists. 
The presses for Norte de Ciudad Juarez, a paper in the border city across from El Paso with a circulation of roughly 30,000, rolled for the final time Sunday.
"I'm writing to inform you, dear reader, that I've decided to close this morning because neither the guarantees, nor the security to do critical journalism that acts as a counterweight, exist," Oscar Cantu, El Norte's publisher, explained in a final editorial note. 
Cantu's decision comes just 10 days after reporter Miroslava Breach was shot dead in Chihuahua, the state capital. 
Breach's body was left with a note that read "For being a loudmouth" and was signed by "El 80," a name associated with a high-ranking member of the Sinaloa drug cartel.
Breach covered government and organized crime for El Norte.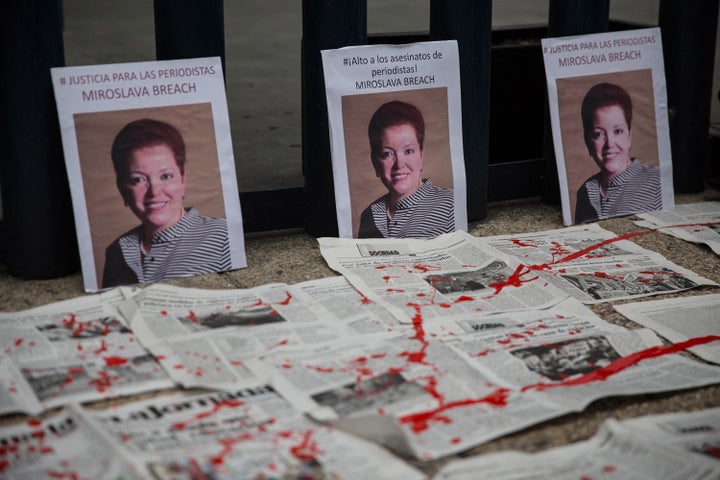 Carlos Lauría, senior program coordinator for the Americas at the globally focused Committee to Protect Journalists, called Breach's murder "shocking" in a statement shortly after her death. 
"This wave of violence threatens citizens' right to access vital information, and harms Mexico's democracy by limiting public debate," Lauría said. "We urge the Mexican federal government to put an end to this violence by bringing the perpetrators of this crime to justice."
During an interview with the BBC on Monday, Cantu said his paper's closure is a protest of the government's inaction against violence in Chihuahua state. 
"I'm protesting with the silence because we have published so many things that haven't been taken care of or had justice done to them," Cantu said on the BBC. "Maybe with silence we will make a statement and bring the attention of our government to the city."
In his editorial sign-off, Cantu alluded to the paper's financial challenges ― due in part to non-payment from the government, whose ads make up a bulk of regional newspaper revenues ― but he maintained that safety was the chief motivator. 
"Everything in life has a beginning and an end, and a price to pay," Cantu wrote. "And if the price is life, I am not prepared for any more of my collaborators to pay it, nor am I prepared to pay it either."
It's unclear when the publication's digital arm will go dark, but for now the paper's website greets visitors with a large pop-up that simply reads, "¡Adios!" 
Calling all HuffPost superfans!
Sign up for membership to become a founding member and help shape HuffPost's next chapter
BEFORE YOU GO
PHOTO GALLERY
Journalism Scandals