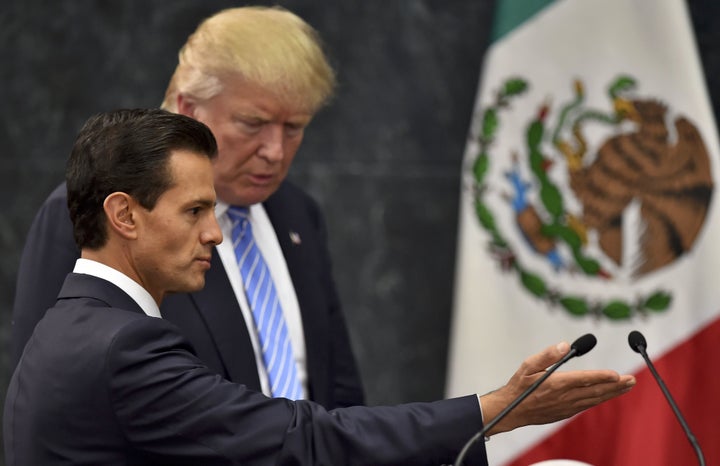 Mexican President Enrique Peña Nieto took to Twitter Thursday afternoon to once again insist that his country won't pay for a border wall, no matter how many times GOP presidential nominee Donald Trump promises it will.
"I repeat what I told him in person: Mr. Trump, Mexico will never pay for the wall," he wrote in Spanish.
Trump told reporters at a press conference that they "did not discuss payment of the wall" he has promised to build if he wins the general election. But Peña Nieto's spokesman said later that the president began the meeting by saying Mexico would not pay for the wall.
Peña Nieto said so again Wednesday evening. "At the beginning of the conversation with Donald Trump, I made it clear that Mexico would not pay for the wall," he tweeted in Spanish.
He also said in an op-ed for El Universal on Thursday that he told Trump he was offended by the things the candidate has said about Mexicans, and that his country would not pay for a wall.
Trump wasn't having it. While delivering a speech in Phoenix Wednesday night, Trump called the Mexican president "a man I like and respect very much" but dismissed his words about a wall.
"Mexico will pay for the wall, 100 percent," Trump said during his speech. "They don't know it yet, but they're going to pay for the wall."
He said the structure would be "an impenetrable, physical, tall, power, beautiful southern border wall" with technology to keep people from digging tunnels or going over it.
"Mexico will work with us. I absolutely believe it," he said. "And especially after meeting with their wonderful, wonderful president today. I really believe they want to solve this problem along with us, and I'm sure they will."
He stuck to that message early Thursday, prompting the latest Twitter response from Peña Nieto that afternoon.
CORRECTION: A previous version of this article incorrectly identified the order of the tweets from Peña Nieto and Trump.
Popular in the Community