Mexican President Enrique Peña Nieto announced Thursday that he canceled a meeting with President Donald Trump that had been scheduled to take place on Jan. 31 in Washington.
Peña Nieto had faced intense pressure from legislators to take a firmer stand against Trump by passing on the meeting, after Trump signed an executive order Wednesday moving forward on the construction of a wall along the Mexican border ― while continuing to insist that Mexico will somehow pay the multibillion-dollar cost.
In a series of tweets, Peña Nieto said he lamented the Trump administration's decision to insist on Mexico paying for the proposed border wall, a condition the Mexican president has long said he would not accept.
"This morning, we have informed the White House that I will not attend the work meeting scheduled for next Tuesday with @POTUS," Peña Nieto wrote.
"Mexico offers and demands respect, as a the sovereign Nation that we are," Peña Nieto wrote in another tweet.
The Thursday morning announcement followed long hours of speculation Wednesday night, as political figures pressed Peña Nieto to take a stand against what many Mexicans view as a uniquely hostile U.S. president that wants to bilk the country for billions of dollars. Trump has repeatedly made public statements shaming international corporations that shift operations there.
It wasn't until Wednesday evening that Peña Nieto finally released a video recording in which he said that he would continue talks with the U.S. government and would consult Cabinet officials and members of Congress about what additional steps to take. Peña Nieto stopped short of saying in the video that he wouldn't attend the meeting with Trump, but insisted once again his government wouldn't pay for the construction of a border wall.
"Mexico doesn't believe in walls," Peña Nieto said in the recording. "I've said it many times before ― Mexico will not pay for this wall."
Trump pounced on him Thursday morning, in a pair of tweets that said Peña Nieto shouldn't bother coming to Washington if he's not willing to pay for the wall.
The diplomatic fallout marks a unique low point in the relationship between the United States and Mexico, threatening to undermine the two countries' close ties. And losing Mexico's partnership will play some role in undermining Trump's efforts to carry out policies including a crackdown on illegal immigration and challenging Mexican drug cartels.
"It's going to be a disaster," Mike Vigil, the former head of international operations for the Drug Enforcement Administration, told HuffPost. "They're our third-largest trading partner, but more so than that, we have a 2,000-mile border and we have to secure it on both sides."
Drugs coming across the border won't be affected by a physical barrier that can be climbed or tunneled through, he said. But losing Mexico's cooperation on security threatens to increase both the flow of illegal drugs into the U.S., as well as the stream of military-grade weapons heading south.
"Donald Trump is going to be impacting negatively on many alliances that have taken decades to build," Vigil said. "We could see a situation in the United States where we're going to have epidemic levels of drug abuse."
Peña Nieto largely avoided confrontation with Trump during a campaign that repeatedly vilified Mexico. But given the hostility that Mexico perceives from the United States, Peña Nieto has little choice politically but to let the relationship deteriorate.
"Peña Nieto's cancellation of his trip is an understandable and logical decision based on Trump's comment that he should not come unless México will pay for the wall," Maureen Meyer, a researcher with the Washington Office on Latin America, wrote to HuffPost in an email. "The U.S. and Mexico are important neighbors and the relationship should be based on respect, partnership and cooperation, not building walls."
But John Ackerman, a professor of law at the National Autonomous University of Mexico who has been critical of both Peña Nieto and NAFTA, said he expects Peña Nieto to find a way to work with the White House.
"Peña Nieto has cancelled the meeting because, given the situation on the ground in Mexico, if he had gone to Washington he would have had to forcefully confront and call out Trump in order to appease the political opposition and increasing pressure from society," Ackerman wrote to HuffPost in an email. "This does not mean that Peña Nieto has changed his underlying strategy of appeasement and alliance with Trump and the regional financial and economic interests he represents."
Speaking to Republican lawmakers at a retreat Thursday, Trump implied that the decision to cancel the meeting was mutual, saying the two "agreed" to do so, instead of Peña Nieto making the decision.
"Unless Mexico is going to treat the U.S. fairly, with respect, such a meeting would be fruitless and I want to go a different route. We have no choice," he said. Trump's use of the word "respect" framed Mexico's cancellation in personal terms, suggesting that Trump feels slighted by the decision.
This post has been updated with additional quotes from Trump and analysis of the meeting cancellation.
Before You Go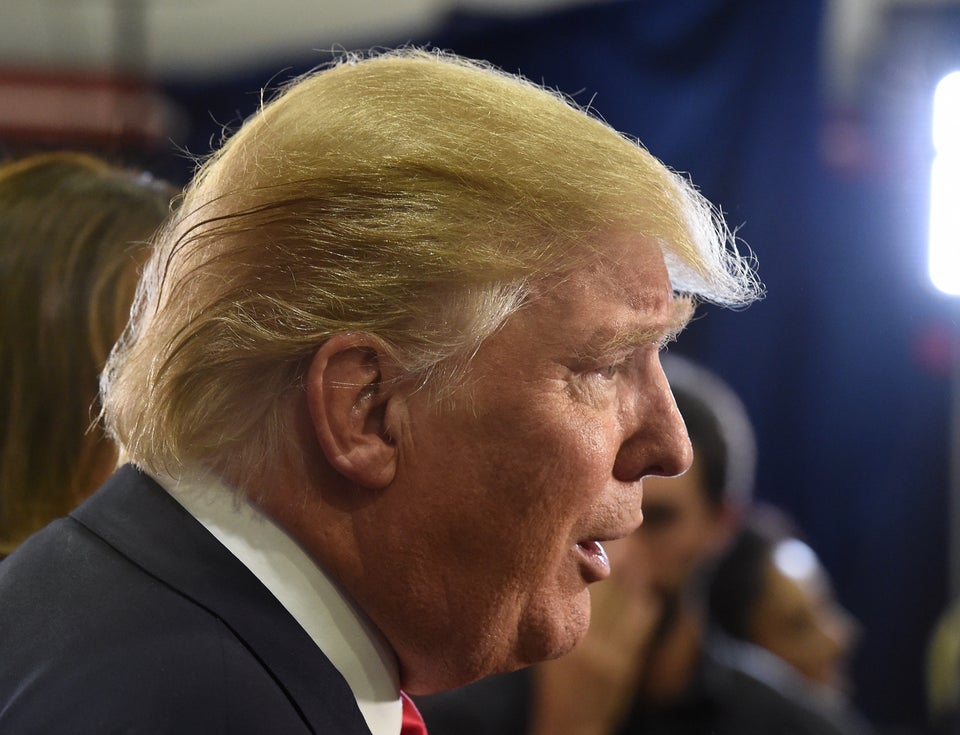 How Donald Trump Talks About Undocumented Immigrants
Popular in the Community