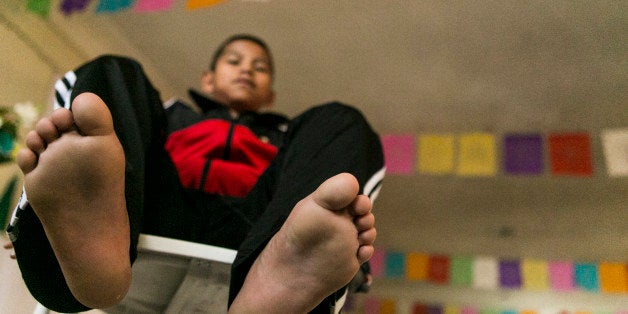 WOODLAND HILLS -- The boys had arrived from their remote Mexican pueblos the day before and had gotten about four hours of sleep but the "barefoot champions of the mountains" had come to do what they love the most: play basketball.
And they didn't disappoint. In their first visit to Los Angeles, the children from the indigenous Triqui region of Oaxaca played two thrilling exhibition games Wednesday against their U.S. counterparts in the Woodland Hills-based Top Flight community basketball club.
Although many members of the Triqui kids basketball team, which is famous in Mexico and other Latin countries, have received donated athletic shoes to participate in tournaments, they prefer to practice and often play barefoot to avoid ruining their shoes and because they have grown accustomed to training without them.
With several players shoeless and the electrified crowd chanting "Triqui, Triqui" and "Si, se puede!" a team of the Oaxacan boys ages 10 and 11 defeated a Top Flight team by a score of 31-29 in their first scrimmage at the Pacific Lodge Boys Home gymnasium.
"They come out here with no shoes and play their hearts out," Top Flight player Derek Morhar of Calabasas said shortly after the game. "They're really good."
Morhar, a sixth-grader at Alice C. Stelle Middle School, said he learned from his Mexican counterparts, most of whom were significantly shorter than their opponents, how "to play with heart" since they fought again and again for control of the ball.
"If we got the rebound," he said, "they would slap it out of our hands."
But Morhar, who aspires to play college and pro basketball, said he also enjoyed hearing about life in their Mexican villages, how they are so poor they often eat just one meal a day and play basketball barefoot, which he found "really inspiring."
Speaking his indigenous language, Triqui player Melquiades Ramirez de Jesus, 10, said through an interpreter before the game that they appreciated everyone coming out to see them play.
"For them, this is a way to get out (of the country) and they're amazed by all the things that they have here because in their town, they don't have them," said Triqui coach Guillermo Merino Ramirez in Spanish. "For them, it's a big deal to be here and a dream come true."
The Triquis, who are on tour in the U.S. through Dec. 29, are one of many indigenous groups that inhabit the mountainous region of Oaxaca, where so many young men and adults have crossed the U.S. border to work that many of its communities are left mainly with children and seniors.
The Triqui kids basketball team is famous in Mexico for discipline and for fighting for what they want, said Gerardo Vasquez, president of the Federation of Oaxacan Communities and Indigenous Organizations in California, which sponsored the Mexican children's trip to Los Angeles.
"Poverty doesn't stop them," he said in Spanish. "With or without shoes, they are always fighting to move forward. This is what inspires us."
The kids, who won an international basketball championship in Argentina in October, will be playing additional exhibition games and attending a Lakers game during their visit. There will also be a large Christmas party in their honor at the federation's headquarters downtown.
Top Flight player Mason Oppenheim, 12, who played the first game said it was "really tough" to play the boys from Mexico since they played very aggressively.
But "it felt really good to give them gifts," he said, "because I know I'm really lucky to have all the things I have."
The next match by the Triqui team is Friday 10 a.m. at Toberman Park, 1725 Toberman St., in the Pico-Union district, where they will play one match against adult members of the media and another against a team of young local immigrants.
On Saturday, they will play against teams affiliated with the Federation of Oaxacan Communities and Indigenous Organizations in California at 10 a.m. in Toberman Park. The second part of that tournament will take place at 10 a.m. on Dec. 28.
(c)2013 the Daily News (Los Angeles)
Distributed by MCT Information Services
Before You Go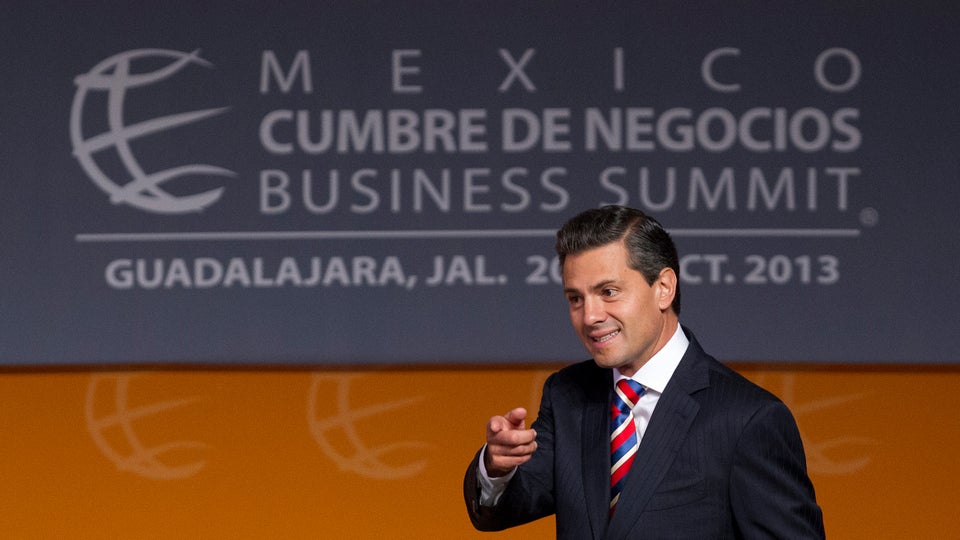 5 Ways Mexico Outperforms The U.S.
Popular in the Community