Beautiful actress Lupe Velez, the Sofia Vergara of her day, was famous for not only her passionate acting and love life (plenty of paramours and a marriage to "Tarzan" aka Johnny Weismuller) but also for a devastating tragedy and urban myth: that she died with her head in a toilet after committing suicide once she found out she was pregnant by a new lover who "didn't want to marry her."
It appears the tempestuous Lupe preferred death over unwed motherhood, and the actress carefully scripted the last moments of life. Her plan? Dress in a beautiful gown trimmed with flowers, lie down on her silk-covered movie star bed, overdose on Seconal sleeping pills and drift off to death.
But the scene didn't play out like the 36-year-old fiery bombshell intended, and gossip vultures descended. Word leaked out that the lifeless Lupe wasn't found sleeping peacefully on her bed, and rumors began to swirl, reaching an ugly crescendo in the underground best-selling book "Hollywood Babylon." Author Kenneth Anger claims Lupe was found drowned with her head in the toilet after throwing up the remains of a spicy last meal.
For years, fans and officials have searched unsuccessfully for death scene photos to prove once and for all what really happened the night of Dec. 14th, 1944 at Lupe Velez's Rodeo Drive home, but no pictures could be found and her file had mysteriously "disappeared" from the police department.
But now, thanks to a source close to the case, my co-author (of our book "Beverly Hills Confidential: A Century of Stars, Scandals and Murder) had found the only known official photo from the death scene. Here, published for the first time, a look at how Lupe Velez really died. Kenneth Anger got it wrong. Lupe was found on the floor, not in the bathroom "jammed down the toilet bowl" as he had written.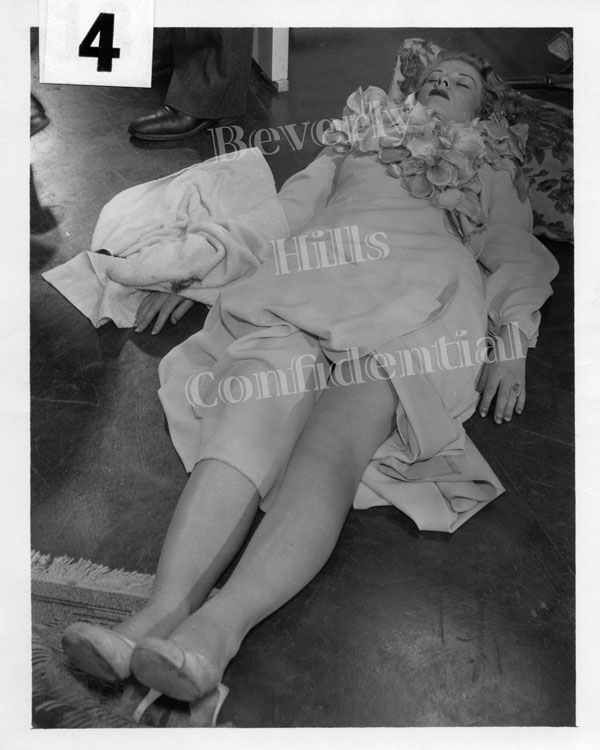 Beverly Hills Police Department Senior Forensic Specialist Clark Fogg as well as BHPD facial analysis experts are 100% convinced this is a photo of Lupe's final exit scene, a conclusion they came to using today's CSI tools and clues surrounding the photo. The reverse side of the photograph has "Lupe Velez" handwritten with pencil and the front side of the image appears with an official photo identity adhesive label marked number "4" on the top section. A microscopic and ultra-violet examination of the image revealed several tags underneath. These tag numbers were standard during that time period, and investigators used them in order to match case notes with the files. (Typically, as the case progresses, photographs are relabeled to condense the number of images presented to a coroner's inquest or the District Attorney's office, hence the multiple tags.)
Another clue: the provenance of the photo. It was discovered in the private files of a respected detective from the Los Angeles County Sheriff's department, along with other documentation describing the suicide scene. This detective was assisting the BHPD with the Lupe Velez case.
As you can see in the images below (the first is a newspaper photo of Lupe in her casket, the second a close-up of the recently discovered photo), she had recently bleached her hair blond, yet another re-invention for the actress who made her mark in Hollywood with brilliant comedic performances. Hopefully this photo can forever put to rest the untruths that besmirched the legacy of this talented, temperamental and beautiful actress who broke barriers and delighted audiences with her inimitable style. Lupe's final curtain call: a Hollywood ending of tragic proportions for the actress and her unborn child.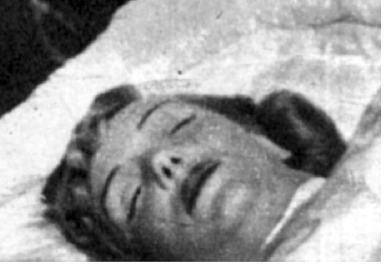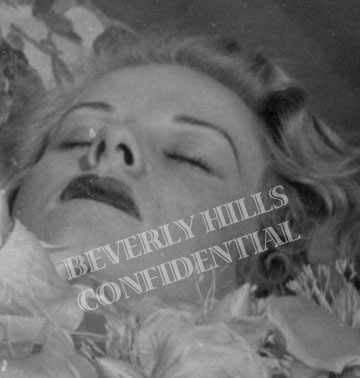 Calling all HuffPost superfans!
Sign up for membership to become a founding member and help shape HuffPost's next chapter