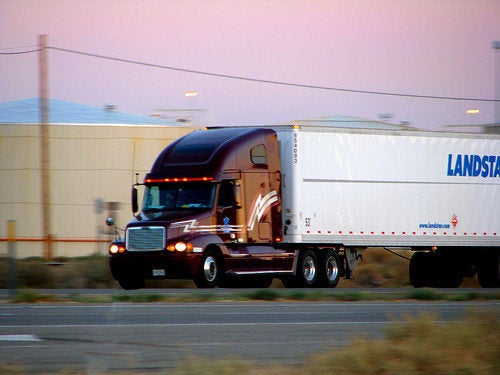 Under an agreement quietly signed in Mexico City today, Mexican trucks will be able to transport goods on U.S. highways in return for Mexico's decision to lift tariffs on U.S. goods. Business groups were elated, anticipating a boost in trade and a lift to the economy.
Amid concerns expressed by the Teamsters union and American truck drivers that unsafe Mexican trucks will present a danger on U.S. highways, Department of Transportation officials outlined strict new rules to ensure that Mexican truckers live up to U.S. safety and emissions standards: Their trucks will be electronically monitored and drivers will be drug-tested and will have to show they speak English.
But recent government studies raise some doubts about the effectiveness of those measures. The cost of ensuring Mexican truck safety outweighs the amount saved by U.S. importers or exporters, according to a February 2010 Congressional Research Service report.
The rationale of eliminating the truck drayage segment at the border, and of NAFTA in general, is to reduce the cost of trade between the two countries, thus raising each nation's economic welfare However the cost to federal taxpayers of ensuring Mexican truck safety, estimated by the U.S. DOT to be over $500 million as of March 2008, appears to be disproportionate to the amount of dollars saved thus far by U.S. importers or exporters that have been able to utilize long-haul trucking authority. Beyond the hindrances to greater utilization of long-haul operations associated with the demonstration project, delays associated with customs processing are significant and a long-term obstacle to efficient trucking across the border. Any accumulated savings in trucking costs enjoyed by shippers therefore should be weighed against the public cost of funding the safety inspection regime for Mexican long-haul carriers.
Though the DOT's Federal Motor Carrier Safety Administration released a study finding a 90 percent compliance rate by Mexican motor carriers with U.S. safety regulations, those results were disputed by the DOT's inspector general in 2008. The IG criticized the scope and methodology of the study, saying that the border crossings chosen for inspectors were not random; the DOT used the wrong formula in its final stats; and the study relied on an assumption that trucks built in Mexico since 1996 were automatically complaint with safety rules.
Opponents of the deal occasionally engage in hyperbole about Mexico's drug problems impacting the program, but the statistics relating to truck-related crime in Mexico are startling. Criminals hijacked over 10,000 commercial motor vehicles in Mexico in 2010, according to a highway cargo trade group estimate cited by the Transportation Security Administration in an October 2010 newsletter. According to the TSA, drug traffickers also have been known to hijack and mimic legitimate commercial trucks to transport illicit cargo across the border.
And cargo theft rose 50 percent between 2009 and 2010, Mexico's National Cargo Shipping Chamber told the Christian Science Monitor.
All the hand-wringing may be for naught since the new security requirements make U.S. transport prohibitive for only a small share of 400,000 Mexican trucks, claims Refugio Munoz Lopez, director general of Mexico's shipping chamber.
A bipartisan group of lawmakers have expressed their concern about the issue, with Rep. Peter DeFazio (D-Oregon) writing Transportation Secretary Ray LaHood last week to challenge the cross-border trucking program and introducing legislation to limit DOT's authority to implement the program.
DeFazio is upset that Highway Trust Fund money, which is used to maintain the interstate highway system, will be used to pay to install onboard recorders on Mexican trucks, calling it "outrageous that taxpayers are being told to foot the bill for the Mexican trucking industry to comply with American safety standards."
A group of 34 lawmakers, including Rep. Duncan Hunter (R-Calif.) and Rep. Daniel Lipkinski (D-Ill.) sent a letter to LaHood last month, calling on him to terminate the program, citing the shortcoming of the previous cross-border program, which "failed to assure that every Mexican truck was properly inspected at the border." Dodd-Frank Summit: Zandi's Endorsement Greeted With Silence, Kudlow's Tirade
Top regulators, Wall Street executives and lawyers are meeting at the Grand Hyatt in New York on Wednesday for a summit on Dodd-Frank. Among the speakers are former Comptroller of the Currency John C. Dugan (now at corporate law firm Covington & Burling), CNBC's Larry Kudlow, FDIC's James R. Wigand, former Assistant Secretary for Financial Institutions at Treasury Michael S. Barr, Moody's big brain Mark Zandi, JPMorgan managing director Don Thompson and Treasury's Assistant Secretary for Financial Markets Mary J. Miller.
Fall Preview: The Most Important New Regs And Rules
Lobbyists, deregulation zealots and safety advocates -- get ready to rumble!
Last week, the Office of Management and Budget published its Unified Agenda, which lists upcoming regulations that federal agencies are expected to advance between now and April 2012.
Among the most important ones, per OMB Watch:
The Environmental Protection Agency is expected to finalize its rule regulating emissions from power plants that cause pollution in neighboring states.
EPA and the National Highway Traffic Safety Administration will set emissions standards for heavy-duty vehicles.
The Occupational Safety and Health Administration is creeping ahead with its requirement that employers create and implement a program to prevent injury and illness.
The Mine Safety and Health Administration will update its exposure standards for crystalline silica, a dust that can be dangerous to breathe.
The Food and Drug Administration will require chain restaurants and certain vending machines to provide patrons with nutrition labeling on menu items.
The Federal Motor Carrier Safety Administration will move forward with its proposed rule to restrict cellphone use while driving a commercial vehicle.
Homeland Security Not Doing Enough To Secure Federal Facilities: GAO
For one thing, the service cannot ensure that its contract guards are properly trained and certified. In addition, the service's ability to protect such buildings is hampered by the absence of a risk management program that links threats and vulnerabilities to the service's resources. The FPS has not fully implemented any of the 21 recommendations made by GAO in 2009 and 2010.
Zadroga Lawyer Warns 9/11 Victims Fund May Be Inadequate To Cover Claims
The lawyer for James Zadroga, the NYPD detective who died of respiratory disease attributed to his rescue work at Ground Zero, says that the 9/11 Victims Compensation Fund inspired by his client may be inadequate to cover future claims.
The fund, which allocates $2.7 billion over a period of years to those suffering from diseases linked to the 9/11 attacks, may be insufficient to cover future claims from those whose illnesses aren't yet full known, says attorney Michael Barasch. The proposed regulations for the administration of the fund are available for public comment until August 5 and have attracted dozens of comments from rescue workers who worry that the final rules may not be as fair and inclusive as permitted under the law.
Obama's Bioethics Adviser Should Step Down, Says Watchdog Group
President Obama's top bioethics adviser should be removed because she ignored serious allegations of research misconduct by a senior professor at the university she leads, according to a leading watchdog organization.
The Project on Government Oversight sent a letter to Obama yesterday asking him to boot Dr. Amy Gutmann as chair of the bioethics commission. Gutmann serves as the president of the University of Pennsylvania, where the psychiatry department chairman allegedly used a ghostwriting company paid by drug manufacturer GlaxoSmithKline to write a scientific editorial for a medical journal that was favorable to Paxil, an antidepressant sold by GSK.
Last Friday, another U. Penn professor filed a complaint against Dr. Dwight Evans, alleging that he used ghostwriters in another study favoring Paxil. A spokesman for the university maintained that the allegations of ghostwriting are "unfounded."
ConAgra Hit With Twin Class-Action Suits Over "100% Natural" Labeling
In a series of class-action lawsuits that could represent the leading edge of a trend, consumers are suing ConAgra Foods over the food giant's claims that its Wesson cooking oils are "100% natural" and "pure." Plaintiffs argue that the claims are misleading because the oil is extracted from plants that have been genetically modified, reports FoodNavigator-USA.com.
The suits, filed in Brooklyn and Los Angeles, seek millions in refunds for consumers who bought Wesson corn oil, canola oil, Best Blend and vegetable oil.
The Federal Trade Commission, which regulates labeling of food products, declined to comment on any pending complaints regarding Wesson's labeling.
Funny headline of the day (besides the Onion's "Lady Gaga Kidnaps Commissioner Gordon"): Safety and health blog FairWarning's front page screams: "FairWarning Launches Probe of Beach" to relay the news that its staff is going on vacation for two weeks until July 25.
And during his appearance today before the House Financial Services Committee, Ben Bernanke said he has not yet seen HBO's "Too Big To Fail" movie, in which Paul Giamatti played the role of the Federal Reserve chairman. See below: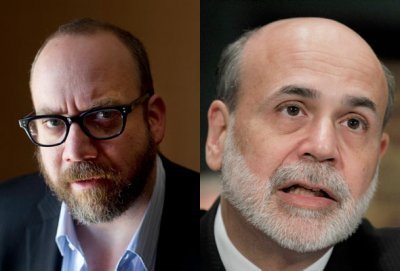 Calling all HuffPost superfans!
Sign up for membership to become a founding member and help shape HuffPost's next chapter