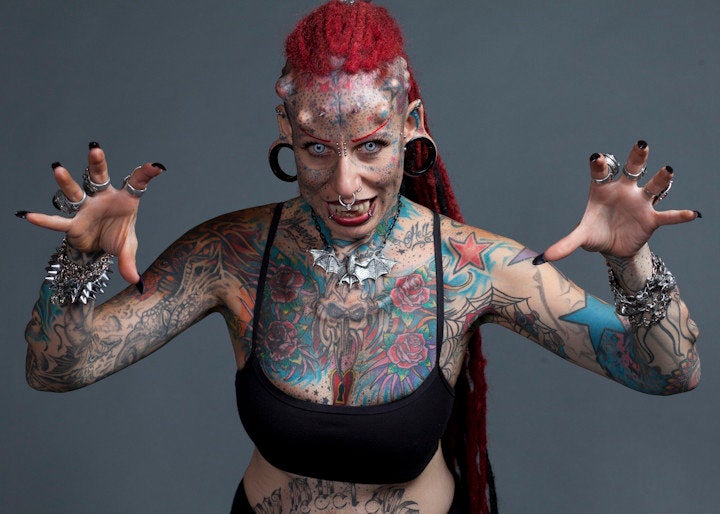 Vampires supposedly live forever, but one "real-life vampire" isn't leaving that to chance.
Maria Jose Cristerna, a 35-year-old former attorney from Guadalajara, Mexico, is better known as the "Mexican Vampire Woman"
thanks to the piercings, tattoos and titanium horns embedded in her skull.
In the last 18 months, she's become well known for her extreme look and now that blood-curdling appearance will be captured for future generations to ogle at Ripley's Believe It or Not!
The entertainment company recently brought Cristerna to its Orlando, Fla., headquarters to take body casts of her, which will be used to create lifesize urethane figures of her that will appear at Ripley's attractions around the world.
For Cristerna, it was the fulfillment of a long-held fantasy.
"It's my vampire dream to be immortal!" she told HuffPost Weird News through a translator. "I have always loved Ripley cartoons, and have admired Ripley's since I was a little girl, so my dream came true."
But Cristerna's dream didn't come true without a lot of hard work from Ripley's sculpture team, led by Bruce Miller.
"Her head has been the biggest challenge," he said. "She has really long hair -- dreadlocks -- and we had to hoist them up over a light fixture to keep them out of the way."
Also, casting the horns presented some challenges that Miller hasn't faced making other celebrity sculptures, including WWE wrestlers the Undertaker and John Cena and one of the world's smallest men, Alypius, an Egyptian dwarf.
But those challenges aren't anything compared to what lies ahead.
"The hardest part is going to be duplicating the tattoos," Miller said. "They are so intricate. We have a lot of hours ahead of us."
SEE WHY MARIA JOSE CRISTERNA IS KNOWN AS THE VAMPIRE WOMAN IN THIS SLIDESHOW: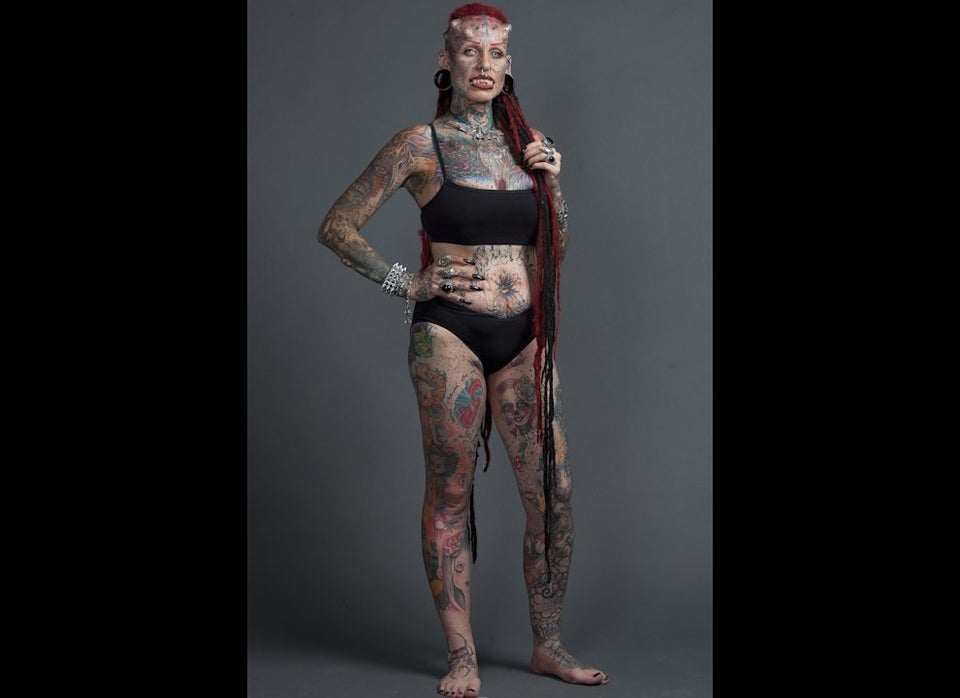 Vampire Woman Maria Jose Cristerna
Edward Meyer, Ripley's vice president of exhibits and archives, says the company is making at least five Vampire Woman statues, three of which will be sent to the Odditoriums in Veracruz, Mexico City and her home town of Guadalajara.

"Maria is probably the most unusual woman in the world -- certainly the most unbelievable that I have ever met!," he said.
Cristerna is excited to see the finished product, and she is already convinced it will be good.
"I will love it -- not just the image, but what is behind me and what I am fighting for," she said. "The motive for this is not just my skin, but what is inside me."
Cristerna's look began to take shape when she was 17, when she married a man she said beat her and abused her repeatedly.
When she finally left her husband, she chose to reinvent herself as a "warrior" as part of her liberation.
"I went through a bad marriage and learned to be stronger," she said. "Warriors tattoo their faces, so I'm a warrior for my kids, too."
But while Cristerna's horns, fangs, piercings and tattoos were, at first, a reaction to a bad situation, she says the public's reaction to her has been positive.
"My appearance has opened windows for me to travel to different places I couldn't before," she said. "It's not just what I have outside, but also inside, and I now have an opportunity to share."
There's no word on when the Vampire Woman sculptures will be unveiled, but they may have to be modified before their debut, since Cristerna is not a finished product.
"My skin is like a carpet and I can put whatever I want [to] express my feelings and life story. Everything means something about my past and my future -- especially my friends, family and my parents," she said. "I'd like to remove the floating ribs to decrease the size of my waist and have more implants in my arms. It's a woman's vanity to want to look better!"
SEE HOW RIPLEY'S SCULPTORS IMMORTALIZED THE VAMPIRE WOMAN IN THIS EXCLUSIVE TIME-LAPSE VIDEO:
Related
Popular in the Community