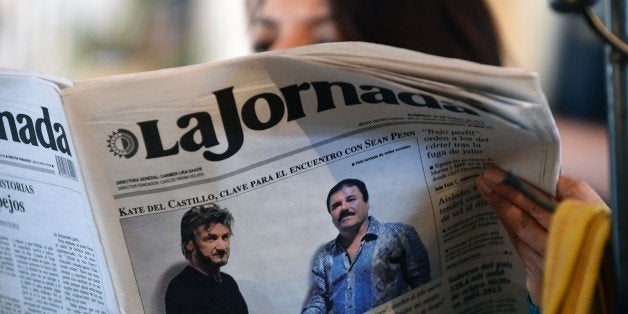 Twitter users in Mexico accused authorities of using the much-publicized chase, not to mention the bizarre Sean Penn interview, to distract the media from social and economic ills plaguing their country. One meme popular in Mexico depicts Guzman as a Pokemon and Nieto as Ash -- the main character in the Japanese franchise who keeps Pokemons as his pets -- to accuse authorities of using El Chapo for their benefit, Vocativ discovered.
Translation: Leaked images from the mission in which President Peña Nieto recaptured the Joaquin El Chapo Guzman
Renewed focus on Guzman, who escaped from prison for not the first but a second time in July, surged over the weekend with news about his Friday arrest and his interview with Penn, who secretly met the drug kingpin following a long and bizarre journey to the Mexican jungle in October.
For global audiences, especially in the United States, Guzman's interview with Penn turned the story of his capture into yet another celebrity scandal. A Vocativ analysis of over 500,000 tweets since Saturday night showed that "Sean Penn" was mentioned far more often than the drug lord himself, highlighting the robust buzz over the pair's secret meeting.
But in Mexico, Twitter users took the opportunity to slam their leaders.
Translation: The truth behind El Chapo's capture is that EPN needed to create a newsy event to distract Mexico from its economic disaster.
Translation: That's how things are in Mexico" #Chapo and Sean Penn DOING THEATER FOR EPN (Peña Nieto). Cartoon translation: "Third Call." Chapo to the stage! Or the whole country will fall (from me)!
Translation: From the creators of The Escape Tunnel Zero and There's Three Already... The new film by Sean Penn: I Found El Chapo First. Image translation: Coming soon to theaters
Translation: -Mr. President, the dollar is above eightee...
-Mission accomplished bitches!
-The devalua...(devaluation)
More Stories from Vocativ:
Calling all HuffPost superfans!
Sign up for membership to become a founding member and help shape HuffPost's next chapter