A little over 10 years ago I made my first trip abroad to Mexico. Some friends at my university chided me for going on a spring break trip to "build toilets" in a poor village while they would be sipping martinis at pool bars Cancun. I was 19 and actually went to help build a community health center, not just toilets. I got diarrhea, altitude sickness, and blisters from pick-axing solid mountain rock for a handful of days. I thought I was changing the world. Things have changed in Mexico after a decade, though not necessarily for the better. In December 2014 I came to find Mexico in turmoil, frenzied by the disappearance of 43 students from a rural teachers' college in Ayotzinapa. The taxi driver who picked me up from the airport was the first one to tell me about the 43 male students who commandeered buses to protest a conference led by the wife of the mayor of Iguala in the State of Guerrero. On September 26, the students were intercepted by local police and taken into custody. According to the Mexican government, the students were handed over to the crime syndicate Guerreros Unidos and subsequently killed.
Mexicans have taken to the streets ever since.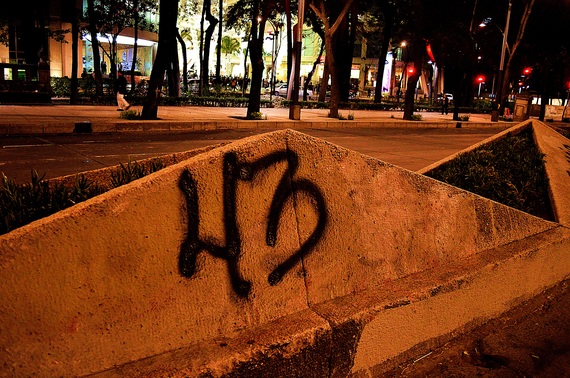 Mexican authorities believe the mayor (José Luis Abarca Velázquez) and his wife (María de los Ángeles Pineda Villa) were responsible for the abduction. Both fled after the disappearances but were arrested in October in the capital. My taxi driver, Manuel, told me that he didn't trust Mexican President Enrique Peña Nieto. The government came out with a statement in November that several plastic bags with human remains were found by a river in Cocula, Guerrero. The government pointed fingers at municipal authorities and Guerreros Unidos. Manuel said that the president was hiding information and was trying to absolve the state of its responsibility. "Do you think the students are still alive?" I asked. "That's what we have to hope for," Manuel said. My plane had arrived just hours before an enormous protest that would shut down La Reforma, one of the main streets of the monstrous Mexico City, which has a population of 21 million. Mexicans protest a lot, Manuel said, shutting down important streets, much to the annoyance of the capital's taxi drivers. But this was the first time in a long time that Manuel thought the protests were worthwhile. "Stay in your hotel tonight," Manuel added. "You don't want to get mixed up in this." It was hard not to get mixed up in the issue as I saw hoards of people making their way toward La Reforma with signs, banners, and flags. I ignored Manuel's plea and went to the protest anyway. I was blown away by its sheer enormity. People were marching along La Reforma as far as the eye could see.
Many held signs with images of the disappeared. I found young people spray-painting words like "Revolution", "Death to the corrupt" and the number 43 on bus stops, statues, and the sides of buildings. Local artists had set up stands to sell skull art. Street-food vendors nourished the protestors with tostadas, tacos, and corn.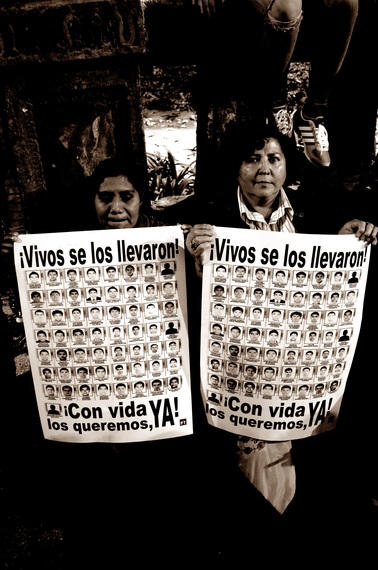 The people chanted all kinds of things, but the one that stuck most with me was: "¿Por qué? ¿Por qué? ¿Por qué nos asesinan? ¿Cuándo somos la esperanza de América Latina?" "Why? Why? Why are you killing us? When we are the hope of Latin America?" The phrase made me wonder where were as humans in 2014. How can we still be talking about "disappearances" in Latin America, years after the state-sponsored disappearances that claimed thousands of Latin American lives (particularly students and teachers) in the 70s and 80s? Why do the powers that be continue to fear young people who think critically and want systems to change? How can the state continue to sacrifice its youth, Hunger Games style, while trying to cover up murder with misleading or a total lack of information? In Mexico, forced disappearance is not new by any means. According to InSight Crime, nearly 30,000 cases of forced disappearance were recorded by the Mexican government between January 2006 and July 2014, with over 12,500 people still missing. Mexico has only investigated one percent of the disappearances and has failed to sentence anyone for these crimes. Many of the disappearances are linked to organized crime, but attributing guilt to the victims has been used as a government tactic to cover up state involvement. It is apparent that vast numbers of Mexican people no longer want to be run by a state where institutions continue to commit human rights atrocities with impunity and where young people, in this case 43 students, cannot protest freely without risking death. #YaMeCansé is one of the main hashtags of the protestors' movement. I'm tired. After I left Mexico, forensic scientists confirmed that the charred remains found in a river near Iguala belonged to one of the disappeared students. Alexander Mora Venancio was only 19 years old when he was murdered, the same age I was when I came to Mexico the first time to "build toilets." What was Alexander like? I wondered. Was he naïve, like I was at 19, thinking that he could challenge things that were bigger than he was? Did he feel safe in his group of 43, empowered in the presence of like-minded people? Did he have a feeling that he might be waking up for the last time the day he went to protest? What were the political authorities so afraid of him saying if he made it there alive? These are things we can never know. But what is obvious is that a country of 122 million people has been awakened by 43, raising a collective voice for Alexander and the cause of justice in a way that has never been seen before in Mexican history.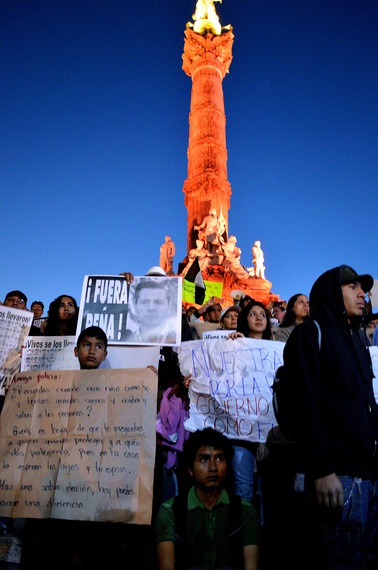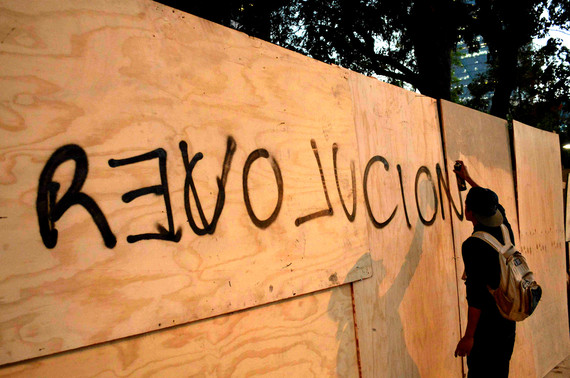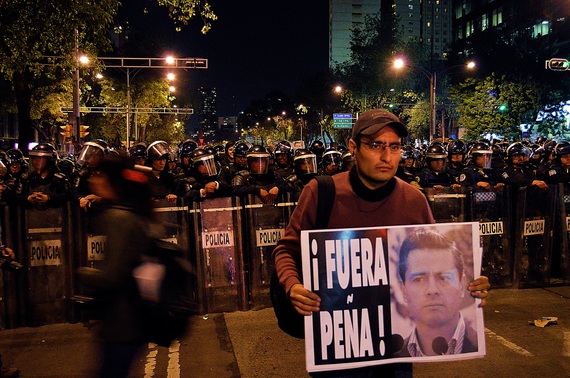 Calling all HuffPost superfans!
Sign up for membership to become a founding member and help shape HuffPost's next chapter