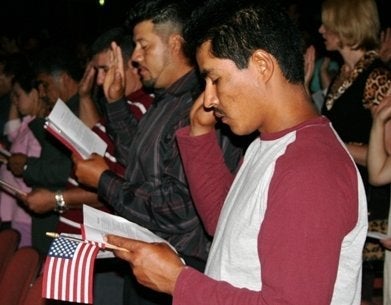 "Obamanos" is a strange bit of political Spanglish, often seen in the past few months on bumper stickers in states with large Hispanic populations. The term translates -- in essence, not literally -- to "let's go Obama."

This has been the general spirit in San Miguel de Allende, a colonial town in the mountains of central Mexico. The mood was especially evident tonight after Barack Obama was elected the 44th president of its northern neighbor.

"It's good because he's moreno (brown-skinned) and I know morenos have faced a lot of discrimination and resistance," Martha Aguilar, my children's 18-year-old babysitter, told me. "I think it will mean that Mexicans in the United States will be treated better. I think they'll have more opportunity."

The woman who tutors me in Spanish was probably even more ecstatic than I was over Obama's victory (if that is possible). "It makes me feel better about America. It gives me hope that America can be a leader in the world again," she told me. She was especially excited to have a liberal win, after the liberal candidate for president of Mexico, Andres Manuel Lopez Obrador, lost in 2006. "I'm happy that some where out there liberals still live."

All day, as I walked around San Miguel, I saw televisions tuned to election coverage. One restaurant I visited in the afternoon had CNN International on a wide-screen TV. I have watched the World Cup and several U.S. college football championships at this same restaurant. But this competition was, of course, much more monumental.

"It will be enorme for Mexico, for the world," said a man at the bar as he smoked a cigarette and watched live scenes of voting in New York. "If I were an American, I would have voted for Obama. America is doing something good again."

One wealthy friend had just returned from Texas, where she was dismayed to run into so many Republicans. "The Republicans I met were very fierce," she said. "I was scared they would win."

My realtor was the only Mexican I talked to who was less than thrilled at the idea of Obama in the White House. "He's never even visited Mexico," she huffed as I sat in her office this evening. "He never said anything about immigration during the whole campaign. So, I don't know what this all means for Mexico. I hope it's good. We need someone to help Mexico, someone who thinks about Mexico. He can't ignore us. We're right there under his nose." I guess that's why they say, "When the U.S. sneezes, Mexico catches a cold."

Today that aphorism could be changed to: When the U.S. triumphs, Mexico catches the fever.
Calling all HuffPost superfans!
Sign up for membership to become a founding member and help shape HuffPost's next chapter