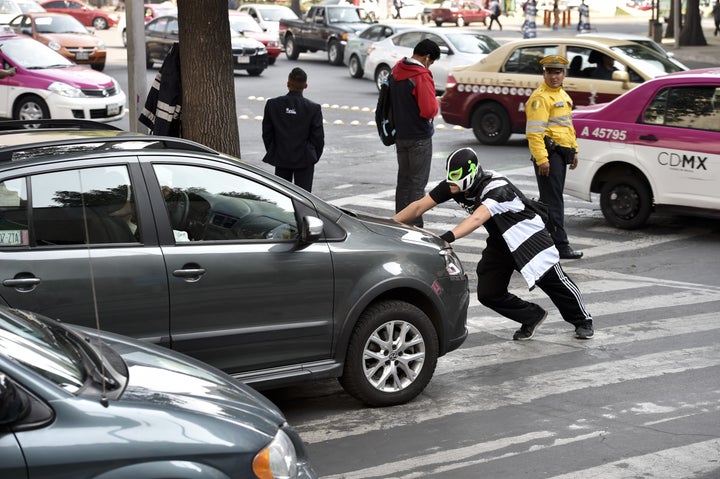 But Mexico City residents have a secret weapon: 29-year-old civil servant Jorge Cañez, who moonlights as Peatónito, a lucha libre defender of pedestrian rights. (Pedestrians are peatones in Spanish.)
Cañez told The Huffington Post that he started out as an activist both at the Instituto Tecnológico Autónomo de México, where he studied, and the state government's Institute for Transportation Policy (ITDP). A lifelong urban planning wonk and avid cyclist, he was part of a group of guerrilla pedestrian activists during his last semester at the Institute in 2009.
Three years ago, he started wearing a lucha libre-style cape and mask in black and white, the colors of a street crossing, and created his alter-ego of Peatónito. Twice a week, he does everything from physically block cars to deliver speeches on pedestrian rights to his old standby, painting in missing crosswalks.
"Everyone in Mexico grows up watching lucha libre" -- a highly theatrical and masked form of Greco-Roman wrestling -- said Cañez. There have been other lucha libre "real life superheroes" in Mexico, like Fray Tormenta ("Friar Storm"), a Catholic priest who opened an orphanage and inspired the 2006 Hollywood movie "Nacho Libre," and "Superbarrio Gómez," a satirist, and labor rights organizer whose preferred costume is red and yellow. Cañez said the playful lucha libre spirit makes serious issue more palatable and more fun for average citizens to care about.
Cañez registered the Peatónito brand under Creative Commons so any citizen anywhere in the world can use it. So far, he said, there are variants in Spain, Colombia, Brazil ("Superando"), Toluca, Mexico ("Peatoluco"), and even L.A. ("Los Angeles Walks").
Theatrics aside, he sees his most important role as fostering conversation that leads to policy changes. "Ten years ago no one talked about pedestrians in Mexico," he said, even though other world capitals were undertaking ambitious traffic safety projects like New York's Vision Zero. Cañez's rallying cry is "people, not vehicles, on the streets," and he said the government has been receptive, and even invited him to speak at public forums.
Cañez's impact is already being felt: Mexico City mayor Miguel Mancera announced a number of traffic regulations that went into effect this month to lower speed limits, prohibit cellphones while driving, and mandate insurance for all drivers.
His activism and the new prominence of pedestrian issues also inspired the "Liga Peatonal," or pedestrian league, which started in 2014 to advocate for better traffic policy across the whole country. They suggest measures like lower speed limits on national roads and lower limits on blood alcohol content for drivers. While Mexico City is ground zero of the country's traffic problems, its national roads hardly see a week without accidents, particularly with buses.
Does a man who literally plays the part of a superhero have any heroes of his own? Yes, said Cañez: "My mom. She taught me the importance of doing well for society, and that it starts with just one person setting an example."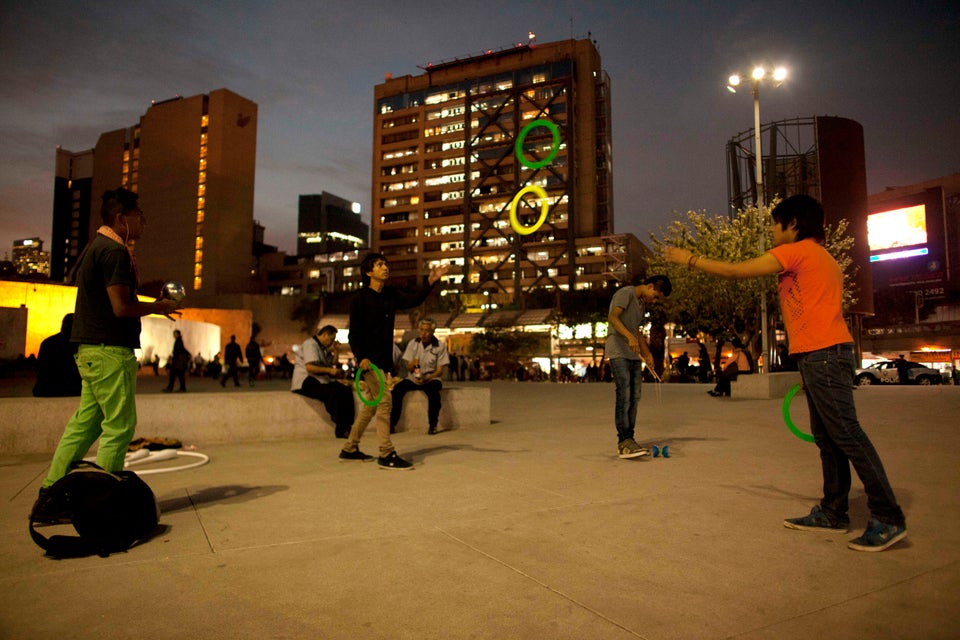 Mexico City's Makeover
Popular in the Community