Unidentified assailants armed with guns and Molotov cocktails attacked power stations in a violence-torn western Mexican state Sunday, leaving 11 towns without electricity in a suspected drug cartel attack.
The interior ministry said in a statement that national power company equipment, six gas stations and a convenience store were targeted in 11 towns in the state of Michoacan, but that nobody was hurt.
The statement did not identify the assailants, and interior ministry spokesman Eduardo Sanchez said authorities were investigation the attacks.
But a government official told AFP that authorities suspect that the Knights Templar drug cartel launched the assault to send a message to the population and self-defense forces that have formed in the state.
The attack on the power grid came one day after vigilante groups marched in the town of Apatzingan, a Knights Templar bastion, in a protest that left one person injured.
The cartel accuses the self-defense forces of being backed by their rivals, the Jalisco New Generation cartel.
"I think it's an issue between rival gangs, the Knights Templar and the Jalisco cartel," the source said on condition of anonymity. "It's a territorial dispute."
The attacks on the power grid were a "sanction against the people," the official said. "More than revenge, it was a message that they won't allow people to mess with them."
The federal government deployed thousands of troops to Michoacan in May to bring peace to the state after months of cartel violence that prompted several towns to take up arms.
Residents of Michoacan say they formed vigilante groups to counter the wave of extorsion, kidnappings and murders perpetrated by the purportedly religious Knights Templar cartel.
Sunday's attacks cut out power in a few towns that formed self-defense forces.
The interior ministry said power was restored to 60 percent of National Electricity Commission customers after the attacks in the towns of Buenavista Tomatlan, Tepalcatepec, Aguililla, Apatzingan, Sahuayo, La Piedad, Zinapecuaro, Uruapan, Zamora, Ciudad Hidalgo and Tuxpan.
More than 77,000 people have been killed in drug-linked violence across Mexico in the past seven years.
Copyright (2013) AFP. All rights reserved.
Related
Before You Go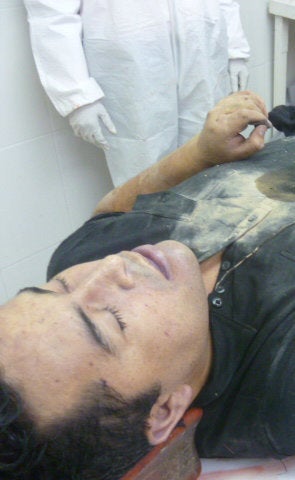 Worst Atrocities In Mexico's Drug War
Popular in the Community